Embracing the Abundance Mentality When Building An Advisory Firm
7 min read
March 12, 2020
Do you long to get out of a high-pressure sales environment or look back with relief that those days of endless calls are behind you? Have you secretly compared yourself to a colleague and wondered what their secret to signing bigger and better clients is? Did you ever look around and wonder if there was more to your career than just trying to add assets?
I get it. Many financial advisors who start their own firms and join XYPN do so to escape those kinds of competitive, stressful, and often unfulfilling (some may even go as far to say toxic) environments.
Here at XYPN you'll often hear us talking about embracing the abundance mentality. We believe that by doing so, you will see direct benefits for you, your clients, and your firm. As they say, the more you give, the more you get.
But what actually is the abundance mentality? And how can you, as an advisor, embrace it?
What Is the Abundance Mentality?
Many financial advisors who join XYPN to start their own firms come from a background where they were pitted against their colleagues. You needed to meet insane quotas, aggressive deadlines, and deal with high volumes of clients. You couldn't share your tricks of the trade for fear that someone might outshine you.
This is called the crab, or bucket, mentality. It's a way of thinking best described by the phrase "if I can't have it, neither can you."
The metaphor is derived from a pattern of behavior noted in crabs when they are trapped in a bucket. While any one crab could easily escape, its efforts will be undermined by others, ensuring the group's collective demise. Everyone loses in this scenario—you, your clients, and your peers.
Instead of embracing these feelings of resentment, anger, annoyance, inadequacy, or whatever it is you're hanging on to, why not try letting it go? I promise you'll feel better. But you'll also reap plenty of benefits. (Hear what XYPN's Director of Member Services, Maddy Roche, has to say about the abundance mentality in this podcast.)
What Are the Benefits Of Embracing the Abundance Mentality?
For You
First of all, we don't know anyone's full story. If you think someone has the perfect life, you either don't know them very well or you haven't known them very long. Stop comparing yourself and your journey to someone else's.
When you embrace the abundance mentality, you genuinely feel better about yourself and the people around you. You don't resent other people's success, you celebrate it. You start to surround yourself with other people who also embrace the abundance mentality, and they in turn celebrate you.
There are more than enough clients to go around. Trust us on this. There are approximately 74 million adults living in the US right now and approximately 80,000 CFPs. That's almost a thousand clients per CFP. While I don't know what kind of firm you're running, I'm pretty confident that's more than your individual capacity. Trying to chase clients or lock down the market in your area is probably a waste of your time and energy. Instead, focus on yourself and building your business. Work on providing your clients top-notch service.
Whether your commute is an hour in the car a walk down the hall, we can all agree that it's nice to decompress after a long day at work. The time it takes you to relax depends on what kind of day you've just experienced.
Are you hanging on to those petty feelings of jealousy or bitterness that cropped up during the day? Did you hear someone else's good news and it made you angry? Don't carry those feelings over into your personal life. Don't let them affect your quality time with your family or friends (or your Netflix account). If, throughout the day, you're focusing on the small wins in your life and your business and cheering on your friends and colleagues, you'll come home after work happier and healthier.
For Your Clients
You can't know everything. It doesn't matter what kind of alphabet soup you have behind your name or if you are the king or queen of CE. There are just some things you don't know.
Sorry, I had to rip that Band-Aid off.
The great thing about building out your network is that you can learn from your peers instead of having to know it all. Other advisors are an endless source of knowledge. There is an expert out there who can help you fill in the gaps or brush up on an outdated piece of knowledge. This is so beneficial for your clients. They are getting an even higher level of service and background knowledge. It also helps when you no longer have a team behind you to ask questions or bounce ideas off of.
This is where being part of member organizations like XYPN, NAPFA, or FPA is so great. You may be a "solo"preneur, but you have thousands of colleagues who you can tap for answers.
And you, in turn, can help out others. What are your areas of expertise? It's ok for you to toot your own horn. Hold yourself out as the expert. Teaching others actually helps you retain that knowledge better.
For Your Firm
Think back to when you first sat down to write your business plan; what big hairy audacious goals (BHAGs) did you set for yourself? Have you achieved them?
When you embrace the abundance mentality, you're more likely to think big because you're not wrapped up in your petty stuff. It also becomes easier to take a step back and evaluate what's working and what isn't.
Because there is no space for those negative thoughts, you have more room to work on your business. It's also easy to pivot and embrace the changes and curveballs that life throws at you.
Appreciate the fact that change often leads to more positive outcomes, even if change is somewhat challenging or difficult to navigate.
How To Embrace The Abundance Mentality
Engage in Peer-to-Peer Discussion, Encouragement, and Support
One of my favorite ways financial advisors engage with their peers is through mastermind groups. If you're unfamiliar with mastermind groups, they are an opportunity for you to sit down each week with a group of other business owners and fee only financial advisors. You share your wins and losses, discuss pain points, and set goals with each other. You hold each other accountable for hitting those goals and talk about vision for your firm. You get to learn from each other in a safe space.
If you're a member of XYPN, you can talk to your Member Experience Specialist about being matched in a mastermind group. You can also find one through NAPFA, FPA, or even just organize your own! Grab a group of five or six friends who are also building their businesses and pick a time that works for all of you.
Give Back to The Next Generation of Financial Advisors
Who helped you when you were first getting your career started? A boss, a mentor, a colleague? Maybe it was someone you reached out to cold on LinkedIn or an interesting person you met at a networking event who you asked to get to know better.
Or maybe you're thinking, "No one helped me when I first got started!" That may be true, but don't you wish that someone had? Be that person for someone who is just entering the industry. They will never forget you and they may in turn help someone else. Check out that ripple effect!
A great way to help the next generation of financial advisors is through informal or formal mentorship. I recently spoke to an XYPN member who said he feels like he's at his best when he's engaged in a circle of mentorship. While he is being mentored, he mentors someone else.
Not sure where to start? If you're a member, engage with XYPN's Member Experience Program—our team of Member Experience Specialists knows our Network inside and out and they love making introductions. Short of that, think about posting on the XYPN Member Forums or another community board. Ask for what you're looking for and seek out others doing the same.
Internship programs are another way to help foster the next generation of financial planners. You get to educate a future financial planner and give a student real work experience. These experiences are so valuable for them, but also for you. Having someone new on your team can help you gain fresh perspective about your business and management style. As you train someone else on your processes, you're building their confidence and opening the door to potentially bring them on full-time in the future.
How To Keep The Momentum of the Abundance Mentality Going
Externally
Instead of thinking about how scary networking events can be, embrace them. Before you go, think about what you want to get out of the event. Do you want to share your expertise with someone else? Or do you want to pick someone's brain? (I, of course, am encouraging both.)
Industry events like #XYPNLIVE, NAFPA's national conferences, your local FPA chapter are awesome opportunities to connect and engage with like-minded individuals.
Local meet-ups are another great way to engage. Last year, XYPN hosted over 40 local meet-ups across the country. These are casual (and free!) opportunities to meet other financial advisors and exchange ideas. Sometimes it's as simple as knowing you're not alone. Members and non-members alike are encouraged to attend these events.
Internally
Members often tell me how easy it is to get caught up in those mundane daily tasks it takes to keep your business running. When you're running on autopilot, it can be hard to see the bigger picture. While it is absolutely important to track your KPIs in order to see how your business is performing, you might get discouraged when you're not seeing numbers jump day to day or week to week.
When you get discouraged it's easy to slip back into the scarcity mentality. Why do they have what I don't? Don't let that fear plague you. Here's one more KPI for you to track: your wins. Big or small, it doesn't matter. Did you sign a new client? Did you (finally) catch up on your compliance tasks? Write all those down and continue to celebrate yourself.
Here at XYPN we embrace members and non-members alike. Let's face it, you're in the people business. We're in the business of helping you help your clients. There are countless opportunities to engage in our community and embrace the abundance mentality. Doing so will have boundless positive effects on you, your clients, and your business.
---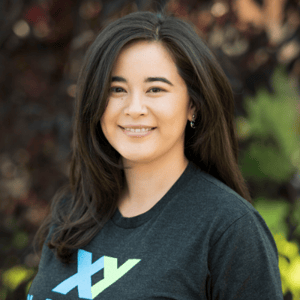 About the Author
As a Lead Member Experience Specialist at XYPN, Isabel connects members to the most valuable resources and benefits relevant to them and their business. She specializes in working with members in the Scaling phase, which gives her unique insight into what kind of growth and pain points that experienced advisors go through. Isabel believes that being a lifelong learner lays a strong foundation for successful entrepreneurship.