We're big fans of niches here at XYPN. We champion them on XYPN Radio, tout them when speaking at conferences, and praise them on our blog. CEO and Co-Founder Alan Moore extensively covers the topic of "niching-down" in talks, podcasts, and one of our more popular webinars. Niches are important to identify, and even more valuable if you can own them entirely. In short, it's invaluable to establish and dominate your niche as a financial advisor. Sounds great, right? So just how do you go about doing that?
How Do You Find Your RIA Niche?
If you know who Jeff Ross is, you know that he's the king of Comedy Central Roasts. If you don't know, Roasts are an annual television insult-comedy event where celebrities get together to "honor" a particular public figure by insulting them (I promise, there's a point to this). Every single Roast in the last 10 years featured Jeff Ross on the "dais", panel of insulters. He's made a name for himself as the "Roastmaster General" and has gone on to create offshoots of these successful products including Historical Roasts, Roast Battle, and more. Jeff said once in an interview that he took what he was good at, and turned it into a "5-lane highway." This is a prime example of niching. In the convoluted world of comedy, Jeff Ross found something that worked, and "niched down" to grow big.

If you can find out the type of customer you're good at giving financial advice to (dentists, nurses, tattoo artists, etc…) and make that a 5-lane highway, there will be very few limits to how you can grow your RIA. But you're gonna need a bigger boat. You're gonna need an Inbound Marketing Strategy to help you organize the volume of interest and scale to the size you want to be.
How can you leverage Inbound Marketing as an RIA?
Definition: "Inbound marketing is a business methodology that attracts customers by creating valuable content and experiences tailored to them. While outbound marketing interrupts your audience with content they don't always want, inbound marketing forms connections they are looking for and solves problems they already have. (HubSpot)"
Marketing has come a long way from the Don Draper days of spray-and-pray creative advertising. The continual focus on ROI has forced companies to design entire marketing machines. The innovation of the marketing revolution is truly a sight to behold, but it's also easy to not know where to start, how to start, and how not to get lost along the way.

Inbound marketing lays out a simple framework that you can deploy over and over again and will grow with your RIA. As you gain momentum and gain more clients, you'll have to put less work into the maintenance of your marketing funnel and spend more time doing what you do best - financial planning. You got into this business because you love financial planning, not marketing, right? So let's ensure you have more time to plan by setting up your funnel with the right components.
The Buyer's Journey

To understand your funnel, you have to familiarize yourself with the buyer's journey. Visitors to your website will be in all different stages of the buyer's journey, and you should have content and touchpoints that are tailored to them in each phase. Below is a standard visualization of the traditional buyer's journey.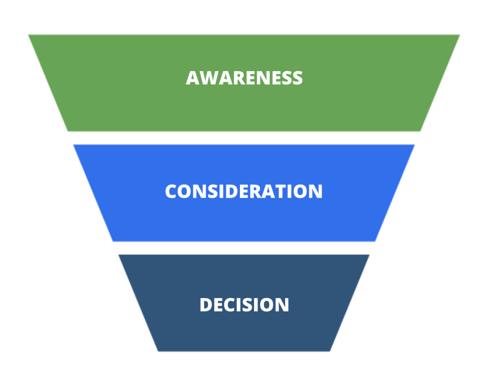 Looks pretty straightforward, right? Well, let's dive into it and understand what kind of touchpoints and goals go along with each stage.

The Awareness/Interest Stage

GOAL: Convert inbound traffic into marketing qualified leads (MQLs)

In the Awareness stage, visitors to your website are experiencing some kind of pain. They want top-level information. They want to know what they don't know. They might even be figuring out how to ask the question they want the answer to.

In the awareness stage, you're going to want to create high-level content to draw your prospective financial planning clients into your website incorporating their questions into the content in the way they would ask it. This is where SEO comes in handy. You'll want to do a decent amount of keyword research to find out what people in your niche are searching for, and then create content around those terms. Effective awareness-stage content can include:

Blogs about niche-specific finance tips

"Effective Retirement Options for Nurses"

"How Much Firefighters Should Set Aside for Their Kids' College Funds"

Podcasts & client success stories

"Estate Planning Strategies for Small Business Owners"

"How One Tattoo Artist Was Able to Set Aside for Their Future"

"4 Teachers That Grew Their Wealth Beyond Just a Pension"

Infographics

"Top 10 Investment Strategies for AirBnB Owners"

"6 Ways to Help Financially Recover From Divorce"
The essence of awareness content is this: keep it high-level enough that it reaches the right size audience, but specific enough to draw in the most relevant contacts from that audience. The goal here is to gain the trust of folks in the awareness stage. They can stay in the awareness stage for a good amount of time, but the information you're providing should be useful enough that they want to take the next step and enter the consideration stage.

Throughout your blogs, podcasts, and infographics, you want to offer them ways to reach out for more. You're going to want to create gated content that can only be accessed by giving up some information. This content is an even deeper dive into the nuances described in your blogs. It has to convey enough value that the user won't hesitate to fill out a form and give you some information.
See what I did there? In all seriousness, if you're considering building out a marketing funnel of your own, download the above template. It'll help you visually organize your marketing funnel assets. Now on to the beefy part of your funnel: consideration stage content.
How will you know when a lead is in the consideration stage?
This is where you want to create downloadable content that specifically lends itself to someone who is actively considering finding a fee-only financial advisor. You'll want to gate it, of course, behind a form. How else will you know who they are? If you're thinking: "But won't they just think I'm going to spam them?" then let me set your mind at ease.

If someone's ready to give you their first name, last name, and email address, they are probably ready for the burden of extra emails. They're in the consideration stage, and they're ready to be nurtured. The key is to make the content valuable enough. When thinking about asking for a contact's information, I follow this rule of thumb:
Would your leads pay $1 for the content you're offering? Ask for an email address

Would they pay $2 for it? Ask for a first/last name and email

Would they pay $5 for it? You might consider asking for their phone number and astrological sign
Here are some examples of the consideration stage content:
Ebooks/Guides

"10 Proven Strategies Dentists Use to Pay off Student Debt"

"The Best Retirement Plans for Small Business Owners"

Checklists

"The RIA Owner's Marketing Funnel Template"

"10 Steps to Financial Independence for Teachers"

Webinars

"How Nurses Can Be Debt Free in 10 Years"

"Everything Young Families Need to Know About Estate Planning"
As long as you're providing value, they'll fill out the form. That's how you know for sure that they're in the consideration stage, and ready to be nurtured.
The Consideration Stage

GOAL: Nurture MQLs into Sales Qualified Leads (SQLs)
Congrats! You've snagged yourself a Marketing Qualified Lead (MQL). At this point, they know you're going to email them. They wouldn't have given you their information if they weren't at least partly willing to hear what you have to say. That's a great power, and if used correctly, you'll create a loyal customer out of them. This is the entire basis of lead nurturing.
At this point, there's almost no way to get around using a marketing automation platform (MAP). They make it easier to scale your marketing funnel without manual effort. Automated emails, landing pages, forms, and analytics are all good hallmarks of a typical MAP.
Within your system, you'll want to design an email lead nurture campaign to continue providing value to your MQLs. Every 4-5 days, they should get an automated email sent from you that looks and feels like a 1-1 communication, offering them additional information. It has to be useful to them, or they'll unsubscribe.
Here's an example of a lead nurture flow:
Email 1: Thank you!

Timing: immediately after they fill out the form

Purpose: send them an emailed copy of whatever they downloaded, and thank them for their interest.

CTA: "If you're interested in chatting, please reach out to me here"
Email 2: Related article

Timing: 4-5 days later

Purpose: "Here's another article I thought you might find helpful as you consider your options"

CTA: "If you want to discuss this further, please book a time on my calendar and we can chat"

Email 3: Related video

Timing: 4-5 days later

Purpose: "Here's a video discussing the recent changes in 401ks"

CTA: "Reach out to me if you want to discuss how this could affect your retirement"

Email 4: Book a call

Timing: 4-5 days later

Purpose: "I wanted to reach out to see if you're still interested in planning for your future"

CTA: "Let's talk"
Depending on how long your MQLs stay in the consideration stage, you should have between 5-7 touchpoints. The last one is always a more direct ask to book a call, but throughout the lead nurture process, you should always allow MQLs to become Sales Qualified Leads (SQLs). If they do this by booking a call on your calendar, submitting a contact form, or calling you directly, you'll know they're finally into the decision stage and are an SQL.

The Decision Stage
GOAL: Qualify and close

This is what you've been working towards. This is where you'll arguably spend most of your manual time. You want to welcome these new SQLs to the bottom of your marketing funnel and usher them into your sales pipeline. Before they become a qualified opportunity to be a new customer, you'll want to do your due diligence. Make sure they're ready to become a customer in a timeline that you've identified as appropriate. Ensure that they have the right financial situation you can help with. Verify that their significant other is on board. Triple-check that they're in your target audience. These are all typical sales qualification tactics that I'm sure you're familiar with. If they check all the boxes, they've successfully navigated your marketing funnel and they're ready for your sales pipeline.

So there it is. The outline of an effective marketing funnel for tour RIA. Again, I hope you'll download the marketing funnel template if you're in the consideration stage, but only if you want us to reach out with other helpful marketing tips and tricks. At the end of the day, your success is our success.
---
About Sam McCue
Sam McCue is XYPN's Director of Sales & Marketing Operations. He specializes in all things SEO, marketing strategy, and automation.