Video is clearly here to stay. Much as post-pandemic hybrid offices have become the norm (working partially from home, partially in the office), so too has the use of video become a mainstay and growing practice in sales, marketing, and in delivering high-level customer service. Tyler Lessard, VP of Marketing from Vidyard, a software company that creates software to host and analyze video performance, asserts in his book, The Visual Sale, that:
"Video isn't just a different way to deliver your same old email message. It provides an opportunity to show, rather than just tell, and use visuals to make your message clearer, more impactful, and more memorable."
So, how can you use the power of video to make an impact on your sales and improve your communications overall? I have eight great tips for you in this post. Let's get started by further understanding the impact of video.
Understanding the Current Marketplace and Interest in Video
Video consumption is at an all-time high across the board in our culture. From do-it-yourself videos, news online, entertainment, streaming educational webinars, to any content deemed interesting by anyone with a mobile device, video is clearly here to stay. At no time in history have we had the advantage of carrying high-definition video cameras in our pockets, with many business-grade video hosting services providing free entry!
Tyler Lessard notes in The Visual Sale,
"If you look at how younger generations are consuming, creating, and sharing video – it's only going to become more pervasive in both our personal and business lives."
Referring to his own children, he shares,
"When it comes to learning, sharing, and being entertained, their preferences are now voice and video."
Despite the relative ease of creating in-house videos, Vidyard's "Inside the Buyer's Brain: Standing Out in the Inbox" presented some compelling information:
"According to Vidyard's State of Virtual Selling survey of over 500 B2B sellers, less than half (49 percent) said they're using custom videos in their sales process. Of the sellers who use custom recorded videos, 70 percent say that video emails produce more opens, clicks, and responses than text emails. But their responses also indicate there's room for improvement."
Image Credit: Vidyard's Inside the Buyer's Brain: Standing Out in the Inbox
Professionals in many industries are using video to make both marketing and remote selling more effective. From engaging prospects to sharing proposals, video is adding a personal touch that is working to shorten the sales cycle and create buyer stickiness. In further understanding the allure and immediacy of video, consider Amazon's Alexa or other virtual assistants, who expel out all the information we expect at our fingertips. Customers want that same "fingertips" ease and expertise at the ready, not tomorrow when your office opens, but on demand.
Video to Highlight Your Firm
In particular, the use of video as a sales and marketing tool is growing in the fee-for-service financial advising space. With more firm owners working from home, video is becoming as commonplace as having a website and using Zoom for our meetings. Selling beyond their geographic locale, advisors are embracing national playing fields to share their firm focus with targeted niche audiences.
We'll look at some of the key ways video can serve to attract and qualify your key niche audience while successfully shortening the sales cycle gap. We'll also look at how the power of video can keep your customers engaged, converting them to raving fans eager to refer you to others!
I invite you to consider something beyond revenue numbers—how might using video work to grow your client base to further impact the many people who dearly need what you have to offer? From a service standpoint, how might the impact of serving just 10% more clients a year positively impact families, young professionals, and retirees in achieving their goals and living the life they desire through your expertise and caring?
With that framing in mind, let's look at how video can bridge the "tell me now" gap while creating an immediate connection and intimacy with your prospects and clients. You'll better serve your business growth goals and objective to help more people.
8 Tips to Skyrocket Your Sales Through Video
1. Video to build greater rapport, empathy, and buy-in
An email hasn't the ability, no matter how many emojis you employ, to engage through voice tone, facial expression, your setting background, and body language the way video does. You can add to that impactful visuals to create a more compelling and personal prospecting conversation, educational experience, or follow-up to a previous in-person or live Zoom meeting. As an example of being able to use visual elements in your video communications, BombBomb video reps advocate the use of a small dry erase board to scribble "Hi Tiffany" as part of their recommended engagement practice.
Sales folks are finding that they're often able to spend less time in their "getting to know you" conversations, having had the advantage of prospects getting an initial sense of who they are through a video introduction. Sending an email directly or housing a video on your website works to both create rapport and share key information, helping to qualify your leads. Rapport is built more quickly and powerfully when a prospect has had the opportunity of getting to know you through an introductory video.
In The Visual Sale, Marcus Sheridan asserts,
"A recent study by Cisco found that, globally, video traffic will be 82% of all consumer internet traffic by 2022. Up from 75% in 2017."
Whether we like the idea of video or not, it's here to stay! To successfully outlast your competition and gain market share, you'll need to follow suit. Let's look at a few specific ways video can serve you, and thereby the people who need what you do so well. Consider videos you can create in house and with little production experience on your part. Consider the "why" for each video you create and how each communication can help serve your marketing, sales, and customer experience initiatives and intentions.
2. An introduction to your business through your website video
Where might you provide an intro on your website to introduce you and what uniquely differentiates your firm and you as a fee-only financial advisor? How might a short video highlight your passion and expertise for your unique advisor niche and the results you've worked to provide for your clients?
Consider how your smile, authenticity, and the information you share work to build rapport and trust with your prospect, certainly enough for them to sign up for your initial Introductory "Prospect Fit" sales call.
Introducing yourself before you actually meet is a powerful bonding move, provided you share the authentic you. Be aware also of what your lighting, dress, and background say about you and your firm.
3. A video follow up to your initial introductory and/or discovery meeting
Following up on an initial in-person Zoom call with a video can be fashioned in a number of ways. If you've tracked the behavioral style of one client in a couple as preferring bullet-point summaries and getting to the point, you might opt for a short and succinct email to review the meeting and next steps in that way. If you have another client in the couple who likes to hear stories or responds to more description reviews and affirmations, a video can be more effective.
I worked with an advisor who did just this, finding the perfect response and information balance for two completely different behavioral profiles of his couple clients. His approach—using video with one and a more succinct and to-the-point email for the other—worked and he won the business!
4. Video as a helpful instructional guide
Gathering data and documents for a "Get Organized" meeting after you have closed the sale is rarely the most fun aspect of a client engagement. From a customer point of view I can attest that it's not my favorite part of the financial planning process. Administrative tasks aren't many clients' favorite activities. Keeping documents organized or even navigating through an electronic signing process can be overwhelming to clients not savvy with technology or the process.
Consider providing a short instructional video guide to assist your client in navigating the "how-tos" of agreement signings, or uploading documents or any other process that works to keep your business streamlined and which serves your client well.
5. A post-webinar video call to action
To the advisors I coach, I recommend they have a clear "call to action" after sharing webinar content with their key audience members. They've possibly identified an association within their niche focus and provided an informational offering relevant to that audience, i.e., "7 Key Questions to Ask Before You Retire."
As wonderful as it is to get in front of an audience who needs what you have to offer, by not following up to engage, you leave potential business on the table. Asking your association host for permission to reach out to the attendees, with a short video thanking them for attending, including perhaps an attached relevant white paper or blog is powerful.
Your "call to action" is encouragement to engage further in a complimentary introductory meeting to learn more or to sign up for your informational newsletter. The key is that you ask. Doing so via a short video within an email can be compelling and powerful!
6. A video customer service touch-in
I highly recommend monthly check-ins with your clients, guided by a workflow and touch-ins that are manageable to you. Aside from your scheduled service calendar meetings, planning to send a note of gratitude in an e-card on the anniversary of your client joining ranks with you is effective.
Consider as well a video touch-in, an effective, warm, and caring reminder to your client perhaps of the wins you've achieved together or your gratitude for having them as a client. Once practiced at the videotaping process, it takes little time to create and send and, best of all, will make your client feel incredibly valued!
Here is an example of a customer service touch-in video themed around the end of the year and the holiday season, created using BombBomb:
Example of a customer service touch-in video.
7. A video delivering what prospects really want to know
All the above tips said, what might get at what your prospect really wants to know about what you can do for them? Yes, it's key to share your passion, expertise, and the results you've helped clients yield, but more important is getting to the bottom line of what you can do for them! How does what you shared about another client's results matter to them?
Consider including on your website a video that talks about your various service offerings (tax services, debt reduction, estate planning, etc.) and pricing structures (i.e., hourly, project-based, retainer, AUM, etc) with a note about your range of pricing. This is information your prospect needs, along with your track record of how you've helped others achieve their goals.
With that, sharing the cadence of the sales process you employ and how it helps you both find out if you are a mutual fit is key. Do your advisor offerings fit what they need and are they the clientele you can best to serve? Outlining that process, with no commitment other than your lead agreeing to the best practice sales process you recommend, will help convert your qualified leads to prospect status and weed out the folks who are not a fit.
Remember that the first sale you make (with the use of effective video) is buy-in to your recommended sales process and getting your prospect to sign up for your meeting cadence. Consider how to genuinely share the importance of that step and your willingness to also take the time to see if you are the best person to help them. Finding out (and saving time if you choose to not further engage) constitutes a win for you both. If they are not a fit, you've successfully vetted; if they are, you're on your way to securing a new client.
8. How do I get started using video? DIY or professionally-produced?
Fair enough—you're not much of a DIY-er. However, there are platforms that make in-house video production a breeze at incredibly affordable prices, or for free. So, consider an informal Loom, BombBomb, or Vidyard video platform to send out follow-up emails or engage prospects or touch in with clients. How might these platforms (with robust free learning tutorials to help you along) work to help you create follow up with prospects or clients or instructional videos to insert on your website? Consider how this medium might better spell out what you'd like to communicate!
Also, consider when a video should be more professionally produced to highlight the intent of your business and service. An advisor I have worked with—John Bovard—had a professionally produced video created to introduce his business, Incline Wealth Advisors, and his focus on entrepreneurs in his community. Scroll down his homepage to see what he had created for under $3000. I like his focus on the demographic he serves and that he had the skill to narrate beautifully. As a former entrepreneur, I admittedly tear up every time I view this short video. For me, he nailed the message I would need to hear to consider engaging with his firm.
Similarly, Brooklyn Fi has outsourced the creation of a professionally-created video to highlight—authentically—who they are and what differentiates their brand. These are two very diverse examples of how video tells a story to create prospect buy-in and interest to investigate further.
Consider the value in spending some marketing dollars to professionally tell your story through video. Equally as important, consider the effectiveness of including short, self-produced videos to better communicate your value, summarize a past meeting, or spell out the services you provide and your pricing.
With a data-backed bang for your buck, allow the magic of video communication to express your warmth, authenticity, unique style, and the unmatched service you provide. Allow video to engage your prospects and clients alike while working to retain great customers and win new ones! And don't forget to smile!
---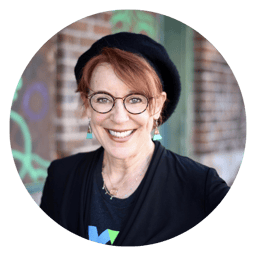 About the Author BB Webb
XYPN's Sales Coach BB Webb boasts an impressive background in the arts and as an entrepreneur. She first dipped her toe in the world of sales while touring her one-woman play across the country, and then dove in headfirst as the founder of an award-winning Atlanta-based special event venue. In 2014 BB published her book, Build Your Business: BB Webb's Notes From the Highwire and has worked as an Executive Coach with small business owners.
BB's goal is to help XYPN members build great relationships, plans, and processes for sharing their services as financial advisors. With a focus on consultative selling, her programs are designed to guide advisors in having meaningful conversations with prospects and sharing their value fearlessly and with joy.