Why You Need to Align Your Firm's Marketing and Sales Strategies
6 min read
March 26, 2020
Marketing and sales—these two critical business functions go hand in hand. Often though, they're either conflated or pitted against one another. But the real magic happens when you align marketing and sales so they work for you, not against you.
While these two business functions share a common goal—attract prospects and convert them into clients (hello revenue!)—they do in fact differ. In the early stages of firm ownership, you'll likely handle both the marketing and sales sides of your firm. But as your team grows, you may have employees who are responsible for one or the other.
Knowing the differences between each and understanding how to keep them aligned is essential whether you're wearing both the marketing and sales hats or you're delegating these tasks to someone else.
Marketing
Marketing is the art of informing and attracting potential clients to your product or service (in the case of financial planning, a service), which in turn generates a list of leads that can then be handed off to sales.
Marketing does the legwork to show why your solution is better than those of your competitors and why people should ultimately choose you as their financial advisor. The more immediate goal is to fill your sales pipeline with qualified leads; if your marketing efforts have been effective, sales will be able to take the baton and convert those sales-qualified leads into clients.
Always remember that marketing is a long play. You may find you need to nurture most leads for at least six months before they're ready to make a buying decision and become a client. Keep at it—it's all a part of the process.
There are a variety of marketing techniques you can use within your firm. Let's explore a few:
Content marketing. Content marketing involves the creation of content that educates and attracts potential customers. This can include writing blogs, hosting a podcast, or creating "freemiums" that are available for download in exchange for providing an email address.
Email marketing. Once you have a prospect's email address, you can turn to email marketing. This is a great—and powerful—way to get content in front of your audience. You can personalize content and then dive into the open and click rates to see what is resonating.
Social media marketing. This is a popular avenue and there are a lot of social media networks to plug into. Facebook, Instagram, Twitter, YouTube, and LinkedIn are just a few of the many platforms out there. How do you choose? Go where your audience is.
Print marketing. This can get expensive, and may seem a little outdated, but some advisors find print advertising to be really effective. A few ideas include advertising in your local newspaper or mailing a promotional postcard.
In-person marketing. Get into the community and network with your target market by attending networking events and conferences. Seek out speaking engagements, networking socials, and conferences that will get you interacting with the right people.
In today's world, the internet makes it easy to find whatever you're looking for at any time. This means consumers can do all their research before even interacting with your firm, so you want to ensure the content you put out is helpful, useful, and meaningful. There are countless marketing techniques, so don't be afraid to jump in, try out a few, and find what works for your firm.
Sales
Eventually, there is a handoff from marketing to sales. Once marketing has delivered sales qualified leads, it's up to sales to convert them into clients.
Some sales activities include email correspondence, phone calls, and virtual or in-person meetings to answer outstanding questions while reinforcing the value of the service (or product) being provided. The prospect is already interested in your service, so your focus will be relationship-building and providing the additional resources and information a prospect needs to make an informed buying decision. Remember, a prospect is working to discover if their problem will be solved by the solution you're offering.
There are a few things you should be doing within the sales world to keep track of your qualified leads as you build a relationship with them throughout their buyer journey.
Build out a sales pipeline. This will provide you with a visual representation of the stages a prospect moves through as they progress from a lead to a client. The end goal of a pipeline is that it easily allows you to keep track of prospects as they move through your sales process from one interaction to the next, while also providing an idea of how many clients you can expect to bring on over any given period of time. In turn, you have a solid estimate of the projected revenue your firm will generate over that same time period.
Leverage the power of automation. Use automation to the best of your ability. A lot of CRM systems have tools that allow you to schedule emails in advance and send out templated emails during certain times in a prospect's journey. Don't be afraid to use these—it will save you time in the long run. It's really handy to have a calendar application that can integrate on your website so prospects can easily schedule meetings and avoid playing the endless email game of "Are you available this day and time?"
Follow up! If you don't follow up, leads will fall off and disappear from your radar. Circle back at appropriate times to see if a prospect has any additional questions you can answer or if they have any updates to their current situation that you can assist with. A good rule of thumb? The only time to stop following up is if you determine the prospect is no longer a good fit or they tell you to hit the road.
Ask for referrals. Who is the best one to send good leads your way? Your current clients! Don't be afraid to ask for referrals when your prospect becomes a client. This can be a really beneficial way to build your sales pipeline with good leads.
Be passionate. This is your firm and as a financial planner, you have the opportunity to make a difference in the lives of others. You are helping people achieve their financial goals through good times and bad times. Don't ever forget that!
Staying Aligned
One of the best indicators of your marketing and sales success is knowing who you are marketing and selling your service to. You likely already have a niche established, but you need to dig deeper and create an ideal customer avatar for your firm as well.
Avatars are also known as personas. Essentially, these are fictional characters you create that represent the ideal client who would be using your service. By designing personas, you'll have an understanding of your clients' needs, behaviors, challenges, and goals.
Creating personas ensures that marketing and sales stay on the same page because you know exactly the type of client you want to be work with.
How to Keep Everything on Track
A customer relationship management (CRM) software can be used to manage both your marketing and sales activities as well as ongoing client activities. A CRM is not only a great way to stay organized, it also allows you to keep track of what is working within your firm and what is not by providing a "full picture" from the time a prospect first enters your universe to the time they convert into a client (and beyond). With a CRM, you will have all the information about their journey from prospect to client and can use this to inform your marketing and sales efforts.
A CRM is also incredibly useful for data reporting. You'll have separate data metrics for your marketing and sales functions, but that doesn't mean you have to (or should) keep them separate. Create a spreadsheet or data report that tracks both sets of metrics so that you can easily visualize the top, middle, and bottom of your funnel all in one place. Doing this will not only allow you to see the big picture but it will also ensure your marketing and sales activities stay aligned.
Without marketing, you won't have leads, and without sales, you won't have clients. These two business functions are vital to your firm's success so while they may not be what gets you out of bed in the morning, they certainly help keep the lights on.
---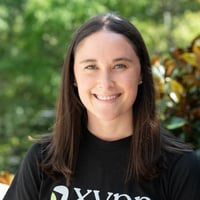 About the Author
Lindsey Harrington is known as the Network Navigator at XYPN, helping prospective members learn more about membership and what it takes to join our growing community. She is passionate about sharing the tools and resources the community has to offer to help individuals start, run, and grow their own fee-only financial planning practices.