"You guys keep getting bigger and better!" said XYPN Live conference attendee Dana Menard after our 2017 event. That, in a nutshell, is exactly what we aim to do.
XYPN Live 2018 promises to be our most productive annual conference yet. We're doubling down on Coaches' Corner, the venue is bigger, and we're carefully selecting only the most relevant vendors for Exhibit Day. We're anticipating several hundred attendees, exhibitors, and speakers will converge in St. Louis for our fourth annual event this September.
Our team works all year to deliver a valuable experience at our annual conference. That work starts with plotting the content to ensure attendees return to their practices with new energy and education. We're continually refining the framework behind our content tracks with the goal of offering incredible value to all attendees, regardless of where they are in the lifecycle of their businesses or whether or not they are members of XY Planning Network. "A valuable experience, even for non-members," agreed 2017 attendee Justin Pritchard.
This year, you'll find the return of the Start, Run, and Grow Tracks. As always, we'll have a Continuing Education Track to provide CFP CE credit. Each of the tracks are designed to feature the most impactful and applicable subject matter specifically for firm owners.
"As a solo run RIA, the conference is a game changer," said another 2017 attendee, Kerrie Beane, "I cannot wait for XYPN18!"
Consider yourself warned: we're packing so much into these few days that you'll want to arrive well-rested! Here's a look at the content we have planned for you at XYPN Live 2018:
Start My Firm Track
This track is designed to help you get your firm off the ground or to create a blueprint for your future firm.
In Start, you'll walk away with many of the key components needed for a successful and well-rounded launch of your firm, from creating a brand that attracts clients to making sure you are able to communicate the value of your retainer services.
When it's all said and done, at the end of the conference you should be able to sketch out a foundation for a financial planning business.
Run My Firm Track
Are you over the start-up hurdles but still need to get to the nuts and bolts of planning and running your firm? The Run track will interest you.
In addition to content from a variety of subject matter experts, Run will feature panels of XYPN members who have succeeded and gained expertise in specific areas. They will share their secrets for success, as well as pitfalls to avoid. Who better to lead these sessions than those who have been there/done that?
"I am less overwhelmed than before XYPN17" said attendee Julia Gray, who noted an added benefit of getting to know XYPN members, "I was amazed to find like-minded people with similar interests as me, even in the most niche ways."
Subject matter experts will speak on growing a practice via hiring, efficient processes, providing an incredible client experience, and more.
Grow Your Firm Track
At some point, the time will come to grow your firm. The Grow track is designed for advisors who want to focus on putting the pedal to the metal to increase client numbers.
You'll learn how to use your niche and expertise to more effectively target your ideal clients. Hear from our Director of Marketing Jennifer Mastrud, Marketing Coach Carolyn McRae, and others about tactics to take your firm to the next level. We want you to walk away with fresh enthusiasm and a shot of adrenaline for your business.
"The energy level I have coming back into my practice is much higher than when I left. It is great to be around like-minded professionals," said 2017 attendee Justin Waller, "I am looking forward to next year already."
Continuing Education Track
Are you looking for relevant content to earn CFP CE credits? If so, the Continuing Education track is for you. Learn from experts about topics applicable to you as you accumulate CE credits. Stay tuned for more information as details become available, but rest assured these sessions will be pertinent to your practice and worth every minute...which is our distinct mission for the entire conference agenda.
--
We're looking forward to seeing many familiar faces in St. Louis and making some new friends too. If this is your first XYPN Live event, welcome! We invite you to read more about XYPN LIVE 2018.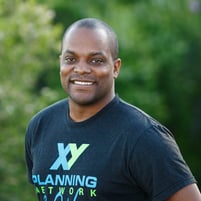 About Stephen Alred
Stephen first joined XYPN as a member. After working with the team on smaller projects, he was hooked. He now serves as the Director of Advisor Success. He's worked with multiple companies inside and outside of the financial services industry, specifically in helping them design their marketing and technology strategies.
When he's not working, you can find Stephen in Atlanta, GA attending a startup event, reading a book at a random coffee shop, or diving into new experiences with his wife Erin.