What Do Financial Planners and Personal Trainers Have in Common?

7 min read
June 18, 2018
When it comes to creating understanding, analogies are hard to beat. They help connect clients to messages that are sometimes hard to understand and can motivate clients to take action and make better decisions.
Why?
Because through analogies, your audience is able to arrive at the intended understanding on their own. As a financial planner, this makes analogies a powerful tool because ultimately, our goal is to help our clients make better, more informed decisions for their ideal life (whatever that may be).
There are many analogies that translate to financial planning so well when positioned correctly. In this blog, I will explore one of my favorites that I have used with clients, taught to advisors, and integrated into firms across the country.
But before we dive in, there are a couple of "guidelines" to consider when using analogies to communicate with clients:
Know your audience. Not all analogies work with all people. Using the wrong analogy is a surefire way to shut down a meeting—and a mind.
Be flexible. As you learn more about your audience, adjust to their preferences. For example, for some, the word "trainer" resonates better than "coach" and brevity triumphs over lengthy explanations.
Have a desired outcome. Know what you are trying to achieve by using an analogy. People love a good story and we want our clients to feel comfortable, but we aren't here to be great storytellers; as financial planners, our goal should always be to drive clients to decisions that improve their financial lives.
With that said, let's dive in.
The Personal Trainer Analogy
One of my favorite analogies is the connection of a great personal trainer to that of an amazing financial planner. It's an analogy that typically connects instantly and on a number of levels.
What it effectively highlights:
Your ongoing value and the need for planning (versus "just a plan")
Your specific niche or focus
The personalized nature of how you work with clients
You set realistic goals (and will tell your clients the truth)
"Success" doesn't happen overnight
The little things matter
You understand your clients, and how and why certain things work over others (which leads to incremental and ultimately long-term change)
This is about more than just money or investments
You challenge your clients
Discipline + changing habits = change
The personal trainer analogy is aspirational and sets the tone that you work with people looking to better themselves. You're not looking for a transaction; you're looking for a relationship with someone who wants and knows they can achieve more. They just need some help getting there.
People sometimes ask, "Why not use the 'doctor' analogy?" For starters, people don't typically like going to the doctor and often associate the experience with illness. Whereas most people have to go to the doctor, they actually choose to go to a personal trainer.
It's Not Rocket Science
Financial planning and personal training are both professions everyone believes they can do on their own. There is virtually unlimited information and free fitness and financial "advice" everywhere you turn.
"Eat right and exercise" sounds a whole lot like "don't spend more than you earn and save."
It seems simple, but it's easier said than done.
Everyone should be able to do both of these things, and yet a lot of people don't. Often, finding the path forward is the hardest part, and people get overwhelmed trying to figure out where to start. For example, if you Google "How to lose 10 pounds" the first search result is a post entitled "50 Ways to Lose 10 Pounds." 50 ways! For someone just getting started on a weight-loss journey, that is an overwhelming number of options. Just as there are seemingly unlimited "options" for losing weight, there is no shortage of resources providing financial advice—the problem is sifting through it all and being able to identify what information is legitimate, and what information isn't.
Like a great personal trainer, a great financial planner helps clients navigate the noise and put together a plan that fits their specific needs. And we don't just hand our clients the plan and say, "go." We help them understand why they need the plan and provide the discipline to get them where they want to go. We challenge and push our clients, and, as my mentor would say, we provide the "quality irritation" to push them to action toward their best lives.
Sound Bytes You Can Use
Anyone can go online and find any number of workout plans, routines, apps... it's all there. So much, in fact, that it can be hard to know which to choose. The first challenge is knowing what is right for you specifically based on what you're trying to accomplish. The other challenge is actually taking that plan and executing it. As advisors, our role is to help develop the specific plan that makes sense for what our clients want to accomplish. That's the easy part. The real value comes in providing the ongoing discipline to keep our clients headed where they want to go.
Wanting to get in shape for a marathon and wanting to lose 10 pounds are two very different goals that require different paths forward. Similarly, preparing financially for a family looks different than preparing financially for retirement. Depending on what our clients hope to achieve, we tailor a plan specifically for them—their wants, needs, and goals.
Eat right and exercise and most folks will be okay. But most of our clients don't just want to be "okay." Our clients want to be purposeful and intentional to create a life they love. We work with them to provide the framework and discipline to make that happen.
Everyone's views of success are different and no two people have the exact same goals (or situation for that matter). A successful financial life looks different to everyone. Personal trainers understand their clients. They understand their capabilities and how their bodies react to certain exercises and foods. In many cases, they know their clients better than their clients know themselves. Just like personal training, financial planning is all about understanding. The better we, as financial planners, understand our clients, the better we can design plans and strategies for great outcomes.
Working with a personal trainer is about more than the workout. There's also diet, flexibility, proper form on exercises, mentality, using the right equipment, making better choices, and environment. The same holds true with a planner; there's so much more to working with a financial planner than the financial plan itself. We work with our clients in all facets of their financial lives to ensure everything is in sync and optimized for each client's best financial life.
The personal trainer analogy is just one of many great analogies you can use to help drive your clients to action. Analogies are a particularly powerful communication tool because they are tailor-made to communicate ideas in a way that is memorable and easy to understand, shedding light on hard-to-grasp subject matter (like finances). They engage the listener and excite the imagination, with the power to take a listener from passive to active. With all these powerful benefits, I strongly encourage you to use analogies as a communication ally in your business.
Do you use analogies in your firm? How and when do you use them? What are your favorites? We would love to hear from you!
---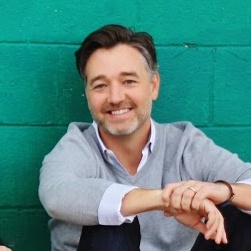 About the Author
A creative innovator and collaborator, Brandon Moss has had a front-row seat to the digital advice revolution, helping build one of the most innovative national RIAs on the planet. He's acquired a 360* view of the RIA landscape, from being an advisor and running his own firm to designing and integrating some of the most innovative tools in the industry. He has lead, trained, coached, onboarded, integrated, transitioned, (you name it) over 100 RIA firms/wealth management teams. Additionally, he's evaluated, prospected, pitched (again...you name it) countless other firms. Consequently, he's an exceptional listener and comfortable in many different conversations! Occasionally, he's asked to opine on varying topics, typically Gen X+Y, innovation, client experience and technology. Beyond those topics, he's typically "winging it". Brandon graduated from Texas Tech University's globally recognized personal financial planning program, then made it through some Executive Education at UC Berkeley's Haas School of Business. He's also perpetually in online classes trying to figure out something new. Brandon resides in the Dallas/Ft. Worth area with his wife, Shelby, and his identical, mirror-image twin boys, Will and Reese. When he's not with them, he's probably in his garage tinkering, building, or buying way too much golf equipment.
Brandon is the Director of XY Investment Solutions (XYIS), XY Planning Network's digital hybrid investment platform. It's a turnkey asset management platform (TAMP) designed and curated to the specific needs of XYPN members.
---
This information is provided "AS IS" and without warranties of any kind either express or implied. To the fullest extent permissible pursuant to applicable laws, XY Investment Solutions, LLC (referred to as "XYIS") disclaims all warranties, express or implied, including, but not limited to, implied warranties of merchantability, non-infringement and suitability for a particular purpose. XYIS does not warrant that the information will be free from error. None of the information provided is intended as investment, tax, accounting or legal advice, as an offer or solicitation of an offer to buy or sell, or as an endorsement of any company, security, fund, or other securities or non-securities offering. The information should not be relied upon for purposes of transacting securities or other investments. Your use of the information is at your sole risk. Under no circumstances shall XYIS be liable for any direct, indirect, special or consequential damages that result from the use of, or the inability to use, the materials in this site, even if XYIS or an XYIS authorized representative has been advised of the possibility of such damages. In no event shall XY Investment Solutions, LLC have any liability to you for damages, losses and causes of action for this information. This information should not be considered a solicitation to buy, an offer to sell, or a recommendation of any security in any jurisdiction where such offer, solicitation, or recommendation would be unlawful or unauthorized.