What You Need to Know About Launching Your Own Financial Planning Firm

8 min read
August 15, 2019
Your firm was recently approved—congratulations! You successfully jumped a major hurdle in getting off the ground as an RIA…but now what?
You have a lot of new decisions to make and may also end up revisiting some aspects of your initial plan, so where's the best place to start? To facilitate the launch process for your firm, XYPN has identified several primary categories you should focus on:
Business Essentials
Marketing
Sales
Financial Planning and Process
XYPN's Firm Launch Coaching Series, comprised of live webinars with XYPN coaches Arlene Moss, Carolyn Dalle-Molle, Emily Purdon, and BB Webb and included in XYPN membership, walks you through decisions you'll need to make, outlines best practices, and identifies potential challenges and stumbling blocks you may encounter. This blog provides an overview of what you'll learn in the series.
Business Essentials
Revisiting Your Business Plan
Since you created your initial business plan when most aspects of your business were theoretical rather than practical, you may find you'd like to revise some of your initial decisions.
If you haven't outlined your business plan already, consider using a business plan template to capture all the relevant details. If you have a business plan already in place, congratulations on a great start! It's a good idea to regularly revisit this plan (not just now, but as your business grows) to ensure you're headed in the right direction.
You'll want to review all the business plan basics: your mission and vision statement, core values, and organization chart. You should also take another look at your strategic plan, including your competitive advantages, barriers to entry, and the tools you need to execute.
Check in on your first-year budget at this time and review key aspects of your business development plan, including client personas, value proposition, service packages, and promotional plan. Finally, you'll want to take some time to outline revenue projections and KPIs based on the goals you've established.
Outsourcing & Hiring
While it may seem early in the game to start developing plans for hiring and continuity planning, it's a good idea to at least start thinking about these business decisions now.
You probably won't be ready to hire employees just yet, but think about whether you may want to outsource (even just a few hours a week) some of the tasks you either don't enjoy or aren't good at, such as admin work.
If you do decide to hire or outsource, focus on finding someone who complements your skillset, and who may offer a fresh perspective on your business. We also recommend hiring before you are absolutely buried in work so you have availability to onboard and train properly.
Document your processes thoroughly and create workflows well before you make your first hire and you'll find that the ramp up process is much smoother than if you were scrambling at the last minute.
As you're creating written processes, make sure they will make sense to someone who is not an expert in financial planning or in your particular niche. Learn more about creating, developing, and documenting processes.
Continuity Planning
One of the first things you should have in place when starting your firm is a business continuity plan (not to be confused with a succession plan, which can be created later).
This plan will help protect your business against unforeseen events or threats and should include a detailed disaster recovery plan. The plan should define all potential risks and liabilities and outline what procedures will be used to help mitigate those risks.
For more information on succession and continuity planning, read The Succession Planning Mirage And The Rising Need For Exit And Continuity Planning Of Lifestyle Practices Instead by Michael Kitces.
Time Management Improvements
As your business grows, time management is critical to scale effectively. This is the time to overhaul any sloppy habits and take control of your schedule before you start to rely on habits that won't be conducive to optimal efficiency down the road.
One of the best ways you can manage your time is by planning and scheduling your time effectively. Our business coach Arlene Moss recommends:
Starting broadly and narrowing your focus: first think about what you want to accomplish in the next calendar year, and then break those goals and tasks down into months, weeks, and days.
Create a shadow calendar for your creative time, admin time, or for personal appointments so you don't schedule over important events and tasks. Client time is important, but you'll also need time for creating client plans, working on your business, and recharging on a personal level.
Use time blocking for client meetings, admin time, creative and brainstorming time, and personal time so you can plan effectively and know how you're spending your time.
These tips can help you create some structure around your calendar so you don't end up wasting time or over-scheduling yourself.
Core KPI Review
Now's a good time to take another look at the KPIs you established early on and make sure they are still on track.
XYPN's annual benchmarking study is one of the best ways to measure your progress in terms of revenue, fees, service offering, marketing outcomes, sources of growth, and many other factors. We survey hundreds of advisors at all stages of business growth who provide firm data that we then analyze for you and present so you can compare whether your firm stands and set appropriate goals.
Marketing
Define Your Initial Target Audience
Before you start marketing, you need to know specifically who you are trying to attract!
This is the first step in creating your launch plan and can put you on the right track toward bringing in the kind of clients you enjoy working with the most.
We help you review what an "initial audience" really is, and how you can outline the unique wants, needs, motivations and selling points for your initial audience so you're better able to market to them.
Create Your Launch Plan
Once you've defined your audience, you're ready to create your marketing plan. XYPN's Marketing Coach Carolyn Dalle-Molle recommends taking the following steps to create this plan:
Outline your target market demographics
Identify the top needs, motivations, and possible obstacles for your target market
Create a core message that will resonate with your ideal clients
Outline selling points that align with client needs and motivations
Build hype and interest for your firm's launch
Determine what assets you need to execute your firm's launch
Determine the best time to launch
A well-thought-out plan will help you avoid missing details critical to your firm's launch and will keep you on track before and during the launch phase.
Refine Your Website Ideas and Plan to Drive Traffic
With your initial target audience in mind, we'll start talking about your website. We help XYPN members outline a website that reflects who they are as planners and that is appealing to their ideal clients.
At this stage, it's important to refine the core messages you'll present on your site, review the details you should include, and design "intended paths" you imagine people might take through the site.
Once your website plan is strengthened, you can then focus on options for driving traffic. Some additional website tips from Carolyn include:
Focus on ONE thing for new visitors: Make it easy for new visitors to know what they should do to engage with you, if interested. Choose one key action and make it clear. Consider a middle of the funnel CTA for this, such as watching a video or downloading a detailed explanation, to help them get to know you.
Add movement to your website via image sliders (see: MetaSlider), Twitter feeds or article scrolls (see: Tonjoo plug-in) can help bring your website to life and give it a more modern feel.
If you haven't browsed through each page of your website on both a mobile phone and a mobile tablet, do it. If anything looks "off'' work with your designer to make the website responsive.
Sales
Presenting with Confidence
Now that your marketing plan is off the ground, you're ready to start honing your sales process. When meeting with prospects, there are several main keys to presenting confidently and closing the sale that we recommend you focus on at this time:
Know Why: Knowing what you hope to achieve during each step in the sales process is key to successfully winning clients. This will help focus the conversation and ensure that both you and the prospect walk away feeling that the interaction was a success.
Know Who: Understanding your audience will give you insight into their goals, motivations, and fears, and into their level of understanding about your services.
Create Flow: For your sales presentation to be clearly understood by prospects, it's important to 1) create expectations for the presentation, 2) clearly review key areas you plan to discuss, 3) segment your presentation by topic, and 4) eliminate redundancies and jargon.
Provide Context: By explaining to prospects why the information you are presenting should matter to them, you increase the relevance for the lister and increase the chances of gaining a client.
Focus on Behavioral Style: Listen and watch to learn the preferred style of your listener, including tone of voice, pacing, word choice, and body language. This can increase your connection with the prospect and enable you to tailor your presentation to their preferred mode of interaction.
We will help you take these keys and create a sales process and approach that matches your personal style.
Sales: Activity-Based Selling
Activity-based selling concentrates on key steps during the sales process, which can help keep you focused and on track. We help you create a sales plan and integrate it into your daily activities by creating quarterly, monthly, weekly, and daily activities and take stock of your current sales funnel and pipeline.
For more information on which sales approach and training might work best for you read Why The Best Sales Training Approach Depends On Your Unique Sales Personality Style.
Financial Planning
Creating and Implementing Workflows
Workflows are critical for 1) streamlining processes, 2) improving productivity and efficiency, 3) making sure details don't slip through the cracks, and 4) training new staff.
We recommend you leverage your CRM to implement workflows in your practice as soon as possible so you can grow and scale your firm while maintaining a high level of service and personalization for clients.
You can use workflows for numerous business processes including client onboarding, compliance tasks, marketing processes, and practice management tasks.
Overcoming Barriers in a Discovery Meeting
During the client discovery meeting, it's easy to be overly focused on your agenda, priorities and timeline and, as a result, overlook some of the client's needs.
XYPN's Financial Planning and Process Coach Emily Purdon recommends making sure you're asking the right questions to set the stage for a productive, transparent, and lasting advisor-client relationship.
We'll show you how to uncover your clients' goals and motivations and overcome any potential roadblocks to client success.
Implementing an Annual Financial Planning Service Calendar
A client service and communications calendar is one of the best ways to stay organized, productive, and efficient, boost your value proposition, improve the client experience, and justify your fees.
We recommend implementing this calendar for your firm right away to create a positive client experience from the very start.
For detailed information about how to create a client service calendar to show value to prospects, read Crafting An Annual Client Service Calendar To Illustrate A Financial Planner's Value To Prospective Clients and review a sample annual client service calendar, both from Michael KItces.
All of the topics highlighted above are covered in detail in weekly live launch coaching sessions included with XYPN membership. Are you an XYPN member? Learn more about and register for XYPN's Firm Launch Coaching Series.
---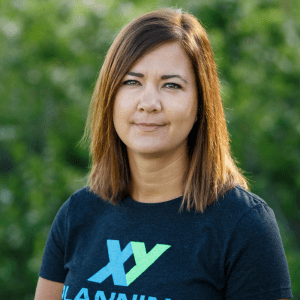 About the Author
Kate Ross has spent the last ten years of her career developing educational materials for financial professionals and brings a passion for instructional design and curriculum development to the XYPN team.
In her free time, Kate can be found front row at a concert, camping in the woods, floating a river, or hiking in the mountains near her home in Montana.