On June 21, 2018, Advisor Group announced its plans to acquire Signator Investors from John Hancock and merge it into Royal Alliance. Mergers like these have become common in the broker-dealer space as margins continue to shrink, sales shift from higher margin commission products to fee revenue, and advisors expect value from their firm for the margin they are giving up.
The name of the game in the broker-dealer space is scale. As the total number of financial representatives decreases across the industry, the way to achieve scale is through acquisition.
For someone like myself who had worked at John Hancock and Signator for the past 11 years, this presented an opportunity to evaluate my options and the path I wanted to take in the financial services industry.
For the past few years I have been responsible for leading Signator's recruiting, acquisitions, and advisor resources. I worked with advisors and firms to help them grow, including building advisor teams, practice acquisitions, and implementing succession planning, while also helping lead the strategy for the broker-dealer.
During my time with John Hancock and Signator, we were able to acquire the Transamerica independent advisors, grow the network by recruiting experienced advisors from other firms, and launch programs to help our advisors transition their businesses from a transaction to recurring revenue model.
But despite this progress, the question was always there: as the financial advisory business continued to shift, could the existing business models evolve quickly enough to keep up with technology and client expectations, or was it better to create a model based on where the market was going?
It was this ongoing question that ultimately brought me to XY Planning Network (XYPN).
Why XYPN?
We have seen the financial services industry continue to evolve from brokers and insurance agents selling products to the introduction of advisors charging a percentage of AUM and, eventually, to advisors charging subscription-type financial planning fees.
I believe the financial advisory space will continue to be transformed by what clients are willing to pay for—quality, customized advice instead of access to products and investments.
This change is driven by a number of factors, including increased fee transparency and awareness, technology starting to commoditize investment management, and clients' expectations on how they want to receive information and services.
To continue serving these clients, advisors must update their value proposition from access to products and investment management to access to comprehensive financial planning and ongoing advice that helps clients navigate their specific situations, and quite frankly, their lives.
As an outsider looking in on XYPN, it became apparent XYPN has done three things other networks (including insurance and independent broker-dealers, wirehouses, and banks) have been unable to do:
Provide advisors a platform and process to launch their own RIA and build a fee-only business with fewer conflicts
Attract young advisors looking to start and grow their own businesses
Develop a model to engage with the next generation of clients through ongoing service and advice
The financial services industry as a whole has struggled to attract young advisors and meaningfully engage with younger clients. XYPN not only has the platform to do both, but provides these advisors the framework for a business model that allows them to provide ongoing advice to clients and monetize that advice into a business.
What's Next?
I view the role of XYPN's Advisor Success Team as partnering with advisors to provide the resources they need to serve their clients and build the business they have always wanted.
XYPN's Advisor Success Team provides some amazing resources to XYPN members today, like executive business coaching from Arlene Moss, marketing coaching from Carolyn McRae, and training content in XYPN Academy being created by Kate Ross.
These resources are combined with programs such as Start My Firm and Run My Firm, which are designed to provide new XYPN members all the resources they need to successfully register, launch, and build their fee-only business.
We are focused on enhancing these programs based on member feedback, with the goal of creating a comprehensive 12-month program that will walk advisors through their first year of running their business, step-by-step.
One of the major enhancements we are looking to make is providing more templated processes for XYPN members to customize and implement in their business. This will include processes on marketing, client onboarding, financial planning, sales, account opening, and ongoing reviews.
One of the first things many people notice when considering XYPN is all the great technology included in membership. XYPN's technology stack is a huge perk, but the vast number of options can be overwhelming. Many advisors are left wondering, "How can I maximize each system in my business?"
We want to help every XYPN member get the most value out of their membership, and that includes using each of the platforms and systems provided. On our end, this means partnering with our vendors to leverage their training and providing more XYPN-specific resources on how to implement the templated processes with core systems.
We also recognize that as XYPN has matured, the needs of advisors in our network have also changed. For members going into year 3, 5, or even 10+, the resources they need are different from what they needed in their first couple of years of launching.
Our goal is to provide resources to help your firm as it matures. When I talk to firm owners, I often focus on what they want their business to look like in 3-5 years. At this point it's less about increasing the number of clients and more about running a better business. It could be time to start building an advisor team around you so you can continue to grow, or it could be time to put formal continuity and succession agreements in place to protect your clients and you business.
I find the focus shifts from revenue to the factors that increase the overall value of your business—those factors that can increase efficiency and enhance your client experience. You must set aside time to review your business the same way you spend time with each of your clients reviewing their current plan on a regular basis.
Start by evaluating your marketing, niche, and services provided, client interactions, your employee and business structure, and your KPIs. KPIs are particularly important because they allow you to quantify the progress your business has made and set clear goals for the next year.
One of the great benefits of being a member of a network like XYPN is the ability to not only share best practices, but also to benchmark your business against other businesses similar to yours. This can help provide a roadmap for what you should be focused on improving to help take your business to the next level.
I believe there has never been a better time to be in the financial advisory space. Clients of all generations need advice now more then ever, whether it's guidance on cash flow management, paying off debt, buying a house, or creating a distribution strategy in retirement.
Technology and client expectations are commoditizing the traditional financial services model as illustrated by the number of advisors exiting the business every year. These circumstances provide an amazing opportunity to advisors who have a business model based on advice and providing real solutions to clients.
I'm thrilled to be part of XYPN and to partner with advisors who are interested in building the advice-centric businesses that are shaping the next generation of financial advice.
---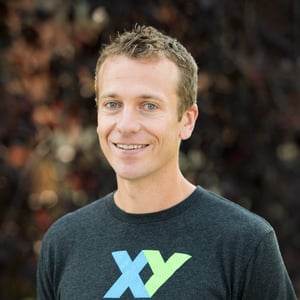 About the Author
As XYPN's Director of Advisor Success, Malcolm is tasked with doing just that—helping advisors succeed. After graduating from Gettysburg College with a B.A in Management, Malcolm jumped straight into the financial services industry and never looked back. With a drive to help shape the future of financial planning and a passion for bringing financial advice to the next generation of clients, he has a lot in common with the advisors in the Network.