Getting the Most Out of Virtual Conferences: Tips for Financial Advisors
6 min read
July 09, 2020
Even with so much uncertainty all around us, one thing remains clear: times have changed. While we don't know what the future will look like, we know it will look different. On the professional front, most everything, from our day-to-day work to annual conferences, has been moved online; and while many of us miss the connection (I know I do), the newly realized benefits of virtual work may mean that virtual conferences are here to stay, global pandemic or not.
If you are struggling to remember that different doesn't necessarily mean worse, then this blog is for you. Read on to learn how to find connection and meaning in virtual conferences.
How to Prepare for a Virtual Conference
Good news: how you decide which virtual conferences to attend isn't particularly different from other years. It can be helpful to choose a professional development theme for your year. My first stop is always Michael Kitces's reviews and conference recommendations.
Just as you would with any other conference, look for content that matters most to you as a planner. Also be acutely aware of the schedule as some virtual conferences may better match your preferences for how you spend your time online.
Next, be sure you have the technology that will help you get the most of your virtual conference experience. Invest in good speakers or a wireless headset. Kate Ross, XYPN's Academy Manager, suggests you "make sure you know how to use the software that the presenter will use and have it installed on your computer ahead of time." If there is an app for the conference, download it and set up your profile so you can connect with other attendees. If the conference will be utilizing sli.do or Slack, download the apps and play around a bit ahead of time. Be prepared to capture links shared in chat rolls and on screen. Fully embrace any technology that can help you more effectively engage.
Coordinate with your study group or colleagues so you can attend a variety of sessions and share your takeaways afterward. Use this opportunity to commit to the sessions you plan to attend and hold one another accountable. It's easy to drift away from a virtual event and decide not to attend sessions at the last minute. Knowing you will be "reporting back" creates a sense of commitment.
Treat a virtual conference time as you would an in-person event. Block your calendar. Do not schedule appointments. Just as you would devote your time and attention when attending in person, you should honor the time commitment for a virtual conference as well. Enter the sessions you plan to attend on your calendar to minimize the temptation to schedule other events.
Download any materials ahead of time. You may want to print handouts and handwrite your notes, or perhaps typing works better for you. Do not assume that you have to do everything on the computer just because this is a virtual conference; decide what will help you best retain the information you learn for the long term.
Lastly, prepare your workspace with intentionality. Carolyn Dalle-Molle, XYPN's Marketing Coach, who knows how hard several hours of Zoom can be when stuck in the same position all day, suggests multiple locations for standing and sitting. Give thought to your comfort, the lighting, and background noise. One of the big bonuses of a virtual event is you get to attend from the comfort of your own home—no uncomfortable conference room chairs or standing at the back of the room if you're a few minutes late to a session. You have full control to create your ideal learning environment.
How to Contribute
On the day of the event, take the final step to ensure you're all in by turning off notifications on your phone and computer. Turn on an out-of-office response for your email. If you're easily distracted by your phone, even with notifications turned off, leave it in another room.
Plan for family distractions as best you can. This will vary depending on the ages of your children, but try to explain that this is a bit of a different day. Plan activities they can do on their own and let them know when you will and won't be available. In the end, just roll with it. The world does not expect perfection right now.
Participate fully. Use the chat roll, Slack, the conference app, event forums, the Twitter hashtag—use whatever means attendees are given to connect. If you are going to the office and other colleagues are attending as well, you may want to watch common sessions together in a conference room. You can also virtually attend with your study group and use a Slack channel to stay connected during the sessions. Emily Purdon, Director of XYTS (and former XYPN Financial Planning & Process Coach), urges you to attend networking events like a virtual happy hour to meet other attendees (especially if you're introverted and conferences are a once-of-year opportunity to force you out of your comfort zone). The relaxed conversations at the end of a long day of learning will help you reinforce and retain what you have learned.
If you are working from home, keep an eye on your bandwidth usage. Close your 567 open tabs. If you have family at home, you may need to tell them it is a no-screen day if your internet can't support multiple people streaming at the same time.
Plan your breaks and lunch. Carolyn suggests, "Think of a lunch you'll be excited about, and have it ready for the day. Eating a fun lunch can help recreate some of the novelty you usually have during in-person events. And will re-energize you for the second half of the day!" Have good snacks on hand. Just think, you don't have to complain about no protein at breakfast and too many sweets at the 2:00 break—you are your own caterer!
Another tip: actually take the breaks. Do not just check email or phone notifications. Close your eyes for a few minutes, or do a quick meditation exercise if that's your thing. Walk to the end of the driveway and back, as if you were trekking to that distant conference center rest room. Do a few stretches or dance it out for a few minutes. (See, you don't do that at a typical conference!)
Kate suggests that you "Immediately type out anything you want to bring back to your practice, such as ideas you want to implement. Take notes on any follow up items you want to remember." Carolyn adds, "Write one major takeaway for each session you attend, and highlight or circle it in your notes. Take this one step further and schedule time in your calendar over the following 2-3 weeks to plan how you'll apply the lessons in your firm."
Do what you can to build in follow up and support for your takeaways.
How to Follow Up
Schedule a time to report back and share what you have learned with colleagues or a study group. Knowing that you need to report on what you learn will encourage you to stay engaged. Also, share with your clients what you learned. Clients like to know that you continue to educate yourself and are thinking about how you can apply what you learn to them.
Make a list of attendees you want to connect with after the event. Schedule a virtual coffee or perhaps a small meet up if there's a group of attendees you want to stay in touch with. One of the biggest benefits of a professional conference is connection; just because you can't be in person doesn't mean you have to sacrifice the ability to build new relationships.
Transitioning to a new way of learning can be hard. Give yourself (and others!) grace. Your first virtual conference likely won't be perfect, and that's okay. Life is about progress, not perfection. If you only take away one piece of advice from this blog, let it be to approach virtual conferences with two things: intentionality and a positive attitude.
Are you attending any virtual conferences (like XYPN LIVE(ish)!) this year? If so, I hope to see you there!
---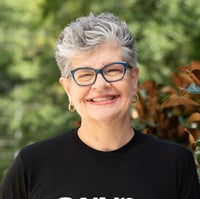 About Arlene Moss, Executive Coach
Arlene gets a kick out of helping financial advisors get over being overwhelmed and take on their frustrations so their businesses soar. Arlene works to ensure XYPN members are able to help their clients prosper while creating a sustainable business model. Through XYPN Academy and one-on-one coaching, members get the support they need to grow their businesses and overcome the challenges that come their way.