Maximize Your Continuing Education Credits: What Would Arlene Say?

9 min read
December 27, 2018
Continuing Education—or CE for short—can be a thorn in everyone's side. Although CE requirements exist for the benefit of advisors—and their clients—there's still a general feeling of bitterness around it. Advisors, especially those running their own firms, are busy enough without the added pressure of jumping through CE hoops.
Here's the thing: as cumbersome as CE might feel at times, it exists for a reason. Continuing your education as an advisor is an incredibly helpful practice for a number of reasons.
First and foremost, CE makes you a better advisor. Continued education helps you continuously hone your financial planning skills, which in turn helps you better serve your clients. CE also helps you network, learn more about yourself as an advisor and a business owner, and expand your skill set to grow a business that more closely matches your own unique needs and values.
Today, I want to challenge you to change your thinking about CE. Rather than viewing it as a practice that needs to get "checked off" your to-do list, refocus your priorities to be more intentional about continuing your education as a financial planner.
When you zero in on different CE opportunities that actually benefit you as an advisor, you'll be able to start truly reaping the benefits of this required practice (and maybe even enjoy the process).
Know What's Required
Your first step to becoming more intentional about your CE is knowing what's required of you.
NAPFA and the CFP Board both have fantastic guides that outline what credits are required. I'll provide a brief summary below:
Requirements Per the CFP Board
NAPFA has two-year reporting cycles, and you need to complete 60 CE credit hours during that cycle. They require that during your first reporting cycle as a NAFPA member, you complete the following:
#1: 5+ approved CE hours in each of six Core Area subjects:
Insurance & Risk Management
Investments
Income Tax Planning
Retirement Planning & Employee Benefits
Estate Planning
Communications
#2: 2 CE-Approved courses in the following Core Subject Area:
The rest of your credits can be completed in Core or Elective areas, as long as you stay below each subject area maximum.
Here's a list of all the different subject areas you can apply CE to:
Core Area Subjects:
Insurance & Risk Management
Investments
Income Tax Planning
Retirement Planning & Employee Benefits
Estate Planning
Ethics
Communications
Elective Area Subjects:
Financial Planning Process
Accounting, Cash Flow Management & Budgeting
Economic and Political Environment
Marketing and Practice Management
Strategic Thinking
Technology
The CFP Board requires that you earn 30 hours of CE credit every two years. If you fail to complete the required CE, you can have your CFP® Professional certification revoked, or marked as "inactive." If you don't renew your certification again within five years, you might have to retake your CFP® Exam—yikes!
NAPFA's CE requirements are based on the CFP Board's requirements, so they are largely similar. To be an active member of NAPFA, you have to complete your CE within the two-year reporting period, as outlined by the CFP Board. Both the CFP Board and NAPFA have places online where you can check your CE progress as a member.
Figure Out Where You Can Earn CE Credits
Feeling stressed about getting your 30 hours? Don't be! There are so many ways that you can earn your CE credits, and some of them are, dare I say it, a little bit fun.
Let's cover some of your most exciting and beneficial options.
Webinars
XYPN has a monthly webinar program available to members that helps members to gain CE credit in a valuable way.
Can't attend a live XYPN webinar? Not to worry! XYPN Academy's CE School holds all of our previous webinars as self-study programs.
Looking for other options? The FPA regularly hosts some incredible Journal in the Round webinars that often qualify for CE credit.They also have a virtual learning platform with several other educational opportunities for you to pursue.
You can also attend webinars that have been pre-approved for CE, or submit a request for a recent webinar you attended to be CE-approved.
Webinars are a fantastic way to learn more about a given topic without having to wade through a course, quiz, or other "school-ish" way of grading your CE. They're also relatively low-effort on your part. You get to show up, sit through the webinar, glean a few excellent nuggets of information, then report your CE credit to add it to your running tally.
Conferences
Do you have a list of conferences you want to attend next year? Many conferences, including XYPN's annual conference—#XYPNLIVE—offer attendees the opportunity to earn CE credits.
By taking full advantage of both #XYPNLIVE's Continuing Education track and our abovementioned monthly webinar program, XYPN members can fulfill the entirety of their CFP® CE requirement.
Not sure which conferences are worth attending, or which count toward CE credits? Take a look at Michael Kitces's 16 Best Conferences for Top Advisors in 2019. He releases his list of top advisor conferences every year, and I'm always relieved when the list comes out. It's my personal guide to setting up my schedule for next year's conference season!
If you aren't sure about conferences because you're a bit of an introvert, or the idea of trying to navigate a days-long conference feels really intimidating, you're not alone. Many people have an aversion to attending conferences. It can be overwhelming to be around so many people, but it can also have a hugely positive impact on your life and your financial planning practice.
Want to learn how to conference like a pro? Check out these two pieces I've written about attending advisor conferences:
Top Ten(Ish) Tips to Survive and Thrive at a Conference
CE Programs
Did you know there are approximately 1,200+ CE Sponsors that submit over 14,000 CE-approved programs each year?
That means one thing for you: there are a lot of options available when trying to earn your CE credits.
CE Programs aren't tricky to find. You can search by topic/keyword, sponsor, delivery format (live or self-study), level of complexity, and the total number of CE hours offered. CE Sponsors report your attendance on your behalf, which takes some of the work off from your already-busy advisor plate.
If you select a "Live" CE credit option, you'll also be allowed to select a Live sub-type, including:
Stand-alone workshop or seminar
Conference session
Live webinar
This gives you some opportunity to search different types of CE, and to possibly mix up what CE events you're attending.
Give Back: Teach or Write Your Way to CE
In some cases, teaching or authorship can lead to CE credits. Per the CFP Board, your CE credits for teaching and authorship can't be more than 50% of your total credit hours in a given reporting period.
Still, that means you can earn a notable number of credits by teaching or writing.
Let's define what teaching and authorship mean as far as your CE credit eligibility goes:
Teaching
The CFP Board defines teaching as "serving in the capacity of a faculty member or adjunct faculty member responsible for the planning and delivery of course material at the university level, where instruction and preparation time is equal to a minimum of 30 hours per quarter/semester."
Keep in mind that teaching to the general public (or a non-financial services crowd) typically doesn't qualify for CE credits.
Authorship
The CFP Board defines authorship as "scholarly original work, and/or research directly related to the development of papers, presentations or other materials that contribute to the financial planning body of knowledge. Authorship may also extend to the development and presentation of general CE programs pre-approved by CFP Board."
Remember, authorship needs to address one of the CFP Board's principle knowledge topics (here) and have a minimum of 4,500 words.
Local Events
Are you plugged into your local FPA chapter? If not, you should be!
FPA luncheons, and other network events are often eligible for CE credits. These luncheons are a phenomenal place to network and get to know your fellow financial planners and satisfy a portion of your CE credits. Luncheons often have a speaker or presentation involved, so you might even learn something about a topic you actually care about.
Residency
Have you considered enrolling in the FPA Residency program (or FPA Powered by XYPN)? FPA Residency is a fantastic resource for really "getting" the art of financial planning.
More than that, it can be beneficial in establishing mentor/mentee relationships, role-playing client communications for new planners, and so much more.
These programs earn you 28 hours of CE, or three months of work experience. For a new planner or career changer, this is a no-brainer. There are so many benefits to the FPA Residency program it's unreal. I recommend it to almost every new planner I can get to listen to me rave about it.
There are a few requirements for enrolling in Residency:
You have completed the required CFP® Board-registered program and are eligible to sit for the CFP® Certification Examination.
OR
You are a CFP® Professional who has held the designation for three years or less.
Residency can be pricey. For FPA members, full registration costs $2,900. For non-members, it costs $3,500. But Residency offers more benefits than just CE credit. It also provides several months-worth of "work experience" you can count towards your CFP® Professional certification. You definitely get your money's worth.
Ask!
The CFP Board is always adding new CE opportunities. If you're not sure whether or not something qualifies for CE,ask!
Checking in with any of the big networks (NAPFA, FPA, XYPN, or Garrett Planning Network) or the CFP Board itself can be a huge help if you're seeking clarification.
Check Out Nerd's Eye View
I can't recommend Michael Kitces's on-demand IMCA and CFP CE program highly enough. It's tough to find information for financial planners that's in-depth, accurate, and well-researched—Kitces's work is all of the above, and then some.
This program is also known as the Kitces.com members section. His team's entire goal is to provide CE credit that's actually useful—from webinars to white papers—which is perfect for someone who's ready to do some deep digging in one specific area of financial planning.
Determine What's Going to Be Valuable for You
At the end of the day, finding CE is always going to be a bit of a stressor for financial planners.
But if you can change your mindset about CE, you might start having more positive continuing education experiences.
Do some critical thinking and set up a CE strategy at the beginning of the year. Run through the following points:
What requirements do I have to meet?
What subject areas do I need to find CE for?
What subjects or topics in each subject interest me most?
How can I find CE credits that match those interests?
What areas of my practice do I want to grow? Are there any CE opportunities that will help me in those areas?
Then, sit down and get to work mapping out your CE game plan. A little bit of forward-thinking is worth its weight in gold when it comes to your CE credits.
For example, if you know you want to write a research-driven white paper that's going to be published, or you want to dig in and start teaching a local financial planning program for new CFP® Professional students, you can start to map out what that might look like.
Alternatively, if you want to attend specific conferences, or study certain financial planning topics to grow as a planner, you can seek out CE opportunities that check those boxes throughout the year.
This also helps you avoid the mad-dash that many advisors face when trying to "cram" their CE into a tight end-of-year window. Knowing what you want to learn, and where you can find those opportunities, is a game changer.
CE Through XY Planning Network
We've been talking about a few of the different CE options available through XYPN, but I wanted to summarize them again here.
For starters, if you're a member and haven't checked out our Academy yet, you should make that a priority. There's a range of courses available to you to take in your own time, and you can also sign up for advisor coaching sessions with yours truly!
Additionally, our Events page tracks all local and national events that are member-specific (or where everyone is welcome!).
And as mentioned earlier, we now offer a monthly live webinar series through which XYPN members can earn CFP® CE credits. Each webinar focuses on a specific financial planning topic and each session helps you solve a specific need for your clients.
Then, of course, there is the Continuing Education track at #XYPNLIVE, through which conference attendees can earn CE credits while learning valuable tools they can use in their firms. You can even earn up to 6.5 hours of CFP® CE credit through our virtual #XYPNLIVE continuing education sessions.
Even though CE can be overwhelming, changing your mindset about whether or not it's worth your time is a must. As soon as you embrace your continuing education, you'll start to find the CE opportunities you pursue actually enrich your practice and your life.
As always, if you're looking for recommendations, don't hesitate to reach out to me or our XYPN team. We each have our "favorite" CE opportunities for advisors and would be happy to point you toward something that will make a positive impact in your world.
---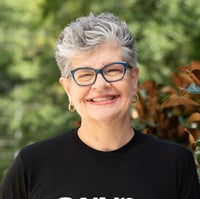 About Arlene Moss, Executive Coach
Arlene gets a kick out of helping financial advisors get over being overwhelmed and take on their frustrations so their businesses soar. Arlene works to ensure XYPN members are able to help their clients prosper while creating a sustainable business model. Through XYPN Academy and one-on-one coaching, members get the support they need to grow their businesses and overcome the challenges that come their way.