Getting Involved in the Financial Planning Community - What Would Arlene Say?
12 min read
March 15, 2018
If there's one thing I always recommend to my financial planning clients it's to get involved with their community. No, I'm not talking about their ideal client community. I'm talking about their financial planning crew! It's always amazing to me how many financial planners just don't think of this when they plan their activities and their time. The primary push-back I get is that there isn't enough time or that they don't necessarily see the value in involvement. Before we dive into all of the wonderful reasons to get involved with the massive, active, and exciting FP community - let's address these two common objections.
Not Enough Time
There will never be enough time in the day for everything you want to do. Sometimes, there truly isn't enough wiggle room in your schedule to work something in. However, there are so many different ways that you can get involved that aren't time-consuming at all. Seriously - they'll take the same amount of time as grabbing a cup of coffee from your favorite Starbucks.
I'd also like to gently point out that there is typically enough time in the day for things you enjoy. And, oh boy, there are some seriously enjoyable industry-focused activities for you to engage in. The best part? You can find something that fits what you're passionate about and run with it! There's a ton of room for growth right now, and the financial planning industry is begging for creative people to step up and make space for promoting parts of the profession that they love.
Not Enough Value
It's true that getting involved within your financial planning community will take some effort on your part.
Let me let you in on a little secret: you will get so much more than you give. There - secret's out!
Connecting with your peers, finding a mentor, or heck - even mentoring someone can be such a game changer. You'll learn new ways of doing things, improve your skills as a planner, and grow both your confidence in how you work and your love for what you do.
However, it's worth noting that (as with most good things) you're going to get out of it what you put into it. The faster you find a solid "home base" community to engage with, and start getting involved - the faster you'll find value in your efforts. Just joining a membership community or scrolling through a Facebook group forum likely won't be enough. Luckily, there is a vast ocean of involvement opportunities within the industry.
First Thing's First: What Is the Financial Planning Community?
To start brainstorming ways to get involved - you need to get a good grasp on what the financial planning community is. The truth is the answer to this question is different for everybody. I find, many times, it depends on a few things: your background, your personality, and your area. When you're thinking about what role the financial planning industry plays in your life, you should think of a few different things:
Are there any local chapters of financial planning organizations in my area? How active are they?
How does my financial planning practice fit into these organizations?
Are there any local events, national conferences, or online communities that offer me what I need right now? Does their level of engagement match my personality and how I'd like to interact with them?
What parts of financial planning bring me the most joy? What am I most passionate about when it comes to planning?
These questions can help you to narrow down what you're looking for in a financial planning community and ultimately structure your involvement in a way that's incredibly rewarding for you personally and professionally.
Finding Your "Home-Base" Community
I'm a big believer in the fact that finding a "home-base" community can seriously make or break your industry experience. Knowing you have a group of people who are in this with you and who are ready to support you makes a world of difference. You'll feel professionally challenged and presented with invaluable growth opportunities, while also feeling personally fulfilled with a network of colleagues who (hopefully) become close friends, mentors, accountability partners, and mentees as you connect.
There are several different organizations within the financial planning world that you might use as your "home-base" community. Each of them has their own unique style, offerings, and mix of both local chapters and national organizations. I love to help clients look at each one, and the benefits that come with involvement, to decide which is a fit for them.
Remember: these are just a few of the big-name groups you can get involved with! Finding a "home base" community - either through a membership organization or a free community - is a great way to kick-start your efforts to get involved and give back. It gives you a network of advisors who are all in your same boat, and who want to engage with you and work together to grow and improve the financial planning profession.
You might find one or more of these groups to be an excellent fit for you right now. On the other hand, you might find that your personal and professional needs are changing - and your choice of "community" is evolving. There's no shame in either of these situations. Find a community that works for you right now. You deserve to find the support and level of engagement you need at this point in your career.
And if you can't find a community that feels like home? Create your own group! One of my favorite examples is my own local Colorado Springs Women in Financial Planning group. They're awesome!
Getting Involved
Whether you're directly connected to a membership community or not, you have a lot of different opportunities to get involved and give back. The best part is you can tailor an engagement plan that's going to fill up your cup. Don't think that you have to conform to the more traditional methods of engagement.
The key is finding ways to get involved that add value to your life and career. To do this, you might start by asking: What do I want out of this?
Answers to this question will vary widely from planner to planner. A few ideas you might connect with are:
You want your involvement to gain you exposure within the community, and solidify you as an expert in the space for your prospects and clients.
You want to network with other advisors.
You want to grow your career.
You want to learn more about financial planning as a profession - or about a specific piece of financial planning (think: student loans, special needs planning, socially responsible investing).
You want to support the next generation of planners through mentorship and more.
You want to find and create spaces for conversations about diversity and inclusion within the financial planning industry.
Don't shy away from any of your initial reactions. You deserve to get what you want out of your involvement with the financial planning industry as a whole or your "home-base" community of choice.
Serve On a Board or Committee
If you're looking to have a clear and direct impact on the financial planning industry, serving on a board or committee is a good way to get hands-on experience. You'll be able to be part of the lasting changes you want to see, while helping to support a wide range of people. Being a board or committee member is also a good way to keep your finger on the pulse of the industry - you'll always be up to date, and this often can help you grow in your financial planning ability and your career.
Seek Out Smaller Groups
There are so many small groups available to financial planners! Off the top of my head, you should definitely check out:
These are just a handful of small-scale groups you could get involved with in your area or virtually. Again, don't be afraid to create something that works for you if you don't find it! Wrangling a few like-minded advisors to form a mastermind group, or even just looking toward a single person to act as your accountability partner can completely change the way you feel about your financial planning career.
Small groups also provide a unique opportunity to form very close relationships. You can find opportunities in these groups for one-on-one leadership opportunities, and you're bound to love the feeling of supporting both your local community and local financial planners working to grow their careers.
Help Plan Events
Hello there, fellow extrovert! If getting a big group of people together to talk financial planning sounds like your idea of heaven, get involved with planning conferences and local events for your colleagues! You can work with national organizations on large-scale meetups and conferences. Alternatively, you can work locally to host small group meetings, chapter-sized conferences, and events. This can be especially wonderful if you feel like your local financial planner support network is a little bit lacking. If you build it, they will come!
Speak
There are so many ways you can choose to speak with the advisor community. The first thing that comes to mind is speaking at conferences. Whether you're interested in participating on a panel with multiple speakers or you want to host your own break out session on a topic that gets you fired up - go for it! Several big conferences have a space to submit speaker applications (FinCon immediately comes to mind), but you can also reach out to conference leaders or centers of influence to see if they know of any opportunities.
Even if you're not planning to speak at a conference, it's wise to arrange a meetup of like-minded planners at the conference you're attending. You can send out talking points ahead of the event itself, or you can use the time to simply connect and show some support for one another.
Not interested in talking to a room full of people at a major national conference? You're in good company! For financial planners out there who get the heebie-jeebies just thinking about walking on a conference stage, consider something a little bit less intimidating. If you'd prefer to be virtual (a.k.a. speaking from the comfort of your home office), consider hosting an industry-facing webinar, podcast, or just asking the host of an existing platform if you could guest speak sometime.
This is an excellent way to get your message, whatever it may be, out into the world of financial planning! You have the power to start the conversations you want to have, and finding speaking opportunities can help you start those conversations with big groups of people who are as passionate as you are!
Become a Mentor
Anyone who knows me knows I love advocating for mentor-mentee relationships. If you're passionate about leading the next generation of financial planners, you are a wonderful human being. Others, like Hannah Moore with FPA Activate and the You're a Financial Planner Now What podcast, are right there with you. Loving on new planners and helping to guide them to a thriving career in the financial planning world is a truly noble calling! Try connecting with people through your membership organization of choice or in a Facebook community like FPA Activate. You might also connect with a local university or financial planning student groups!
You can also look to involve yourself in a reverse-mentoring relationship with a colleague. In these cases, a more seasoned professional who has been in the financial planning industry for a while might be looking for some guidance on career changing within the industry (like starting their own RIA or leaving the B/D world), or maybe they just want a fresh perspective on how to continue growing their career from someone who hasn't "seen it all before."
Whatever route you choose to take, there are some real rewards to mentoring another financial planner. And, as is the case with most situations, you'll likely find that you get more out of it than they do!
Write It Up
That's right - go crazy here. There are so many spaces for financial planners to write articles to support each other and to encourage growth within the industry. First, you could submit to a financial planning publication like Financial Planning Magazine or Investopedia. Depending on where you submit, there might even be a monetary compensation for your time and effort. It may not be enough to make a huge difference in your life - but every little bit helps.
You might also reach out to your membership community to submit your advisor-facing (or consumer-facing) blog post drafts or ideas for publication on their forum or website. This is a great way to get involved with your "home-base" community, gain some name recognition, and shed some light on any industry-related topic you're truly passionate about. XYPN accepts blog submissions from members and publishes a few every week.
Don't see a publication that fits the message you want to broadcast? You guessed it - create your own space! In today's world, setting up a blog or website is incredibly easy. There's always room for more people to write about what sets their soul on fire - don't be afraid your voice will become white noise. If you're dedicated and are willing to put in the time and effort, the readers who want to join in the conversation you're having will find you.
Aren't interested in writing full-length pieces yourself, but still want to promote the positive happenings within the advisor community? Check out HARO (Help A Reporter Out). You might be able to act as a source for a journalist, blogger, or reporter who wants to hear what you have to say! Additionally, XYPN members have exclusive access to a media request program to get quoted in the media.
Podcasts
I know we mentioned this above, but this category of communication is becoming so popular that it warrants its own section in this post. Podcasting is an exciting way to support fellow advisors, talk about things you're interested in, grow yourself, and improve your career. There are several amazing industry-facing podcasts out there. XYPN Radio is a fantastic example, and I know I'm excited about Rianka Dorsainvil's upcoming 2050 Trailblazers podcast on starting conversations around cultural awareness and inclusion in the financial planning industry.
There are also many amazing public-facing podcasts that focus on a niche. Ryan Inman (Physician Wealth Services), Lauryn Williams (Worth Listening), and more do an excellent job of supporting their fellow advisors through podcast interviews while addressing planning topics that they're passionate about within their niche. This is definitely a good way to get your name out there, creatively market your practice or firm, and get involved with the industry.
Connect Online
It's no secret that we live in a virtual world! Why not connect with your group of choice online? There are several Facebook communities, LinkedIn groups, online forums, and more if you want to get involved but don't want to venture out into the in-person networking world.
Tune in to a Facebook Live or AMA (Ask Me Anything) session! You can even get involved in financial planning-focused groups on Reddit. If you think the opportunities for in-person networking are endless, just wait until you start exploring the opportunities for online networking within the financial planning world!
Don't Forget to Evaluate
There's no doubt in my mind getting involved with your industry is a surefire way to help you rekindle your love for the financial planning profession. Having said that, there will be times when you feel not-so-enthusiastic about your engagement method of choice. Whether you're sick and tired of going to the local chapter meeting, or you don't think you can stand publishing one more blog post, don't be afraid to take a step back every once and a while to reevaluate your approach.
It's okay to change your level of involvement - or to change the ways you choose to get involved. Ultimately, refer back to your "why." If your current needs aren't being met, look elsewhere to find a new community, or a new way of connecting with your colleagues. You should always feel like networking, engaging, and connecting with others is helping to grow your passion and your experience. And if you need help? Reach out! We want to make sure you're feeling happy, connected, and like you're thriving in your industry community.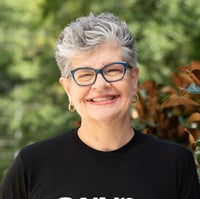 About Arlene Moss, Executive Coach
Arlene gets a kick out of helping financial advisors get over being overwhelmed and take on their frustrations so their businesses soar. Arlene works to ensure XYPN members are able to help their clients prosper while creating a sustainable business model. Through XYPN Academy and one-on-one coaching, members get the support they need to grow their businesses and overcome the challenges that come their way.