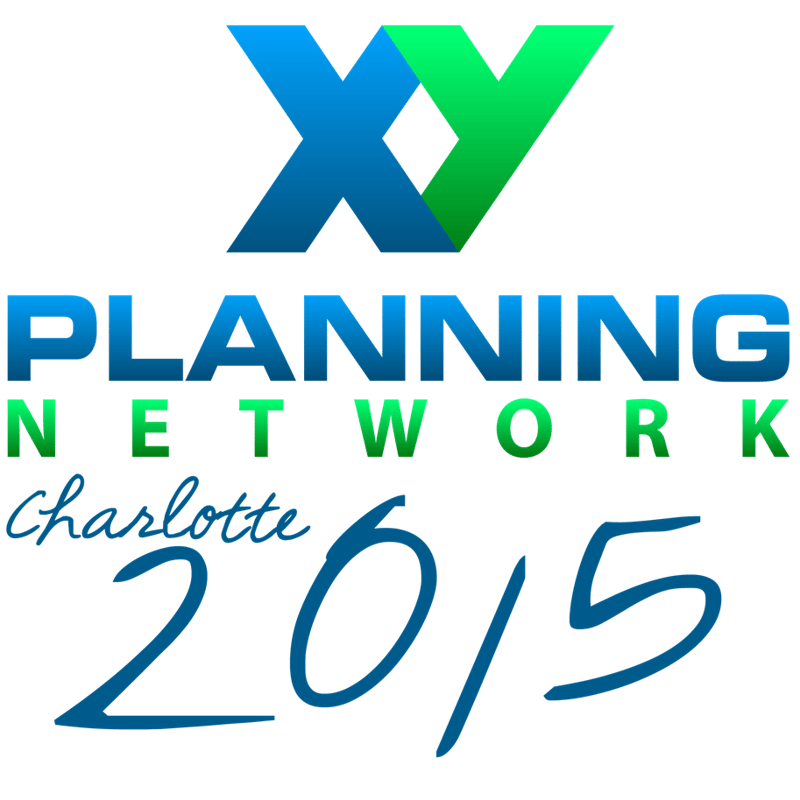 #XYPN15 is the first ever financial planning conference geared towards advisors that want to focus on working with Gen X and Gen Y clients. We're excited about bringing together a community of financial advisors who are:
passionate about bringing financial planning to the next generation
learning how to build and run their own fee-only financial planning firms
ready for an energetic conference that allows all attendees to engage with both the content and each other to learn and expand your network
The conference takes place in Charlotte, NC next Tuesday through Thursday, the 15th through 17th. Some of the highlights will include our excellent keynote speakers, unique panel sessions featuring advisors who are members of XY Planning Network, and presentations with industry experts, along with our tech track, networking events, and more.
Get to Know Our Keynote Speakers
We're excited to bring speakers like Carl Richards, Heather Jarvis, and Bill Winterberg to the #XYPN15 keynote stage this year -- and of course, we can't wait to hear from our network co-founders Michael Kitces and Alan Moore, too!
Heather Jarvis will present us with a great workshop on financial planning for clients with student loans, and Carl Richards will walk us through the art of communication in his keynote session. Bill Winterberg will explain how technology is changing the way financial advisors earn trust, and Michael Kitces will discuss five big trends currently shaping the future of financial planning.
Alan Moore will help us both kick off the event on Tuesday and close the conference on Thursday -- and usher in the start of the FinCon Expo that takes place in Charlotte from Thursday the 17th to Sunday the 20th.
XYPN Members and Friends of the Network Present Insightful Panels
Our XYPN membership is made up of financial advisors who are leading the industry to the next generation of financial planning, and we're excited to have a number of them share their knowledge, expertise, and experience with other conference attendees. Panel sessions include:
Filling the Income Gap
The Profitable Monthly Retainer Model
What It Really Means to Serve a Niche
How Advisors Can (Affordably) Outsource
Investment Options for Planning-Focused Advisors
CE Sessions from Industry Experts
#XYPN15 is bringing together a number of experts from around the finance industry. Mark Maurer of LLIS will explain insurance facts your clients need to know, Craig Israelsen will discuss various portfolio designs, including the 7Twelve Portfolio, and Zach Phipps from SEI will chat about behavior finance.
We're also excited to have Kitrina Wright, CPA present tax tips for planners advising small business owners and Jude Boudreaux will share his experiences as a successful firm owner -- along with what he wished he had known when he started. Joshua Sheets will also provide us with an instructional session on teaching Gen X and Gen Y the proper way to invest for strong returns.
#XYPN15 Kicks Off Next Tuesday, September 15! Join Us with a Virtual Pass
This is the inaugural conference for XY Planning Network -- and the very first conference ever that's completely devoted to financial advisors who want to work with Gen X and Gen Y. It's a big milestone for the industry, and ticket sales have proven that: we sold out of our live event a few weeks ago.
If you didn't get a chance to purchase your pass to #XYPN15 this year, you can still get access to all of this excellent conference content. Due to demand, we're releasing a Virtual Pass which will provide you access to all sessions, presentations, and keynotes. Virtual passes are just $99 and can be purchased here.
If you'll be joining us next week in Charlotte, give us a shout on Twitter @XYPlanning -- and we'll see you soon!