A Sabbatical Journey: 4 Powerful Lessons for Independent Advisors

8 min read
January 02, 2023
Last summer I hit my five-year anniversary as a team member at XY Planning Network. That means a couple of things, like holy cow time flies, but more importantly, it means it's time for a sabbatical. XY Planning Network offers team members a one-month sabbatical at their five-year work anniversary, in addition to required vacation time.
This means an absolute disengagement from work—no slack, email, and for me, no Twitter, because I can't be trusted to not do work stuff when I am there! This disengagement resulted in a refreshed excitement for work that bubbled up from having time so utterly away from the day-to-day. As I enjoyed my time away, I saw parallels between my experience and the entrepreneurial challenges you're all facing every day.
During my sabbatical, I wanted to challenge myself, not just to take a long vacation—but to also take my mother-in-law's advice to heart: do active travel while you still can! She keeps reminding me that we aren't getting any younger, and before we know it, we won't have the mobility we once did. After much consideration, I decided to hike the Tour du Mont Blanc (TMB), followed by typical tourist to-dos and some recuperation time on the beach.
The TMB was the real challenge. Many friends were surprised we didn't do a bike ride since that's been the pattern for a while. But I wanted a new physical challenge. I know how to hike (a.k.a. walk), but this was a new level of elevation gain and loss—32,375 feet over ten days.

So exactly how does a hike in the Alps compare to your journey as an advisor? Here are four lessons I learned along the way.
Lesson #1: You better prepare!
I spent the year leading up to this trip putting money aside to help pay for it. I decided I didn't want to spend a single minute on the trip worried about being within budget, so we saved and paid along the way. This is critical to the success of a new RIA (Registered Investment Advisor) as well. The bigger the savings stash to tide you over during launch, the higher your chances of success. Those first 3 years of owning your own firm are no picnic. Make sure you have living expenses covered until your income is replaced by your firm's profits.
It wasn't just money that I needed to prepare for the hike. I have a bum knee that's been nagging me for 20+ years. I knew I had to have everything surrounding it in tip-top shape to help it go the distance. Months of physical therapy followed by dedicated exercise got my knee as ready as it ever would be. I decided I wanted to schlep less of me around for 10 days, so I worked hard to lose weight and increase strength to tackle the hills. Since the bulk of our trip was going to be in Italy, I started Italian lessons months ahead of time so that I could order wine and carry on some basic conversations. I also decided that I would tackle all of the hike logistics myself, which involved emails and texts to the refuges months in advance to arrange every stop along the hike. The language and time zone barriers were a real challenge!
All this preparation reminded me of the education you seek, not just as CERTIFIED FINANCIAL PLANNERS®, but in operating your businesses, compliance concerns, and technology choices. Just as I decided not to spend thousands on a service to make all my reservations and carry my luggage from hut to hut, you have to decide what you are willing to outsource and what pack you will carry yourself. You don't simply start a business, you must do the preparation and make the decisions that increase the odds of success.
Lesson #2: Ride your own ride
A few weeks before we left I realized that no amount of training was going to assure me of success. Most of the battle would be mental. Ten days is a lot of time to be with yourself. You too are truly on your own in the entrepreneurial journey. Yes, there are colleagues, but in the end, you are the only one who makes your business a success. My fears boiled down to if my knees would hold up, if my lungs would be strong enough, and if my fear of heights would cripple me at some point. Your fears may be an inability to show your value, making mistakes that cost your client money, or perhaps you're afraid you'll be a terrible boss as you begin to hire a team. We all bring our own fears to the journey and we have to tackle them one by one to make it through. What are the fears that you are fighting through as you journey to RIA success?
In the end, this hike reaffirmed a phrase I use a lot. Ride your own ride. As you travel the RIA path there is no one but you who knows the whole story. I began this hike with an intellectual awareness of my concerns. As we hiked I was aware of people passing me, and me passing the occasional person. I could see differences in hiking style and appearance, but as I became discouraged, I never thought about the people going the same pace as I was. I never saw them during the day, so I didn't realize they were out there having their own struggles. It took days to have a bit of an epiphany. As I once again watched yet another hiker scamper past me like a mountain goat, I realized that I truly don't know what it is even like to hike without my knees or my feet and not deal with my vertigo and fears. It actually made me wonder, what would it be like to know your knees wouldn't buckle, to intuitively see where to put your foot? I have no idea what that would be like. My entire adult life that's just the way it has been, so I suddenly realized that no amount of training or strength is going to change these key issues. I will never, ever scamper like that. It isn't in the cards for me. I can only do the best I can do. I can't do the best someone else can do. And suddenly I realized that everyone has that - maybe not in the hiking realm, perhaps in some entirely different area of their life, but we all have limitations and we all have gifts.
You have to go at your own pace, ride your own ride. Your version of vertigo or bad knees might be that you have a day job or sandwich-generation responsibilities. Just because others pass you doesn't make your business journey wrong. We all define success differently. We all have our own "enough". For me, it was not quitting. For the scamperers, it was their own PR. Embrace what you have and try not to envy what you don't. Build the firm you want with the gifts you have been given, and don't worry if you don't have the same firm as others do. Ride your own ride.
Lesson #3: Be kind to yourself
At the end of each day, we stayed in refuges, which I describe as being between a hostel and a hotel. It was hard getting to the end of the day and seeing people who don't hurt - or at least they don't look hurt. It actually took me by surprise at first to realize that pain is not a given​​ for everyone. We ate communal dinners with the other hikers and shared our stories of the day. There I realized that some were out for just a day or two. Others were hiking shorter days or having all their gear shuttled for them. Once again I had known this intellectually, but I somehow had not incorporated it into allowing myself some forgiveness for what I perceived as my own lacking. It was exactly like social media - we see the best of people and set unreasonable yardsticks for success. Of course, they aren't in pain—they carried 8 pounds, not 20, or they hiked 5 miles, not 10, or it's day one, not day seven. At the end of the day, we got to meet all the people who were also struggling. We didn't meet during the day but by dinner, everyone was at the same point. It reminded me of the conferences when you connect with your colleagues and get to commiserate a bit about the struggles you are all facing throughout the year. Regardless of if you have the same challenges or different, we cannot judge ourselves so harshly. Everyone is hiking their own hike.
As each of you has built your firms, you operate within your personal parameters. I found I needed a lot of self-encouragement. I discovered that if I truly "told" my knees that a transition from up to down was coming, I was able to make those transitions with significantly fewer knee buckling incidents. I took to congratulating and thanking my body for the great work it was doing. Yes, it sounds a little silly but it made a huge difference as the days wore on. Don't be afraid to create your own self-talk to get you where you need to go. Whether it's a good starfish pose before a client meeting or a little chat with yourself in the mirror, do what you need to do to succeed.
Lesson #4: Your journey is unique, and yours
You'd think the lessons would have stopped with the hike, but I just kept thinking of more as we headed to Naples. We saw businesses of all kinds, from shops and restaurants to hotels and professional offices, closed for holidays. I know the big summer holiday is more common in Europe than in the US, but there were a lot of businesses open for business and a lot of people ready to do business the entire time we were there. It would have been easy for any of those closed businesses to decide to open to catch all of the business they were missing. Instead, they posted signs stating that they were out for two weeks. The dates varied, but the willingness to set boundaries and take time away was common. My takeaway was that each business decided when they wanted time away and what revenue they were willing to forgo. You can do the same thing. You build the life you want. You decide what revenue you miss. You and your team just have to plan for it and make it a priority. You don't have to be European or have a baby to make it happen. Take the time you want, and build the business around your life, not vice versa.
I encourage you to build the life you want to build and keep the comparisons to a minimum. You are the only one who knows all the parameters impacting your choices. Ride your own ride—because your journey is unique and yours!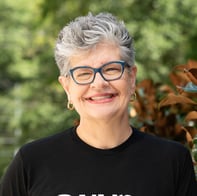 About the Author
Arlene Moss, XYPN's Executive Business Coach, gets a kick out of helping financial advisors get over being overwhelmed and take on their frustrations so their businesses soar. Arlene works to ensure XYPN members are able to help their clients prosper while creating a sustainable business model. Through XYPN Academy and one-on-one coaching, members get the support they need to grow their businesses and overcome the challenges that come their way.