6 Rules for Getting the Most Out of Your SEO Keywords
4 min read
August 18, 2016
Search Engine Optimization, or SEO, is an important element for both increasing the number and quality of visitors to your website. It should be an ongoing part of your regular marketing efforts.
While SEO is getting more complicated and challenging in many respects, the basic foundation -- the starting point -- is still rooted in the proper application of SEO keywords.
I'm often asked to address this in conferences, and I'll be speaking at XYPN16 -- but covering much more advanced topics in a session as part of the Marketing and Sales track.
So I thought it might be helpful to cover it here instead and lay a little groundwork for financial advisors looking to take action and improve their site SEO.
What Are Your SEO Keywords?
Without getting into the specifics of keyword research here, they include the name of your firm, the general services you offer, and the locations you want to target.
Start with these words and phrases when focusing on boosting SEO.
Six Rules for Better SEO Keywords Usage
1. Choose a Keyword for Your Homepage: The homepage is often ignored or underutilized when it comes to SEO. It is almost always the highest authority page on your website and therefore should be home to one of your most important keywords.
Too often, advisors have this set up as a generic landing page, or designed to be image heavy and lacking in copy.
I generally recommend the homepage be optimized for a primary keyword like, financial planner, financial advisor, or wealth management, plus your target location, and business name.
Here's an example of SEO keywords you may use if you were based in Nevada: Financial Planner, Las Vegas, ABC Financial Services
2. Create Individual Services Pages: Each service that you want to be found for through search should have its own page. This can be accommodated by creating a "Financial Services" menu/navigation heading and having it "drop down" to each of the pages.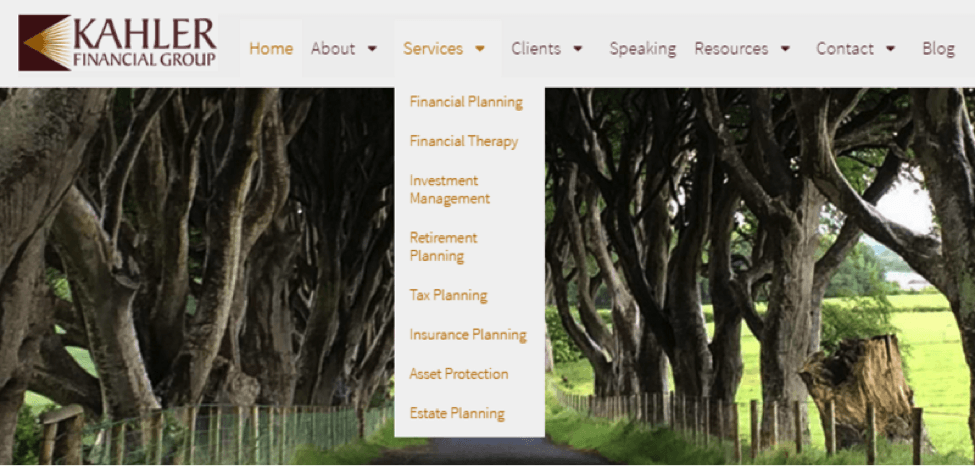 3. Title Tags: Title Tags are your best opportunity to tell the search engines what your page is about. To see your page's title tag, open your page in the Chrome Browser (Firefox will work also), and hover over the page tab.
Text box will appear – that is your page's current title tag.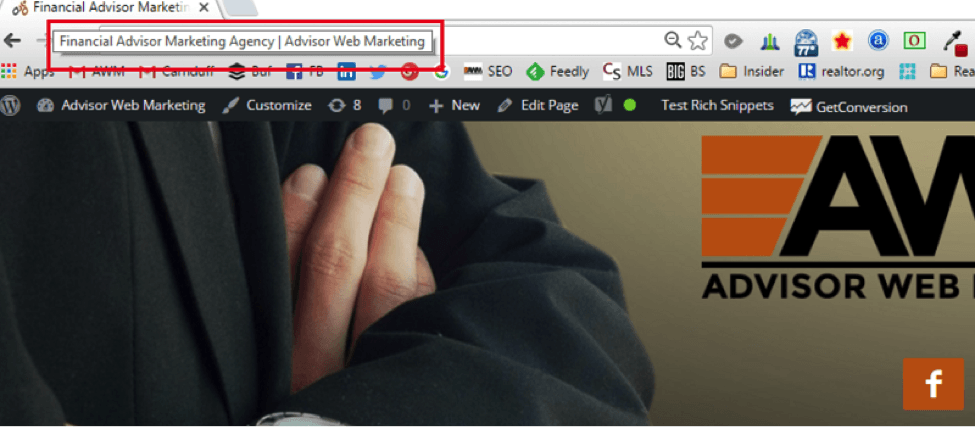 If your website has a Content Management System (CMS) like WordPress, Joomla, Drupal, or HubSpot, you should be able to easily make changes to the backend. That will allow you to identify and change the Title Tag for each page.
When it comes to writing title tags, here are some best practices to keep in mind:
Keep it to 60 or fewer characters (including spaces)
Business name only needs to appear on the homepage
Most important terms should appear on the left side of the Title Tag
Include your niche where appropriate (i.e. Las Vegas, . . . for Women, etc)
If you have room, add descriptive terms to make your keyword longer (i.e. Fee Only Financial Advisor).
4. Header: The Header is simply the headline (and sub-headlines) for the page. Your keyword should appear in the first (biggest) header, and in lesser headers if/where it makes sense.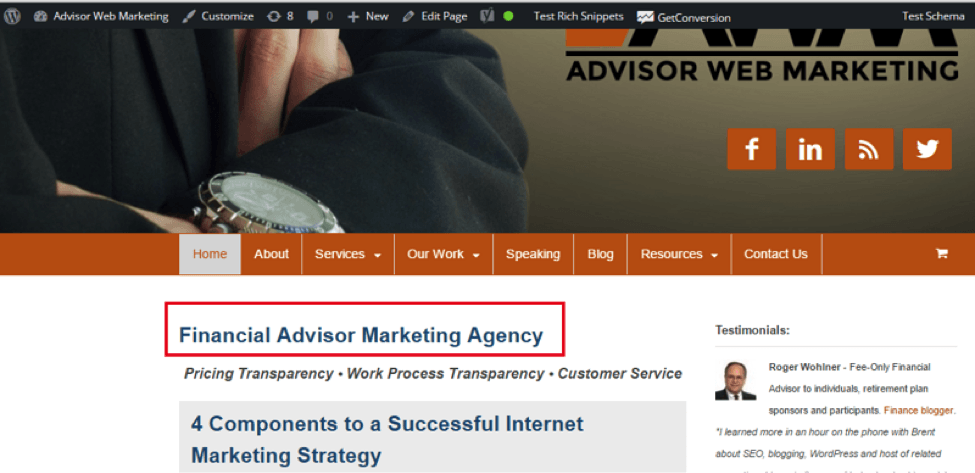 5. Content: Your keywords should appear within the body of your webpage content. The earlier it appears within the content, and the more often appears in the content (up to 2-5 times) the better for search engines and SEO.
6. Images: While people love images, search engines do not. To a search engine, which likes to read text, a picture appears as white space. Fortunately, there is a way for you to use text to tell the search engine what the picture is.
This is called alt text.
Again, if you have a CMS, it's pretty easy to change. In WordPress, you're given the opportunity to assign alt text every time you add an image. Otherwise, your programmer can do this for you.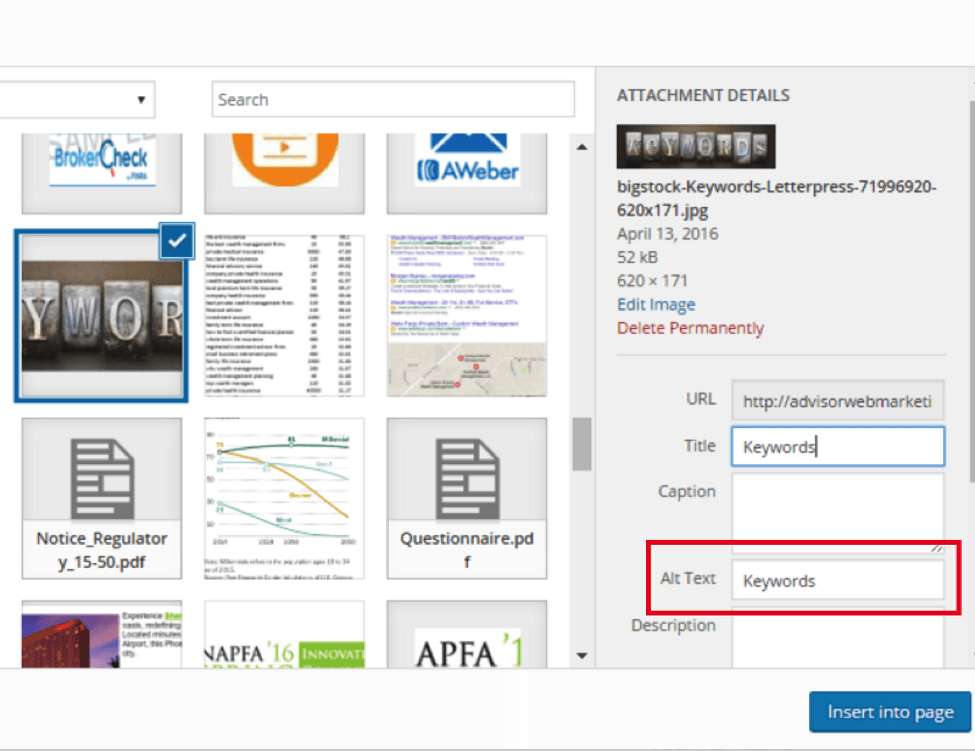 Understanding these basic rules is important for both webpage construction and blogging. But it is important to always remember that you should write for your reader first, and the search engines second.
If adding your keywords to your content makes is sound forced or awkward, don't add it. You need to ultimately provide a good user experience for your visitor. That means that sharing high quality, informative content needs to be your first priority.

About the Author
Brent is the founder/owner of Advisor Web Marketing. He's a search engine optimization (SEO) expert who works with financial advisors across the country to help them develop a stronger online presence, increase their web traffic, and to capture more leads. In addition to his blog at AWM, he is a VIP Contributor to Search Engine Journal, and is syndicated through SteamFeed, Social Media Today and B2C.