The SERPS (search engine results pages) are an ever-evolving landscape. It used to be no ads at the top of the page, then two, now up to four. Organic search is still king, and even easier if you're trying to attract local business to your financial planning firm. Google Business pages are free, effective, and take up a nice little plot of real estate on the right side of the SERPS. It provides an opportunity to showcase photos, reviews, driving time, hours, and scheduling. Honestly, there's no reason you shouldn't set one up, and I'm going to show you how.
1. Getting Started
If you already have your page set up and just need to make some tweaks, feel free to skip to the optimization section. If you're setting up this page for the first time, let's dive in.
Navigate to google.com/business
Click the "Manage Now" button.
Type in your firm name and hit continue
Enter your exact address. If you advise virtually and don't want to display your home address, click the "I deliver goods and services to my customers" and "Hide my address" checkboxes. Privacy is everything, right?
Pick out a primary business category. For most businesses, you just have to get pick the closest category, but lucky for you, Google already has a "Financial planner" category loaded in there! What a time to be alive.
Add your phone number
Type in your web address
2. Verifying your firm
This part of the process might take the longest. Google still believes in snail mail to be the best source of truth. Basically, they want to make sure you're actually at that address, so they send you a code on a postcard in the mail, that you then type into a verification box at a URL they give you.

In some cases, they'll give you the option to verify by phone. This is the superior option, so if you see it, choose this and get on with your life. This option isn't always available for reasons that are beyond me.

Once you've verified your business, we can optimize your profile!
3. Optimizing your RIA's Google Business profile



Alright - you're in, you're verified, and ready to optimize. Sign in to the Google Business dashboard and click on your firm's name. The goal here is to supply as much applicable information to Google as possible. This is all going to make your financial planning firm easier to search for in the long run. You'll see a modified SERP that has more options at the top for managing your business listing: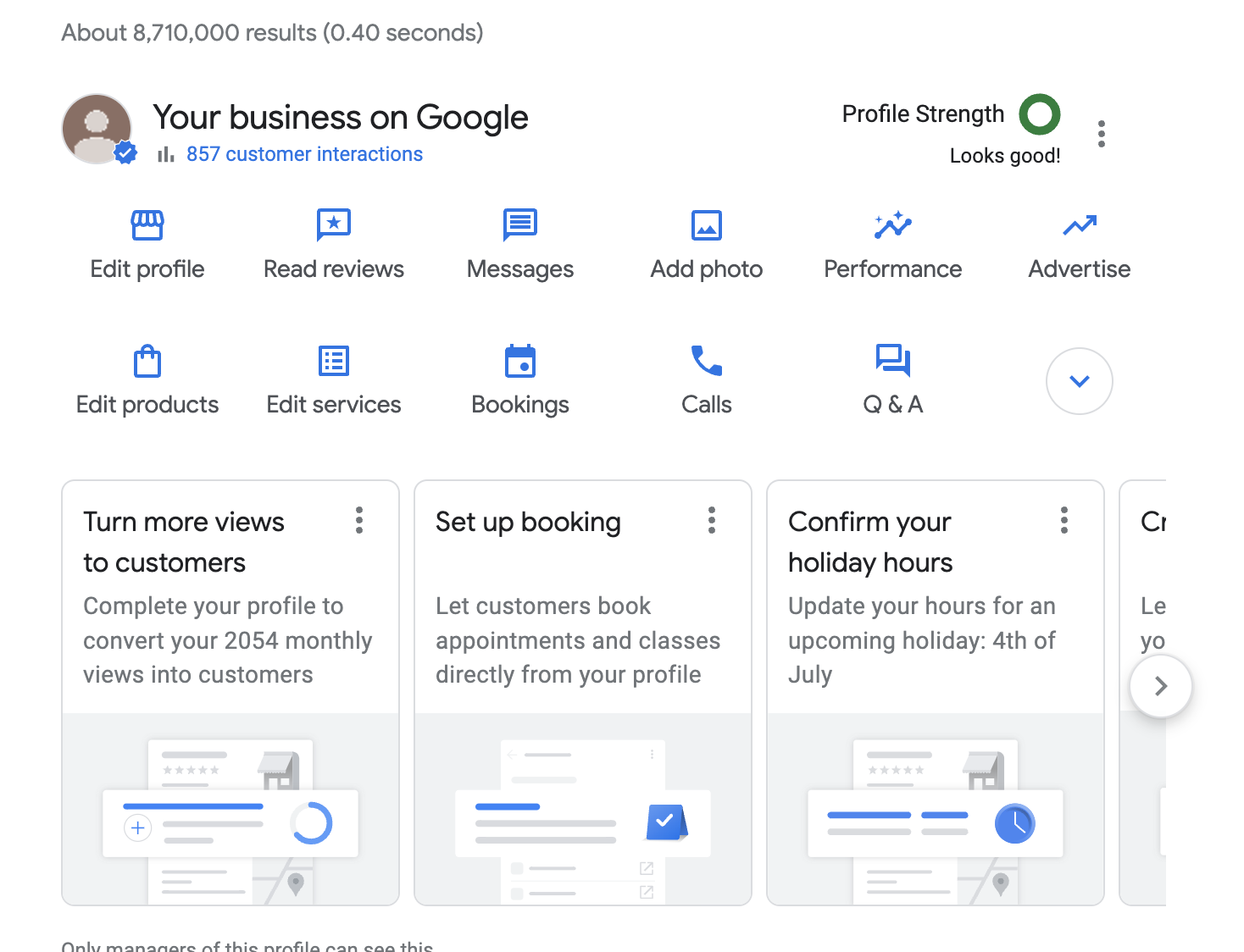 This is your command center. From here you can check if you've gotten messages, add photos, read how people are reviewing your firm, and even list your services & book meetings. You'll want to click on "Edit profile" to begin your optimization journey.
Edit Profile

You'll want to scroll through this pop-up and make sure all your information is correct. The description is a fantastic way to optimize. If you service a local area, make sure to add that in. Make sure to add your keywords here too, because SEO never sleeps. It's good to add in your hours as well, to let folks know when/when not to call you. If you don't add these in, you're likely to get a few evening/dinner-time calls. Let's avoid that, right?

As you scroll down, there are more options to showcase how you best service folks. A lot of these are tailored to public, walk-in-type businesses. Only fill these out if they apply to your business. If they don't directly apply, you might confuse people about what you really offer.
Add photos
If your RIA has a storefront or office that your clients can visit, by all means, add them in! Take a picture of your door with the logo on it, or your meeting space. If you work from a home office, add your logo and a professional headshot. These are going to be very visible.

Make sure to add your logo as well. This will be visible on the SERPS and adds that layer of professionalism you want.

Reviews
If your clients are happy, the world should know it. Allowing them to write a review (hopefully 5 stars) can immediately increase trust in the brains of your audience. Please keep in mind that some states do not always allow for testimonials.
What about bad reviews?
This also opens the potential for bad reviews. No one wants to see a bad review, but if you get one, I have a few tricks for you to use.

One time I went to a restaurant in Coeur d'Alene that dropped the ball. I'm a patient person, but the service staff ignored us for quite a while and they weren't busy. I turned into that person. When I got home, I wrote a truthful review. Within 20 minutes the manager responded to my review with absolute tact and class.


Every time I go to write a bad review, I think about this response. It immediately disarmed me. Needless to say, I've been back to Sweet Lou's several times after this. And I'm positive that anyone who saw this saw that the owner truly cared about reviews and business.

So, in short, bad reviews create an opportunity to show prospective customers how you handle bad situations.
Add in your services
This is a fantastic optimization opportunity for you - especially if you have a niche. Add in all of those keywords you've worked so hard to identify here. Go nuts - you can add in as many "categories" that apply to you. Someone searching for exactly what your RIA does is more likely to see your profile if you add those terms to your services.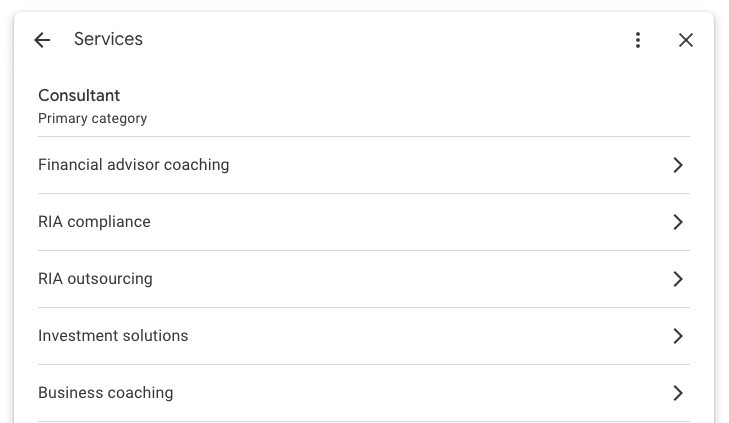 Add a booking link
If you have a meeting calendar tool (HubSpot, GoToMeeting, Calendly, etc) then you can add that link right to your profile. Folks will be able to book a meeting straight from this page. It's a marketing best practice to reduce friction wherever you can – if you can help them book a meeting in the fewest amount of clicks possible, you increase the possibility of more bookings.
4. The "à la carte" options
*Cracks knuckles*... this is where it gets custom. Google is going to recommend that you add all types of information that isn't relevant, and it's ok if you don't have an answer for them. For example, if you don't have a booking link - that's ok. For example, if you don't have any updates, don't add one. But if your RIA is hosting a webinar, happy hour, or get-together of some sort, you can add that to the "updates section"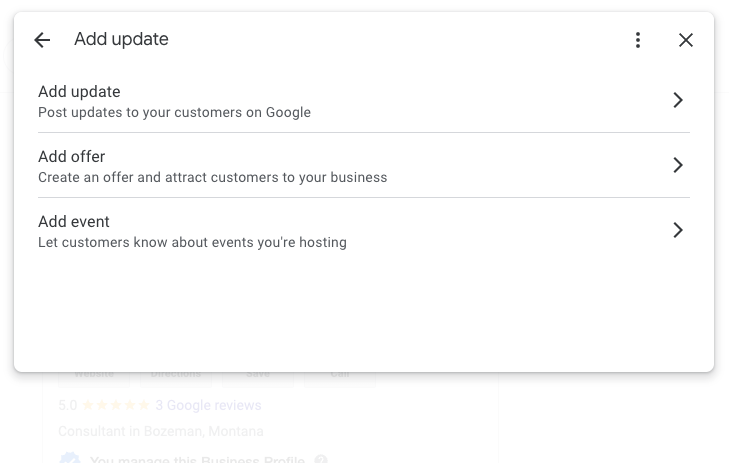 Advertising
Google does a fantastic job of sprinkling in the fact that you can pay for advertising as well… don't feel obligated to do that right off the bat. It won't affect your organic search ranking, so for the purposes of optimization, it isn't a must-have.

Q&A
This is a two-way feature. If folks are asking questions bout your business, you'll get a notification via email. It's good practice to try and answer these questions as soon as possible – Google will grade your RIA based on how fast you respond, and if the response is satisfactory.

Products
Again, not every Google Business Feature is useful for your financial planning firm. This applies more to storefronts, but if you have standard pricing packages that are public facing, you could add them here. I don't recommend this, however. The goal of your business page is to get folks curious enough to contact you and ask these questions. If you allow them to come to conclusions on their own, you miss the opportunity to sell them on the value of your services. Many marketers and sales professionals debate the efficacy of this practice, but I've always found it's better to be part of the conversation than to let it happen without you. That's why I recommend leaving pricing information off of Google if possible.

Messages
If you have a lot of time on your hands, you can turn on the chat feature. Although I'm guessing you'd rather spend more time doing actual financial planning. The ROI on this feature might not be as high for every size of RIA. However, if you feel like you're missing out on opportunities to connect with customers and have the time on your hands to field chats all day, you can turn on the "Messages" feature.
5. Analyze that!
The performance tab tells you exactly how well your listing is working. You can sort by date, interaction type, and how folks saw your business.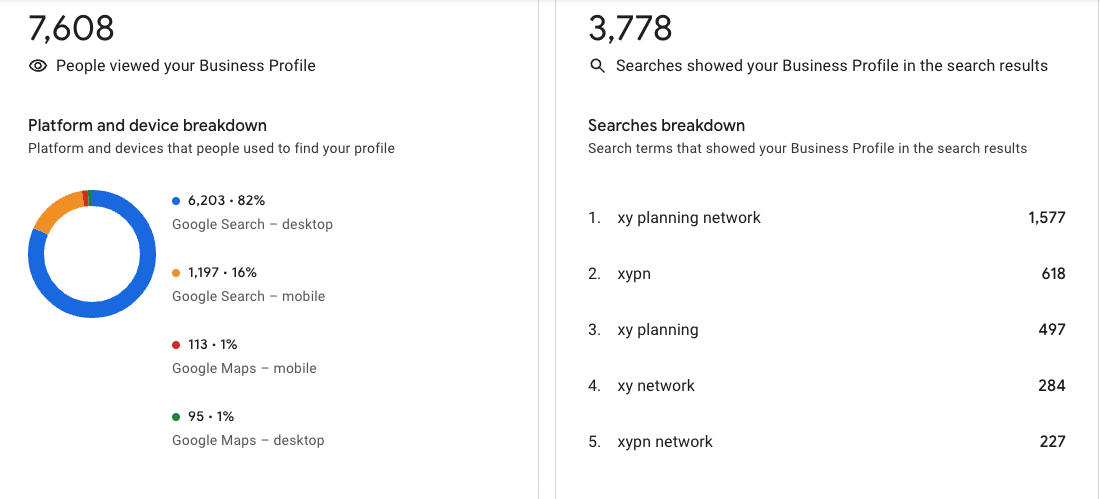 Of course, Google never misses an opportunity to show you how to spend money with them. Before you start diving into ads, make sure you check all the free boxes. Then, if you feel like you need to supplement your organic traffic with some free ads, you can dive in. Google will always take your money, so this opportunity won't go away.

I'll be helping out with the Coaches Corner at XYPN LIVE 2023, so if you want to have a one-on-one conversation on practical ways to grow your RIA, grab your pass today! This event is full of fee-only energy – every fee-only advisor should attend.

I hope this overview of setting up your Google Business profile for your RIA was helpful. If you have any questions or just want to talk marketing, feel free to connect with me on LinkedIn.

SEO never sleeps!
---
About Sam McCue
Sam McCue is XYPN's Director of Sales & Marketing Operations. He specializes in all things SEO, marketing strategy, and automation.