When it comes to being a financial advisor and running your practice, you must wear multiple hats – finance, business development, portfolio management, client relations, marketing, accounting – the list goes on and on.

Marketing is just one piece of the puzzle, but it's an important one. And for many advisors, it doesn't come naturally, which makes it hard to get to know and love. In working with different advisory practices over the years, and this ranges from $1B+ shops to the brand-new RIA, we've seen that on the marketing side of things, the most significant pain point for advisors comes down to: creating a bunch of content with what seems to be no ROI in return.
We get it. We've been there.
Creating content is HARD. Creating content that generates ROI is even harder. You pour your time, sweat, and tears into a piece only to see nothing in return, often leading to head-scratching questions. Why did no one engage with my content marketing? What is all this creation doing for my brand? How should I measure success? How can you create an engine to where the juice is worth the squeeze?

Let this blog serve as your blueprint as you begin to create content at scale.

#1: Focus on a core piece—do it well
When creating content, the biggest pitfall is the tendency to bite off more than you can chew.

We see advisors plan to launch a blog, video series, newsletter, and podcast all at once. And they often fall flat because they're creating from scratch and doing too many things.
The key to good, scalable marketing content is creating one series-based long-form piece, then using that to fuel everything else. This is called your core piece of marketing content.

Let's break it down in an example:
Say you serve young families with kids under ten and who have dual incomes. They've told you they consume a lot of videos— whether it be with the kids or on their own time. So, you proceed to create a video series that includes a 4–8-minute video where you're breaking down a single question you regularly get from this audience. This could be buying a home, balancing cash flow, starting to save for college, etc. Once you've created it, you will publish the content to YouTube and your website.

This video (or other media) becomes your core piece of marketing content. This is the one piece of content you're going to produce on a regular cadence, whether that be the same time every week, every few days, or another cadence that fits your firm. This piece of content fuels everything else in a way that is scalable, and helps you to increase the ROI on your investment.

If you've ever seen an episode of your favorite T.V. show (Game of Thrones fan over here), you've consumed series-based (or episodic content.) Series-based content enables you to build quicker, no matter the format. It's a series of related topics that are broken down into more digestible parts. For your firm, it means that you can create more content around a single topic to increase engagement with your ideal audience. But how do you actually implement this?
If you're creating a video: Your intro and outro media are typically the same.
If you're writing an article: Your article structure stays consistent.
If you're hosting a podcast? Your guest interview style carries a consistent framework.
These core pieces carry a similar structure from episode to episode and have a consistent cadence. This allows you to focus on the core media, making it easier to come up with topics and stay within guardrails. It also allows you to maximize the ROI you garner from your content marketing strategy. Bonus: as your audience comes to expect content from you on a regular audience, meaning they become more likely to "stick" to your brand. This also enables you to leverage this core piece into other assets. You might also want to put together a keyword strategy for your content.
Leveraging a core piece of marketing content:
A 4–8-minute Youtube video can easily become an 800-word blog once it's transcribed. Tools like Rev.com and Google Voice Typing can make transcribing videos easy. A blog post can be shortened into an email for your monthly newsletter. An email newsletter can be repurposed into a LinkedIn text post. A LinkedIn post can be repurposed into a Twitter thread. And just like that, we have five additional content assets derived from the single, core piece.
So, when thinking about what to do when it comes to creating a series-based core piece—account for every potential content channel. This will help you to determine not only the approach for the core piece but the 4-6 secondary pieces you'll publish.
#2: Create once, distribute ten times

The average life of a tweet is 18 minutes. LinkedIn post, 24 hours. Facebook post, 5 hours. Only a fraction of your organic followers see posts you put out into the world. Repetitive distribution in your digital marketing plan is key.

Quality content wins the day in the modern market, but for any single piece, the chance that someone is going to see it off one or two shares is minimal. A standard marketing statement you hear in 2022 is: Create once and distribute everywhere. But what does this mean?

Writing, filming, and editing a piece of marketing content takes a lot of time. It can be hours or days, especially as you're building the skills. Maximize your time by creating once, and sharing away!

Sharing a single article or video numerous times throughout weeks and months to get it in front of your audience should be the mindset. We're talking about sharing the SAME piece 10-20 times on social over time to increase the expose (and ROI). The key is changing up HOW you share to ensure it doesn't feel repetitive in a feed.
Fresh ways to reuse content:
Change up the social media post copy introducing the marketing content
Create a new graphic that you upload when sharing
Highlight a different key idea or stat from the piece in your posts
Do a quick video about the piece, explaining what it's about
A key time saver is utilizing tools like Canva, which has thousands of templates you can choose from and then customize with your branding. This helps the content feel new—plus, graphics take up more space in your audience's feed.
Distribute with intention:
Don't push content out at random. Create a goal, or a share metric, to help you determine if you are pushing out content on a regular cadence. For example, your marketing plan may include a metric for promoting a piece of content 10-12 times over 3-4 weeks.

When sharing, get others involved—the quickest way to build rapport and authority with your audience is by engaging with people they know and trust. Whether you're asking influencers, any individuals who are influential within your ideal market segment, for quotes on specific topics or having them on as a guest to your video series, they'll often give you a boost in distribution. This formula is exactly how we built our podcast following.
#3: Boost your core content with paid media
Most small businesses view paid media with a short-term mindset—to get leads. The result? Unqualified and uninterested leads who never respond to your emails. This mindset is where business owners get it wrong.

Think about the biggest brands in the world – Nike, Coca-Cola, Apple, Tesla – they don't market to drive "leads." They market to get their brand, products, and content directly in front of their core audience. How do they do this? They segment the market and create a strategy focused on reaching their target market.

The reality is that paid media shouldn't be looked at too differently than organic media (free content.) The primary difference is that you're paying to get your content in front of the EXACT people you want to get it in front of—repeatedly.

It takes 6-8 touch points to qualify a lead. So, as you're creating your core and your secondary pieces of content—aim to boost the content on multiple platforms to reach your target market multiple times.
What to spend in each marketing channel:
Here's how the channels break down: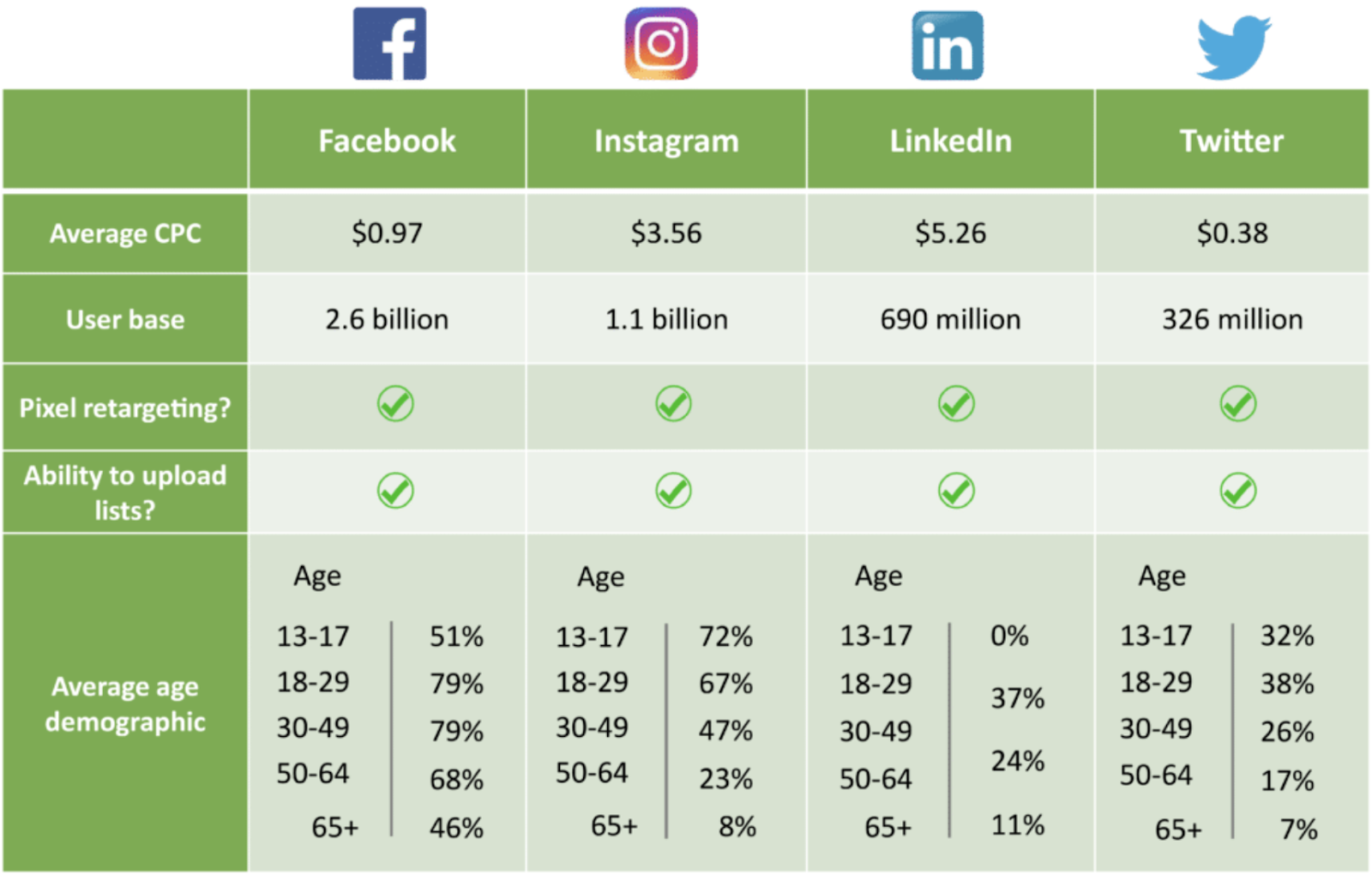 Source: WebFX
Facebook: Your most cost-effective channel. While the "eyes" may be lower quality compared to other channels, you can get away with spending $500/m and get incredible reach and engagement with your content.
LinkedIn: Your best quality channel to advertise in our experience, but you can't spend less than $1500/m on the channel to get proper reach. Their targeting is unmatched, and they generally have more affluent individuals logging in – with 60% of users earning more than $100k per year, 65 million users being decision-makers and 10 million being C-level executives. (Source: 75+ LinkedIn Statistics to Capture More Leads in 2022).
Twitter: We don't generally recommend Twitter for advertising due to the unreliability of their ad and click data.
Google Ads (Not Pictured): The key with Google Ads is to find the sweet spot between search volume and competitiveness. If you're going local (i.e. running ads or content against keywords like 'Milwaukee Financial Advisor') you'll need a big budget because you're competing with the likes of Morgan, Merrill, and other big broker-dealers and wirehouses. That said, there is room to win on niche-topical searches. Created a piece on 1031 exchanges? It might make sense to bid against that key term.
#4: Be proactive about early feedback
Getting feedback anecdotally and in aggregate can make or break your marketing. If you're not talking to your clients early and often about your content, you're missing a key component of expanding your reach.
We generally have all our members set up "ask for feedback" campaigns with clients when launching new content series. This is a proactive approach to collecting feedback that allows you to understand the value of the content you're creating from day one, and how you can tweak things to serve them better.
A framework for implementing feedback:
#1: Send any core piece to 3-5 of your most engaged clients.
#2: Ask these clients directly what their thoughts are specific to the delivery, topic, format, and timing.
#3: Improve your core piece based on the feedback.
#4: Send it to these clients again a second time to gather additional feedback.
#5: Set a measurement framework for long-term growth
At the end of the day, you can't get to a place where you're spending the right amount on content marketing until you know the impact that your strategy is making—and where that content is landing. Far too often we've seen advisors waste two or three years working with a platform or company with no output. To avoid this, your plan should include time to consistently review your ROI across every topic, format, and channel. This includes setting metrics even if it doesn't tie directly to ROI.
The 3 areas of measurement you should assess:
#1: How well are you improving brand awareness?
Website page views
Rankings on Google
Social media impressions and network growth
Press coverage
#2: How well are you engaging prospects?
Meetings booked
Newsletter sign-ups
Assets downloaded
Webinar registrations/attendees
#3: How well are you servicing clients?

Customer satisfaction
Referrals
Increased business
Measuring metrics in these 3-areas will enable you to ensure each part of the funnel is moving in the right direction.
The Bottom Line
Marketing can be intimidating before you start executing, but if you have the right content frameworks and systems in place, it's just like working out – the more you do it, the stronger you get over time.
---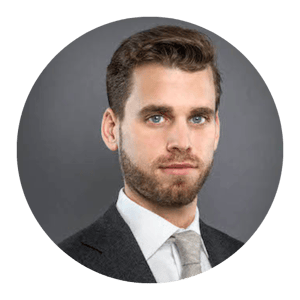 About the Author
Alex Cavalieri serves as the Director of Marketing Operations at CAIS Group, helping advisors continue to expand their practices in new & bigger ways across client portfolios and client relationships. His favorite part about his job is setting the tone and direction for the future by analyzing what does and doesn't work. Alex received his Bachelors in Communications and Rhetorical Studies from Syracuse University in 2010. Learn more about CAIS Group at: https://www.caisgroup.com/