Summer Reading Suggestions from the XY Planning Network Team
6 min read
June 14, 2021
It's almost summer, folks. Yep, it's time for vacations and afternoons on the deck. Time for beach trips, barbeques, and yes, summer is also a great time for learning something new. I've pulled together some summer reading suggestions for you, your clients, and even the little ones in your life with a little help from my XY Planning Network teammates. I know you probably won't have time to read them all, but you can keep this handy next time you need some ideas for great reads, no matter the season.
Summer lends itself as a time of self-improvement, growth, and doing a bit better on your habits in life and business. To kick things off, I love Getting Things Done by David Allen. It's not new, but this is one you can revisit and grab a few tidbits from or remind yourself of the things you tried but let go by the wayside. (Inbox zero, I am looking at you!) The leader of process self-help books, The Checklist Manifesto: How to Get Things Right by Atul Gawande, will help you see the joy of creating a process for even the simplest of business tasks. My first exposure to Essentialism: The Disciplined Pursuit of Less by Greg McKeown was from a former boss, who read it to help herself and then told our whole team to read it. We were all stretched to the max and needed some clarity on priorities and boundaries (now that I think about it, I may need to reread this one—I think I have fallen off the essentialism bandwagon). On the more personal side, for growth and healing, take the advice of Kathleen Boyd, XYPN's Financial Planning and Process coach, and BB Webb, XYPN's Sales Coach, and read You Can Heal Your Life by Louise Hay.
You may want to focus outward on your business and not just on yourself. Summer is an excellent time to reflect and plan for the next stage of your business. Traction by Gino Wickman is an absolute must if you wish to implement the Entrepreneurial Operating System (EOS) with your team. You'll learn about setting achievable goals and breaking the year down into quarterly chunks to keep moving towards your long-term goals. We use EOS here at XYPN to keep the entire team aware of where we are headed and how important each of our roles is. You can send your team What the Heck is EOS to get them on board as you move forward with implementation.
If marketing is your focus this summer, I would reach for the classic Building a StoryBrand by Donald Miller. Here's a summary: "In Building a StoryBrand, Donald Miller teaches marketers and business owners to use the seven universal elements of powerful stories to dramatically improve how they connect with customers and grow their businesses." I have worked with many of our members who've used these principles to improve their connection with prospective clients and grow their businesses more successfully. Emily Campbell, XYPN's Associate Editor, recently wrote a blog on the power of this book for advisors. If you are struggling to get in the business development groove, another classic is Get Clients Now! by C.J. Hayden. In it, you'll walk through some marketing basics, but the real impact of the book is helping you create a 28-day plan for real activity. You can then use that 28-day concept over and over again as you walk through what you need to grow your firm.
Is this summer your season to ponder joining forces with another advisor or building an all-around better practice? Working through Partnership Charter: How to Start Out Right with Your New Business Partnership by David Gage will get you on the right track. There are online support tools as well. To dig deeper into the future of your firm, you may also want to dig into G2: Building the Next Generation by Philip Pataveev.
Are you just starting out or trying to decide if financial advice can be approached another way? A classic is So You Want to Be a Financial Planner: Your Guide to a New Career by Nancy Langdon Jones. This book is currently in its 9th edition—a testament to its impact and success. I also recommend The Investment Answer by Gordon Murray and Daniel C. Goldie. I first read this after an XYPN member told me this book changed his life and started him on the path to comprehensive planning. Talk about a glowing review.
Your clients may be looking for some additional education as well. If they are like my husband, they will rave about The Psychology of Money: Timeless Lessons on Wealth, Greed, and Happiness by Morgan Housel. If you don't want to take my husband's word for it, this one was also recommended by Jordan Hutchison, XYPN's Director of Partnerships. Jordan also recommends Geometry of Wealth by Brian Portnoy, which coincidentally, I just read as well, and I second the recommendation. Get the highlighter for this one—there are notes to be taken! Next up in my queue is the 2nd edition of Rewirement from Jamie Hopkins. It's billed as a way to rewire how you think about retirement. With a tagline like "Do you need to rewire your retirement thinking? Would you know if you did?" I couldn't resist. Jamie does a fantastic job addressing these types of questions that I don't know the answers to! You may also want to check out How I Invest My Money, a group project edited by Joshua Brown and Brian Portnoy with illustrations by Carl Richards. It's a treasure trove of knowledge from all over the industry applicable to yourself and your clients.
And let's not forget the kids! Whether searching for books for your own or your clients' kids, summer is the time to help build some good financial knowledge regardless of their age. For older kiddos, I have to recommend The Simple Path to Wealth: Your road map to financial independence and a rich, free life by J L Collins, not because I have read it, but because someone gave it to my son when he graduated from college. He loved it so much he gave it to both of his sisters when they graduated. I think that is a testimony worth repeating because, after 30 years of parenting, I know it's a rare day when all three recommend the same thing. The fact that not a single kid of mine is still on the dole speaks volumes as well. A go-to graduation gift for BB Webb, XYPN's Sales Coach, is Why Didn't They Teach Me This in School?: 99 Personal Money Management Principles to Live By. For the younger crowd, ages 8-12, BB is a fan of Investing for Kids: How to Save, Invest and Grow Money. With an age-appropriate reading level and pages full of fun graphics, this is a lovely way for your independent readers to learn about money. Alan and Mary Moore team up with The Four Money Bears to teach their kids about money. You can join Spender Bear, Saver Bear, Investor Bear, and Giver Bear and learn all about how money can be used. This one's perfect for ages 4-8.
In addition to books for the kids themselves, parents need some guidance as well on how to teach on the topic of money. Your clients (and you) can learn about raising kids to be financially savvy with The Opposite of Spoiled: Raising Kids Who Are Grounded, Generous, and Smart About Money by Ron Lieber and Make Your Kid A Money Genius (Even If You're Not): A Parents' Guide for Kids 3 to 23 by Beth Kobliner.
If sitting down and reading isn't your jam, most of these books are available via audiobook—you can have an entire soundtrack for your summer road trip. On a budget or want to save trees? You'll be shocked how many of these are at your local library. If they aren't, you can check to see if your library has reciprocal agreements that allow them to have the book shipped in from another library system. So make no excuses this summer (and beyond). Hardcover, paperback, ebook, or audio—pick your favorite and start learning.
---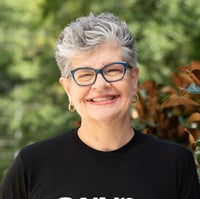 About Arlene Moss, Executive Coach
Arlene gets a kick out of helping financial advisors get over being overwhelmed and take on their frustrations so their businesses soar. Arlene works to ensure XYPN members are able to help their clients prosper while creating a sustainable business model. Through XYPN Academy and one-on-one coaching, members get the support they need to grow their businesses and overcome the challenges that come their way.