Why: Facing Capacity Constraints
A combination of hiring and outsourcing may be the best solution to overcome capacity constraints caused by client count in your RIA. As you approach 70 clients, it can become more challenging to appropriately serve existing clients as you continue to generate new business and onboard clients. However, the number of clients you work with is not the only factor for evaluating your capacity. What about capacity constraints caused by inefficient or absent processes? We need to make sure you are on the correct path to grow your business efficiently; this means you need to systematize and streamline everywhere you can. If you don't document your processes, you won't be able to evaluate and refine them as your business evolves. When you are facing capacity constraints, regardless of the underlying cause(s), the last thing you want to do is find time to establish your processes. Unfortunately, the longer you wait, the more overwhelmed you will likely feel.
What has prevented you from successfully building processes? More often than not, you may be suffering from paralysis by analysis. In other words, you want your processes to be perfect and fully functional from the start. This initial hurdle has prevented financial planners from establishing processes for too long. This blog will highlight the benefits of documented processes and walk you through an 8-week program to build your workflows. Then, we will review how to build your new workflows in your CRM and three key tips to help you get started. After reading this blog, we hope that you come away with a stronger foundation in process development and are excited about building workflows for your business.
What: Workflows
Before we get into the weeds, a quick review of workflows should help remind you of their importance and purpose. A workflow is a series of steps that document and automate important processes to create a high level of consistency and accountability. Any formal process for work that you do with clients, prospects, employees and on behalf of your business should eventually become a workflow in your CRM. Workflows are frequently confused with tasks. Workflows are a series of repeatable activities, whereas tasks are your isolated action items. If you find yourself doing the same process regularly, it's time to build a workflow. Three real benefits of documenting processes include:
Ensure consistent client experience. Your first few clients likely had different onboarding experiences. You were doing your best to deliver the value you promised while being thoughtful about how to approach each engagement. Client meetings might have run longer and been less structured. When you were just getting started, variability in the client experience is normal. However, consistency is extremely important in a client-advisor relationship as it is linked to trust and referrals. Workflows empower you and your team to perform at your best and provide clients with a consistent experience.
Improve your productivity. Processes can help you become more conscientious about how you spend your time. It's not efficient for you to use your time and brainpower to rewrite another "welcome email". Templating emails that you send frequently and attaching resources will keep everything organized. Another benefit to consider: if you eventually hire, you can easily delegate the various steps in your workflows to the appropriate team member. This will reduce training time and increase your productivity.
Start being proactive. The more time you spend in your first year documenting processes, outsourcing services (i.e., marketing, compliance, and tax preparation), and delegating appropriately to your team will elevate you and allow you to be present for your clients. We want you to focus on what you do best by entrusting the tasks that are not part of your core competency as a business owner and financial planner. You will find you have an opportunity to serve your clients more proactively when you follow the process below and focus on creating your workflows sooner rather than later.
When: Framework for Creating Workflows
The process below provides some guidelines for building out your first workflows. Before jumping into your CRM, follow these steps to ensure your processes are properly structured. This 8-week program focuses on collaboration and appropriate evaluation which are both essential to the future success of your workflows. The first 4 weeks allow for building, while the next 4 weeks provide time for testing. You can repeat this process each time you need to build workflows and adjust the schedule as needed. We hope you will walk away with 1 - 3 core workflow(s) after completing this program for the first time.
Week 1
The first three steps should be done during your first two hours on the project. It might seem like a lot, but when you are diligent with your calendar and time, you can achieve a strong project foundation. You probably spent time thinking about processes when you were starting your business; let's refocus your energy and get this started.
Block Time - The first step to creating effective workflows is blocking time on your calendar. Schedule two hours when you are most productive during the day and set recurring appointments every week for the first 4 weeks. This is usually sufficient, but you may need more or less time depending on your team size and scope of this workflow project.
Brainstorm - During your first hour, make a list of every process within your business that should be systematized. If applicable, please include your team, specifically those who will own certain steps in the workflows. Review the list and prioritize your top processes based on need. Are you going to try to build one detailed workflow over the next few weeks? Define the scope of this project before you move on.
Establish Goals - What business challenges will your workflows solve? Write down, in detail, what you are looking forward to achieving with your workflows. Once you establish the goals of each workflow, you have set yourself up for success during the building stages in the following weeks.
Weeks 2 & 3
This phase of the program may require more than 2 hours depending on the goals you set in the prior week. Don't worry if you find that you need more time. To stay on track, you will need to block off any additional hours during the second and third weeks. Otherwise, this project will get off track and circling back will be challenging.
Break it Down - It's time to break the workflows down step by step. We recommend using sticky notes, although a whiteboard or spreadsheet can be equally effective. Each sticky note should represent a step in the workflow. You don't want steps or entire workflows to fall through the cracks, so be sure you end each workflow by starting the next workflow. You must be diligent about starting, updating, and completing workflows.
Organize Steps - Be sure your workflow steps are in the right order. Will your workflow be sequential and follow a specific order? A sequential workflow acts like a flow chart, ensuring there are no backward steps. Or, will your workflow be non-sequential and act more like a checklist? See Tip #1 below for more help.
Determine Outcomes - Branching logic can be embedded within your workflows to help you guide your processes when things don't go according to plan. Branching logic, also known as outcomes or conditional logic, will help you answer the question "What would happen if?" When you build in scenarios, you can keep moving through the workflow. The four outcomes available in our CRM solution (Wealthbox) include: go to step, restart step, complete the workflow, and restart the workflow. Keep reading for an example of outcomes.
Week 4
Find Efficiencies - Out with the old, in with the new. There is a bit of ambitious thinking needed here. You want to outline the optimal process going forward, not necessarily the process exactly as you have been doing it. Look at your steps and outcomes, is anything redundant or inefficient? Evaluate your processes before you finalize them.
Set Deadlines - Start to set some deadlines for each step. Your best guess is perfectly appropriate here. This isn't a time limit, but instead a tool for you to understand how long the process should take. A rough estimate is a crucial first step in determining the total process time. Deadlines may need to be altered as you attempt to complete the workflows for the first time.
Determine Responsibilities - Who owns the workflow template? Who owns each step and why? Defining the roles for each workflow will ensure your team understands their responsibilities at each step. This will help keep things moving when you implement your workflows.
Test It - Schedule a meeting a month out to circle back on what is or isn't working and make changes as needed. Put your workflows through as many tests as you can after initial development. This will help you determine what areas are performing well, and identify which areas are causing delays.
Week 8
Build It - Now that you feel good about your workflows, you can start to build out templates in your CRM. This can be done by a member of the team and doesn't require an additional brainstorming meeting. Check out the next section below titled "Where: Your CRM" for more information.
Month 6
Refine It - Every good process should be evaluated and refined. Setting a workflow check-up six months out is a good practice to ensure you remember to revisit all of your hard work. All workflows should be assessed annually after the initial review.
As Needed
Repeat It - Repeating this 8-week program every few months will ensure you are sufficiently prioritizing processes and workflows. You will eventually want to repeat the program to build a complete workflow series. An example of a workflow series is a process that takes you from "A to Z" rather than from "A to B". More specifically, "A to B" would be "Lead to Acquisition" where "A to Z" might be "Lead to Plan Delivery." Check out this workflow series I am building out: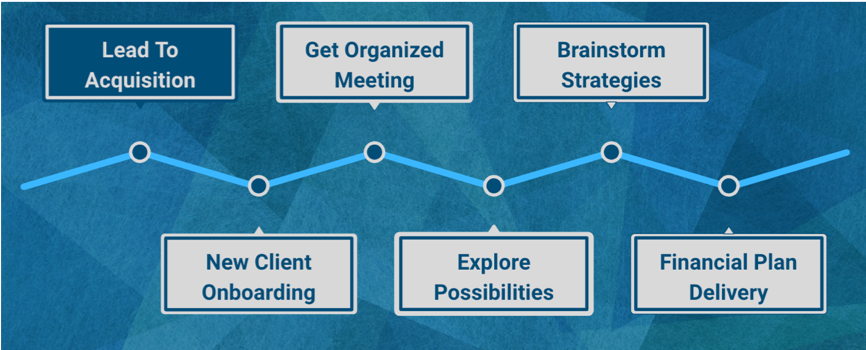 This series uses Michael Kitces' reimagined client-centric financial planning process.
Where: Your CRM
Now that you are in the development stage, you need to assign your workflows to contacts, projects, and opportunities. Contacts can be clients, prospects, COIs, etc. Projects track organizational initiatives you do on behalf of your business. For example, a client onboarding workflow would be assigned to a contact, while a client appreciation event would be a project. Lastly, opportunities capture your prospect pipeline and sales process.
The most requested workflow from our members is a new client onboarding workflow. Regardless of the type of engagement (hourly, project-based, one-time plan, ongoing advice or investment management), as a financial planner you will always need to onboard new clients. A basic onboarding workflow for a financial planning engagement may look something like this:
Update CRM
Prepare & send new client packet
Send welcome email
Send SWAG
Add to financial planning software
Setup client billing
Setup storage solutions
Save signed documents (Yes/ No)

Yes: Go to step 10
No: Go to step 9

Request signed documents
Confirm next meeting
Start next workflow: get organized meeting
This workflow is sequential because it follows a suggested order. In step 8, you can see a basic implementation of branching logic. If you received the signed agreements from your client, you can move forward to confirming the next meeting (step 10). If you haven't received all of the agreements, you will have to request the documents again (step 9) before continuing to the next step and completing the workflow.
Who: Your Business, Your Team & Your Clients
Workflows should save you time and energy. A fully functional workflow in a CRM will help you identify redundancies, reduce errors, improve productivity, increase accountability and promote communication. After 8 hours of hard work, you will have created processes that help significantly improve your capacity. Developing workflows is no small feat, but the benefits will be felt throughout your business for years. Hopefully, this blog provides you with the framework for thinking about what types of workflows might work best for you.
Many financial advisors operate their business and client interactions based on memory. The "it's in my head" mentality runs rampant in our industry. Weekly to-do lists, post-it notes, and tasks will only get you so far. Your employees won't be able to work efficiently when you're not around; empowering your team to follow outlined processes is critical. A distinguishing characteristic among advisory businesses is those that have defined repeatable processes. Regardless if you just started your business or have been in the industry for years, it's always the right time to focus on your workflows; your business, your team and your clients deserve it.
Tips
Tip #1: Order matters
The decision to make a workflow sequential or non-sequential (i.e., a checklist) is critical. Each type of workflow has its benefits and setbacks for your processes. Your first instinct might be to make everything sequential; however, a workflow may be more efficient if some tasks can be done simultaneously. Waiting for a team member or client to complete a task can take a lot of time and ultimately stall the workflow. Use your best judgment to determine the proper solution for each workflow.
Tip #2: Be concise
Try to keep your workflow under twelve steps. This is a good rule of thumb to follow as you are getting started. Ask yourself if the longer processes could be broken into multiple workflows before you start to build it in your CRM. Eventually, with the use of outcomes, your workflows may end up being longer and more intricate. As long as you set realistic deadlines and appropriately assign responsibilities, you can still find success with lengthier workflows.
Tip #3: Automate
Automation can make you more efficient. Many of our members utilize tech solutions to automate their processes and workflows. Zapier can help you automate workflows by moving information between apps automatically. Through the use of triggers (i.e., events), users can "Zap" information to over 1,500 apps. Check out the free 14-day trial here if you are interested in trying it out.
---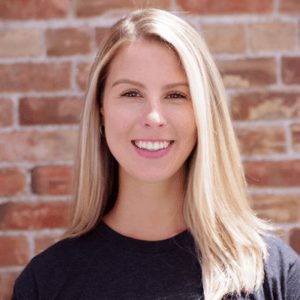 About the Author
After working as a financial planner at a large fee-only RIA in Northern Virginia, Emily joined XYPN's Advisor Success team. As a CFP® professional and Enrolled Agent, Emily shares her financial planning knowledge and experience with members as they start, run and grow their businesses. She received her M.S. in Advanced Personal Financial Planning and a Financial Therapy Graduate Certificate from Kansas State University. Emily also completed Wharton's Executive Education Program in Client Psychology and graduated from the FPA Residency Program.
Additionally, she serves as a Graduate Teaching Assistant for KSU's financial planning program. She recently completed terms on the Financial Planning Association National Capital Area Board as the NexGen Director, and Virginia Tech's Recent Alumni Board as the Outreach Chair.