Mentorship as a Key to Success in the Financial Services Industry: How Are You Making Yourself Available?
Owning your own firm comes with many advantages, chiefly the freedom to work when you want, how you want, and with the clients you want.
But for all its perks, firm ownership is not without its challenges. For starters, it can feel incredibly lonely and isolating.
This is where the power of one-on-one relationships should not be underestimated.
The mentorship model is one way to get quality, individualized help. It's a way to learn fast, avoid missteps, troubleshoot issues, and simply stay engaged.
Every firm owner, regardless of experience level, needs a mentor, if not multiple mentors in their life.
But the system doesn't currently work in an ideal way. There aren't enough mentors in the financial services industry to serve the demand and it's impossible for a few people to carry the load.
The solution is quite simple: more of us financial advisors need to make ourselves available to mentor others.
Because of the current dynamics, I've noticed that some people encounter challenges in finding or engaging a mentor. There may even be a deeper problem with time management or with mentors using the word "mentor."
XYPN's Diversity Committee will tackle these issues and more during a free webinar on July 25. In the meantime, here are a few observations and tips, which mostly focus on objections I hear about mentoring others.
Here are some things I've heard advisors say:
"We meet from time to time to discuss business, but I wouldn't call myself a mentor."
"I don't have time to be involved with a mentorship program, I have my own stuff to worry about."
"I haven't had any luck being paired with someone using the CFP® mentorship program."
"I can't commit to a formal program right now."
"It's too hard to find a mentor/mentee."
"I haven't <been in the industry> or <had my firm> long enough to mentor anyone yet."
Here's the truth about some of these challenges/misconceptions:
It doesn't take as much time as you might think.
You may be missing out on a rewarding relationship. You might even find someone to hire, partner with, or get ideas from by mentoring.
An informal relationship is possible, it doesn't have to be part of a formal program where you meet once a week/month/quarter with a specific agenda.
The topics you can cover are varied and endless and you can choose to offer help in areas where you feel comfortable.
As a mentor, you don't even need to set the agenda for the meeting; you simply need to share your experience.
You can mentor others no matter where you are in your career or with your business because you have unique knowledge that others can learn from

Mentoring peers is similar to how you share your unique knowledge with your financial planning clients

You don't need to be responsible for the success of people you mentor—they are responsible for their own success
Here's Why I Do It
I serve as a mentor to others because when I first started, I received a lot of help. I also know that I need to keep learning to stay motivated and engaged in my own business, and I love connecting with others.
I want to see our industry become as diverse as possible and I want to encourage those in the minority such as women and people of color to feel comfortable joining it. I love seeing mentees go on to do bigger and better things. I've even found people to hire at my firm by first mentoring them.
What You Can Do
If you're interested in exploring more, here are some ideas:
Set up sidebar conversations with local advisors, conference buddies, and individuals in your study group so you can learn from each other.
Make yourself available to mentor others through formal programs (for example, the CFP® board program).
Be open to conversations with people who reach out to you through various channels (such as social media).
Optimize your time by giving people access to a special calendar appointment link that has limited time slots, which you can adjust based on current workload.
Keep on hand a list of resources (books, blogs, podcasts, etc.) so you don't have to reinvent the wheel each time someone new reaches out.
Our Community Needs You
So here's what I propose: advisors should make themselves available to talk about their experience with students, with career changers entering the field, and with those in and out of the network curious about what we do. We need a diverse group of mentors from all cultures, races, backgrounds, niches, ages, and experience levels.
Don't get so caught up in terminology. From my unofficial polling, I've found that formal mentorship is quite rare. It's far easier and more common to get what you need out of an informal arrangement.
You may not even need to call yourself a mentor if it makes you feel uncomfortable. The simplest definition of a mentor is "training or advising another person." However, sometimes we take the word to mean something way more lofty or important that's attached to significant responsibility for the person you mentor. That's just not true. As I mentioned before, the success of people you mentor is their responsibility, not yours.
If you want more guidance, join me and Matt Fizell on July 25 for the Diversity Committee's Quarterly Conversation on Making the Most of Mentorship. We've both been mentored and have served as mentors ourselves. We've tried various things like the CFP® program and doing it our own way and we'll be sharing what we've learned along the way.
We'll talk about ways to find someone to connect with and how to make it work logistically. We will discuss the differences between formal and informal mentorship and the pros/cons of each. We will also chat about best practices for making the most out of the relationship so both sides find it rewarding and effective.
We welcome those searching for a mentor and those interested in learning more about being a mentor to join the conversation.
---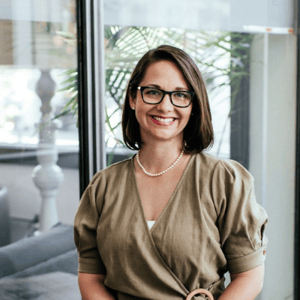 About the Author
Cady North, MBA, CFP®, is the founder of North Financial Advisors. Her firm specializes in helping women and entrepreneurs dream big and embrace the financial freedom they deserve. Cady also serves as Treasurer of XYPN's Diversity Committee, whose mission is to lead the industry by empowering financial planners to successfully serve diverse populations of clients through the community, collaboration, and education.