Many people have come to know and love our adorable bean as the face of XY Bean Counters. But it is time to finish the bean counting chapter and introduce you to the faces of the bookkeeping team here at XY Planning Network. Now known as XYPN Books, the eleven-strong team keeps our members' books clean, accurate, and compliant month after month. So settle in, grab a cup of tea, and enjoy the story of the team behind the books.
Tony Williamson
From Lancaster, South Carolina, Tony joined the XYPN Books team in late 2022. During his free time Tony coaches youth basketball and collects Transformers. As the director of XYPN Books, Tony is able to keep the bookkeeping team motivated and show our members there is more to bookkeeping than meets the eye. Tony's favorite food to eat is spaghetti and his favorite book is The Moves Make The Man, by Bruce Brooks.
Rhonda Moore
Rhonda describes herself as a "southern girl" who first dipped her toe in the world of bookkeeping when managing finances for a program that offered classes and sports to homeschooled children. Originally from Georgia, Rhonda enjoys playing with her golden doodle Rosie and reading in her free time. She loves working with new clients and helping our members get established and feel confident in their finances. Her favorite food is her own homemade spaghetti and her favorite book is The Help, by Kathryn Stockett.
Katie Ament
Katie Ament hails from Gilbert, Arizona (although technically Fargo, North Dakota) and currently lives in Florida. She loves going on adventures with her twins and cooking delicious meals for her family. She can't decide on what her absolute favorite food is, but it is a close race between her homemade barbacoa, pot roast, or green chili. Katie's favorite book is 1984, by George Orwell.
Danielle Simard

From Portsmouth, New Hampshire, Dani started her bookkeeping career with XYPN books in 2021 and has grown to be the Senior Operations Specialist. She loves to go fly fishing during the summer and when it starts to snow, she hits the ski slopes. Her favorite food is buffalo chicken pizza and her favorite book is The Alchemist, by Paul Coelho.
Peter Muelling
Peter grew up in Fort Collins, Colorado, moved to Bozeman, Montana for college, and now finds himself in Portland, Oregon. He joined the bookkeeping team during the summer of 2022. In his free time, he enjoys expanding his photography portfolio, watching movies, and adding to his ever-expanding sleeve of tattoos. His favorite food is sushi and his favorite book is Ulysses, by James Joyce.
Gabriela Lopez

Gabby, from Houston, Texas, is an avid crafter, and bookkeeper extraordinaire. Joining the XYPN Books team in late 2022, Gabby has quickly become one of the most well-known bookkeepers here at XYPN teaming up with Rhonda on the setup and training and onboarding of new clients for the Books team. Her favorite food is shrimp and favorite book is The Perks of Being a Wallflower, by Stephen Chbosky.
Tessa Romero

Originally from Louisiana, Tessa now calls the Dallas-Fort Worth area home. She likes to dabble with crafting and small DIY projects around the house when she isn't bookkeeping. Nothing tastes better than her favorite food, crawfish etouffee, when she needs a pick-me-up. Or her favorite book, which is Persuasion, by Jane Austen.
Jocelyn Rucker

Jocelyn joins the bookkeeping team from Lakewood, California! Jocelyn's favorite hobby is swing trading when she isn't bookkeeping. When she isn't keeping books or managing her trades, she enjoys a delicious In-N-Out Hamburger and spending time with her husband. She is also a devoted reader, and her favorite book is The Bible.
Kyle Bradley, CPA
As part of our east coast representation, Kyle comes to us from New York. Much like Tony, when he's done with work for the day, he enjoys playing basketball and spending time with his family. He loves a good cheeseburger and his favorite book is Red Rising, by Pierce Brown.
Tiffany Gerrity

Tiffany comes from America's dairyland: Wisconsin. She is an excellent pickleball player, dominating the court in her free time. Along with pickleball, Tiffany also enjoys movies and eating her favorite food, popcorn. She also wasn't able to pick just one book, but anything from the Stephanie Plum book series, written by Janet Evanovich.
Alina Nessipbekova

Alina is the newest member of the XYPN Books team, hailing from Kazakhstan, but now located in South Carolina. She loves to spend time with her kids and play sports in her free time when she isn't bookkeeping. An absolute foodie, Alina loves to eat sushi, Korean food, Colombian food and also tacos. Straying from the novel heavy reading of the rest of the team, Alina's favorite literature comes from the Russian poet, Sergei Yesenin.
That was a light read wasn't it? Hopefully you enjoyed learning about the people that make XYPN Books the page-turning department that we all have come to know and love. As we say one final farewell to the beans, we hope that you embrace the books with open arms.
---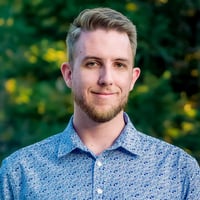 About the Author
Peter is a part-time Lead Bookkeeping Specialist on the XYPN Books team. Peter studied English Literature in college and fell into the world of finance there shortly after. He loves to connect with and get to know the XYPN Books clients and be a resource for XYPN Members. He loves to watch movies, bake, and explore Portland in his free time.