Launching Your Own RIA: What Transitioning Advisors Should Know
From a failed succession plan to wanting more autonomy, freedom, or ROI, there are many reasons to leave your current firm and launch your own independent RIA.

But the question is, how do you know when it's time to actually make that leap and leave your job to pursue entrepreneurship, and how do you ensure a smooth transition along the way?

Earlier this month XYPN members, Gerald Hendrik, CDFA®, and Ryan Foster, CFP® sat down with XYPN Field & Events Marketing Manager, Aimee Arnaud, to discuss just that.
If you weren't able to join us live or watch the recording yet, this is one inspiring conversation you don't want to miss!
Some highlights include:
#1: When IS the time to leave a "good enough" job
Maybe your current job isn't all that bad and you actually enjoy it—but you have ideas about doing it better, or being able to serve who you want, how you want or maybe your ultimate dream has always been to start your own independent RIA but you wanted to learn under a shingle first and you've gained a lot from the experience. Do you stick it out at your current position or do you make the leap to independence, and how do you know when the timing is right to do so?

Gerald and Ryan shared what went into their decision-making process when they decided to make the leap, including how they determined their financial runway (psst, check out our First-Year Budget Template for help with that!) and what the entrepreneurship conversation looked like with their spouses. They also spent some time discussing finding and committing to your "why"—the ultimate reason you are pursuing independent firm ownership.
Later in the discussion, they cover revenue projections and where things have landed since firm launch.
#2: Logistics of launching a firm while still employed
You can join XYPN and work with our compliance experts to prepare all of your RIA registration paperwork, be working on your website, defining your service model, and more—while working for another firm, and generally not violate most common employment contracts or policies related to outside business activities. However, when you send your RIA Registration documents to the state or SEC, filing of your Form U4 may trigger notification to your existing firm that you are pursuing registration with another firm. Because of this automatic notification, you will want to have provided notice to your existing firm prior to submission of your new firm's registration application (primarily before the Form U4 filing).
The XYPN Compliance Team has also seen cases where during a broker-dealer branch audit, the OSJ or audit representative will search the secretary of state business search database for any business entities in the name of the firm's reps that may not be disclosed or approved. This is an inherent risk that may not apply to everyone breaking away, but is important to call out for consideration.
Gerald and Ryan candidly share what the process looked like from resignation to firm launch for each of them, including the timeline for filing paperwork and when they informed their former firms that they were departing.

The main takeaway? This process can take time and patience is key.
#3: Is firm ownership for everyone?
The honest truth is entrepreneurship isn't for everyone, and that's okay. Firm ownership requires a lot of dedication and self-discipline. You'll wear multiple hats and you need to be ready to tackle the challenges of each. Some people thrive in that type of environment and others don't. This type of self-discovery is all about finding your "why" and is a key component of launching an RIA.
Ryan, Gerald, and Aimee had an honest discussion about entrepreneurship and how to know if it's the right path for you. The good news? Once you determine firm ownership is in fact the path for you, there are so many resources and so much support within and without XYPN—from our Learning Academy to mastermind groups to professional organizations—that you'll never feel alone!
And that's not all! Gerald and Ryan discussed failed succession plans, getting the CFP® designation, giving up insurance licenses during the fee-only journey, staying positive during the ups and downs of firm ownership, and so much more!
These types of conversations highlight why community is the most-valued benefit of XYPN membership. With over 1700 members, you'll find shared stories, insights, fears, problems, and solutions that elevate you and your firm in all the ways that matter most to you. Whether you're looking to launch a firm or strategizing where to take your business next, explore more on-demand events and hear directly from members of the XYPN community who understand your experience better than anyone else.
---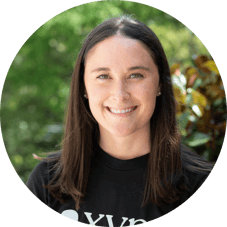 About the Author
After getting her start as a Network Navigator on Team XYPN and then joining the Marketing team as an Email Marketing Manager, Lindsey White now manages all things optimization and automation in her role as XYPN's Sales & Marketing Operations Manager. She is (almost) as passionate about creating and optimizing processes as she is about growing the movement; lucky for her, she gets to do it all here at XYPN.