In 2011, Randi Zuckerberg tweeted about the entrepreneur's dilemma: Maintaining friendships. Building a great company. Spending time with family. Staying fit. Getting sleep.
Pick three.
The glorification of busy.
Granted, this was in 2011. But this concept of work-life balance has become increasingly prevalent in discussions surrounding entrepreneurship. The glorification of busy, especially as a business owner, is a problem. When people ask you how you're doing, the go-to response is often, "Oh, business is so busy."
We treat this as a humble-brag of sorts. As if the fact that we're neglecting our health or other aspects of our personal life should earn us accolades. But building a business is an emotional journey. It's quite possibly the most emotional journey you'll ever go on in your lifetime. You won't survive the journey if you don't focus on "being well" during the business-building process.
I took Randi Zuckerberg's tweet and put my own list of life-focuses together for business owners:
Family
Friends
Fitness
Faith
Sleep
Building Your Business
But I don't believe you should have to pick three - or any limited number of those things. You deserve to have it all.
Start with your why.
More often than not, we get so focused on growing our business that we forget the reason we started this journey in the first place. We lose our "why."
For many of us, we started a business so that we, the owner, could live our own best life. That looks different from person to person. Still, that was part of our "why" when we opened shop. I've always felt that it's disingenuous to help our clients live great lives without taking the time to focus on building our own great life.
Simon Sinek has a great book: Start with Why: How Great Leaders Inspire Everyone to Take Action. It encourages us, as leaders, to return to our inspiration. The sooner we refocus on doing inspired work that is rooted in our why, we start to let go of this notion that busy is somehow better.
So, can we really have it all?
Unlike Randi Zuckerberg, I don't think we should have to choose a limited number of things we "get" to have as business owners. I think we can have it all - it just takes work.
You deserve to live a great life. But like all great things, it's not going to come to you easily. Building your business has been (and will be) a journey. Why would we think that building your best life would be any different?
If you're ready to take the next steps to build the life you want, you have to start somewhere. I suggest you begin with a schedule. You schedule your business, and your personal life should have a schedule as well. Go through your calendar and schedule the things you'd like to focus on - working out, time with your significant other and family. Schedule happy hour with friends. Block off 8 hours of sleep each night. Schedule vacation, weekends away, and a few "staycations" throughout the year to keep you sane. Put your entire life on your calendar - then you can start scheduling meetings, work trips, and daily business tasks.
Once you've scheduled your life, hold yourself accountable. It's really easy to let work creep into your personal time. Have an accountability partner who can hold your feet to the fire when things start to get out of balance. Pick someone responsible - whether that's your partner, business partner, study group member, or even your mom.
Finally, realize that this is a process. There will be an ebb and flow. No matter how hard you try, there will be seasons where you need more time with your business. That's okay. Don't blow up your entire plan just because you had a rough month of working more hours than you intended. Just realign yourself when you can and return to your harmonious schedule - don't get sucked into an imbalanced lifestyle again.
You can't do it all if you want to have it all.
You will find that you get to a point when you physically can't do everything your business needs and still live a balanced life. When you hit that wall, here are a few things I recommend:
Recognize that you aren't productive after 50+ hours of work a week. It may feel like you're getting a ton done, but science literally proves that you're not. I've been there. I've written financial plans at 2 AM. I've toiled over blog posts late into the night.
I've recorded podcasts on the weekend when there were a million other things I'd rather be doing. Sometimes things pop up and a late night at your desk is unavoidable. Ultimately, though, if you're trying to work that much week after week - you aren't being productive. Recognize that, and stop yourself from glorifying the extra hours you put in.
Embrace Parkinson's Law. AKA stop giving yourself too much time. Parkinson's Law states that the tasks at hand will take as much time as you allot for them. So, when you're blocking out time for a given task, start giving yourself tighter deadlines. Organize your schedule with smaller time blocks and force yourself to stick to them.
If this feels like a foreign concept, start small. Block out chunks of time leading up to a deadline or meeting to work on a financial plan. Instead of letting it consume a whole day, choose for it to take up a mere hour every day for a week. You'll be amazed at how much you get done.
Start outsourcing. This is a big one. If you're working more than 50 hours a week on your business, you're likely doing tasks that can be outsourced. There's always a hesitation to outsource tasks in your business because, let's face it, nobody likes letting go of control as a business owner. But outsourcing tasks shouldn't be viewed as giving up control. It should be viewed as giving tasks over to people who are better suited to do them. In fact, they're probably even better suited to complete these tasks then you are - because it's their job. Just like being a financial planner is your job. Some common tasks that I see advisors first start outsourcing are:
None of these jobs are full-time hires. You can outsource tasks that are probably taking you several hours each month for not a whole lot of money. This can be a huge stress relief for you. Additionally, when you outsource tasks to professionals, you'll probably get higher quality work done than if you were to go it alone.
Figure out what you should be outsourcing and act accordingly. To do this, grab RescueTime (an app) and start tracking where your hours are being spent. Just like you would start building a cash flow plan for your clients by tracking spending, start building a time-saving plan for yourself by tracking what tasks are taking up the most of your extra time. Outsource those first.
Keep the big picture in mind.
You can have it all - the perfect work life harmony. You just have to be willing to make the sacrifices necessary to get there. You may have to decide not to build your business as quickly as you'd like, or to be as big as you'd like, if you want to achieve balance in your life.
When I built this business, it happened very quickly. I made the decision to stick to that path, but there's no question that my personal life suffered as a result. Having walked that path, I can tell you it's not worth it. It's a whole lot more fun when you have balance.
Remember, you won't be perfect at this straight out of the gate. You may never be perfect at it (I know I'm not). It's important to give yourself the room necessary to make mistakes, but to not give yourself so much slack that you continually live a no-balance life. When you feel yourself straying from a balanced lifestyle, circle back to your why. Remember why you started. It's going to take a lot of practice, and your definition of balance will always be changing. It's worth it. More importantly, you're worth it.
---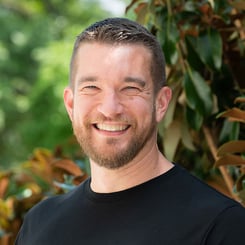 About the Author
Alan Moore, MS, CFP® is the co-founder of the XY Planning Network, a support network for advisors looking to serve next generation clients. He is also the CEO of AdvicePay, the first and only compliant payment processor for financial advisors. He is passionate about helping financial planners start and grow their own fee-only firms to serve Gen X & Gen Y clients largely ignored by traditional firms. Alan has been recognized by Investment News as a top "40 Under 40″ in financial planning, by Wealth Management as one of a "The 10 to Watch in 2015″, and was the first recipient of the NAPFA Young Professional award in 2015. Alan frequently speaks on topics related to technology, marketing, and business coaching, and has been quoted in publications including The Wall Street Journal, Forbes and The New York Times. He is also the host of XYPN Radio, one of the largest podcasts for independent financial advisors. He currently lives in Bozeman, MT so that he can hit the slopes on powder days.