How to Spend Your Marketing Budget: An Intro to Paid Advertising
8 min read
August 19, 2019
How should I spend my budget?
This is one of my favorite marketing questions. (Although, to be fair, I have many favorite marketing questions.)
If you're asking this question, it means you're ready to grow and feeling empowered by the resources at your disposal.
Many independent financial advisors are working within the confines of a limited marketing budget (if they even have one). The good news is you don't need $10K to market your firm. There are many options to consider and best practices for spending what you do have in a strategic way.
Read on for an intro to paid marketing for independent advisors with marketing budgets between $40 and $2,000 per month.
Two Real Benefits of Spending Some Budget
You may not have $10K to spend on marketing, but it is helpful to have some money allotted. Especially in our industry, where most founders identify themselves as "not good at marketing" or even more broadly "not creative", it's liberating to know you have funds to fuel your growth, and that you don't need to rely solely on the other major form of investment: your time.
That said, there are significant benefits to spending on marketing that aren't always appreciated upfront.
First, a marketing budget can dramatically accelerate your learning. You don't have to remain in the state of "I don't know." Spend budget to get yourself out of the unknown.
If you don't know how to do something, learn that skill by taking a course. If you don't know what to improve in your strategy, hire an expert to weigh in. If you don't know what your audience wants, put some budget toward an experiment.
For example, one of the greatest unknowns in content marketing is "What topics are most interesting to my ideal prospects?" Budget can get you these answers within a couple of days. In this case, consider running a target digital ad to display different content to your ideal audience, and see what content gets more engagement. Once you know, you can create all future content about the winning topics. The things you can learn are unlimited, and budget can help get you there faster.
A second significant benefit is being able to skip the line. Just like at the amusement park, you can pay for the convenience of not waiting. This point dovetails off "speed up your learning," but has its own applications.
My ultimate example of skipping the line is showing up in Google search. Most, if not all, financial advisors want their website to show up when a consumer searches for a solution like theirs.
Without budget, you can spend time working on SEO, writing a lot of content, and waiting for it to take effect.
With budget, you can skip the line.
Even the smallest of budgets are usually enough to get your website in the top search results on Google. Check out my previous post about Google search ads if you'd like more on how to do this.
Decisions to Make Before Spending
Even more excited to spend budget now? Well, you can go spend it immediately, or you can make a plan before spending.
I will advise, just as you would advise your clients, that it is better to plan and set intentions before taking action with your hard-earned money.
There is a wide variety of things you may want to think about and decide before spending budget. I'll focus on three.
First, decide what your budget is. Most financial advisors ask me for a "normal percent of revenue" to spend on marketing, but I don't actually make this decision based on revenue. The percent of revenue calculation is not always useful, especially when a firm is small but wants to grow quickly, or when a firm is large and wants to control their growth.
Instead, I make budget recommendations based on (1) priorities of the firm, (2) the founder's risk tolerance (this is where you may take revenue into account), and (3) potential client acquisition cost (CAC) for any given use of the budget.
For instance, if growth is the number one priority in a firm, marketing budget should be as high as it can while still comfortable. Then, when faced with an opportunity to use the set budget, consider potential CAC from the effort and set your budget for that one campaign.
To find your number, determine your firm's priorities and then consider what level of spend feels comfortable to you. Once you have your monthly budget set, evaluate the potential CAC of each opportunity that arises to determine whether you'll spend there or not, and how much.
Example decision: My marketing budget is $600 per month.
Second, decide how you can get the most bang for your buck. If you're going to spend $400 this month, where should you spend it? How can you get the best return from that investment? The answer for most firms is: spend this money on the weakest point in your marketing funnel. Fix a "leak" and the ROI will be greater than if you apply oil to an already smooth spot.
To be literal, let's consider a few examples. If the visitors on your website convert at a healthy percentage but you have a low volume of traffic, then maybe you'll pay to get more eyes on that kick-butt site. If you're getting a strong volume of traffic but no meetings are being booked, then perhaps spend that budget on improvements to the website itself.
To find out what point in your funnel needs the most work, you'll need to review your key marketing metrics from the past quarter (or two) and note which conversion rates aren't good enough in your eyes. (More help on identifying your marketing funnel steps here).
Example decision: I need to improve the conversion of traffic that's already seeing my website.
Next, decide what you want to learn each time you spend. Every single time I spend a marketing budget, I make sure the business is not only positioning itself to improve relevant KPIs (website visits, prospect calls, event attendees), but also to learn something. Lessons are assets. When you learn something from your audience, the firm can take that lesson and use forever. The ROI is immediately higher when you set yourself up to learn.
Example decision: I want to learn if providing more information on the website increases views to my Calendar page, and if adding a video to my Services page decreases the exit rate on that page.
Options to Consider for Your Budget
There's no one silver bullet for spending on marketing, but there are a few common ways I've assisted members in spending their budget with good results. I'll review a few of them here for the sake of example and deeper insight. However, please make your decisions based on the prompts above and other relevant context in your firm.
Budgets between $40 - $500 per month
Software
Once you identify the part of your marketing funnel you want to fix, there may be a tool to help you execute on it better, faster, and easier. Start by Googling or asking your peers what they use. Software pricing can range widely, but usually niche software providers are fairly inexpensive. For example, $9 per month will allow you to schedule your Instagram posts, stories, and automatically publish them via the Later app. Yes, please.
Digital Advertising
Digital ads are a great option, especially for smaller budgets. With digital advertising, you're in full control of your spend and able to track metrics to evaluate effectiveness.
Currently, my favorite forms of digital advertising are Google search ads, social media ads (under specific circumstances), and retargeting ads to re-engage website visitors. From recent experience, an ideal approach to social media ads is to promote something other than your services. Promote a webinar, event, video, blog post, free course, or other content on a topic that's compelling for an ideal prospect. Only after a viewer engages with the promoted content should you invite them to learn more about you or the firm. Ease them in.
Acquire Assets
The definition of a marketing asset is dull but acquiring them can be powerful for your firm. Marketing assets are customized content or visuals for use in promotion. Example assets are email templates, photos, icons, presentation slides, print materials, thumbnails, and videos. If you're using any of these items, it may be time to upgrade how they look and perform. For example, if you send a monthly email newsletter and want better results from it, consider a template revamp. You can purchase one online for cheap and adjust it for your brand or hire an expert to create a custom template from scratch. Speaking of which...
…Hire a Skilled Expert
Yes, you can hire an expert for <$500 per month! Again, I'll refer back to the point that you should first decide what kind of work you need done (see above), but once you're clear on that, consider hiring someone to help. Most marketing professionals charge a reasonable hourly rate for their work. Quality copywriters might fall into the $70-$110/hour range. You can get strategic marketing guidance for <$300/hour, or graphic design work for $40-$100/hr. With rates like these, you can choose to budget for either a retainer agreement or one-time projects from a marketing pro. Suddenly, you're not alone, and the firm has access to a new skill.
Budgets between $501-$2000 per month
With a larger budget, you can execute the ideas listed above too, so I suggest going back to read them if you skimmed by. The only difference is that you will be able to execute them at a greater scale or use a combination of efforts in a single month. Once a firm is able to spend $800 or $1700 in any given month, additional doors begin to open.
In addition to ideas listed above, consider:
Booth at events
The right booth at the right event creates marketing magic. In this budget range, you can afford to booth at an event. Be sure to budget for more than just the booth itself; running an effective booth requires more than just the space. You'll want to bring some combination of print materials, eye-catching signage, decor, branded swag, snacks or drinks to offer, and maybe even an activity to attract passersby.
Be sure to carefully choose which events you commit to. The core needs are:
Your ideal prospects will be in attendance
There will be "enough" attendees to make the time and money worthwhile
The mental state of attendees matches what's needed for them to stop and speak with a financial planner (i.e. they're at the event thinking about their kid's college career = good match for you)
Host an event
Not sure if running a booth is your thing? Consider hosting your own event! I've seen members of XYPN experience inspiring, tangible, repeatable results from our event strategy work. A few do's and don'ts for hosting events are:
Don't host an event that will attract DIYers
Do think long and hard about the topic and title of the event (which dramatically impacts interest in attending)
Do put some budget toward advertising the event
Do focus on quality of attendees over quantity (an event with 6 or 16 attendees can drive 2-3 prospects)
Do think strategically about post-event engagement
Plan, Try, Measure, Review
Once you've decided how to spend your marketing budget, create a plan for yourself. A plan can be put into action, measured, and evaluated during a review process. That evaluation/review moment (and your planning!) is a great time to engage your peers.
Members of XYPN are invited to post their budget spend plans and progress in the Marketing category in XYPN's Member Forums. Tag me (@carolyn) if you'd like!
---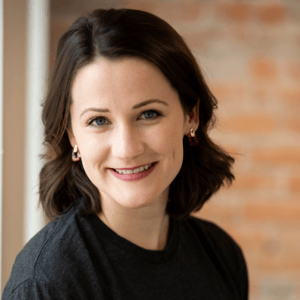 About the Author
Carolyn Dalle-Molle is a professional marketer with several years of experience helping small businesses reach their growth goals. Her approach to marketing is both creative and analytical; helping people achieve a creative flow that's unique and exciting, while using tracking and metrics to learn what actually works for their business. Based in Boston, she's honored to work with XY Planning Network from coast to coast. Outside of work, she enjoys volunteering with elderly, making videos, and traveling with her friends and family.