To say that the world has changed drastically in the past few months would be an understatement. We have all had to make major adjustments to not only our personal lives, but our business lives as well.
During the current environment, it is not unusual to feel "uneasy" about marketing and sales within your firm. You want to help your prospects, but also don't want to come across as being opportunistic. While you know your best interests are at heart, it's important to make sure your prospects know that too.
The marketing and sales process is all about relationship building and while you might think the contrary, now is actually a great time to build relationships with prospects; with financial security upended entirely for so many, and with so many people left feeling uncertain about their financial futures, advisors are needed now more than ever. Don't let your nerves or fear of reaching out get in the way.
The reality is there will continue to be many changes over the coming months, so putting in the legwork ahead of time will set you up for success in the long run. Below are easy, actionable steps to take to ensure you are positioning yourself appropriately and continuing to build relationships during this time.
Step One
The first thing you should do is sit down and remind yourself why you do what you do. You didn't become an advisor to sell a product or service. You choose this career to help people achieve their financial goals and live their great lives. Your objective is to make the lives of your clients easier.
It is easy to convince yourself you shouldn't reach out during this time; I'm sure you could come up with a list of a hundred reasons right now. But there is one big reason why you should: prospects and clients need good financial advice more than ever right now.
There is heightened stress and uncertainty around money right now as businesses have had to close, millions have lost jobs unexpectedly, and in turn, many individuals are working with a greatly reduced budget and are unsure where to turn next. More and more people are recognizing that they need professional help with their finances.
Step Two
This may seem almost too simple, but a big change you should be making right now is picking up the phone and calling your prospects and clients. Think about it—how many calls have you received from a business lately asking how you were doing in the current environment? Likely none or maybe if you're lucky, one or two. We all know how difficult it can be to express empathy through written words, so pick up the phone, make a quick call, and check in. It goes right back to your reason for doing what you do—you actually care.
While picking up the phone and calling someone seems simple, in a world dominated by digital communication, giving someone a call may feel completely out of your comfort zone. That's okay. Your language doesn't need to be perfect—what is more important is that you are picking up the phone, making the call, and being authentic. Here are some simple ideas to help make this task a bit easier if you feel uneasy.
Start by making a list of people to call. Now is not the time to be reaching out to your entire database to check in. If someone hasn't heard from you in 10 months and then suddenly does, that has the potential to come across as opportunistic and rub someone the wrong way. Instead, reach out to the people who have been hearing from you regularly and who are avid followers; they are much more likely to positively receive an unexpected phone.
This call is a way to show that someone actually cares and is reaching out. Make a short script to help you guide the conversation when you are on the call, especially if outbound calling is a new tactic for you. This will give you something to fall back on if the conversation goes off the tracks.
Think of these calls as a conversation with a friend. This is your opportunity to find time to talk with your prospect and ask how they are doing? How are they adjusting? What can you help them with during this time? Remind them that you are in their corner and listen. Acknowledge what they share and use these conversations as a way to show you are a resource to them during this time. Give them the time and space to talk about what is impacting them right now. No one may have checked in with them recently, and they may feel relieved someone is asking how they are actually doing. The purpose of this call is not to find a solution to what may be impacting your prospect at that moment but to simply just connect. From there, you can make a plan to move forward as you see fit.
Be prepared with your own response too. It is highly likely you'll be asked how you are doing in return and it is okay for you to be honest here. In sticking with the theme of being human and authentic, there is no need to sugarcoat your answer. By giving an honest answer, you will again remind them that you are in fact human too, and struggling with the same exact issues they are facing. We aren't alone right now.
Lastly, don't put pressure on yourself. Yes, you need clients for your business to grow, and that is why taking the time to build relationships is going to help you in the long run. If someone is not a good fit now, but down the road needs your services, they are going to recall that one time you picked up the phone during a pandemic and checked in with them as a human. They are going to remember you as someone who actually cares about their needs and concerns, not just a person trying to sell them something. You're building the relationship and making a simple phone call speaks volumes.
Step Three
If you aren't doing this already, now is a perfect time to create an email campaign or newsletter that you can send your contacts regularly with updates that would be relevant to them. In this case, it is okay for this to be sent to all your contacts and used as an educational piece. This can be content you write yourself or you can pull together industry articles that you have come across that would be beneficial to share. The goal here is that you are making the prospect's life easier by pulling together relevant information and getting it into their hands without them having to dig for it. It saves them time from having to research hot topics or having to decipher what is a reputable source and what is not.
If you have a blog, this is also a great opportunity to write a few posts related to the current environment, especially as things begin to pick back up over the coming months. Think about what questions you are being asked over and over again that you could pull together a post on for future reference. Ensure you are sharing this content with your social media networks as well. The big thing here is you want to keep the momentum going and continue to get resources out.
Think outside the box as well. This is a good time to tap into your professional network. What industry connections do you have? Is there an opportunity for them to do some type of guest post with you or provide resources for your email campaigns and blog? The information you share doesn't just need to be coming from you. Set yourself up as an information guru who knows how to find the answers to the commonly asked questions.
Step Four
This is a great time to set up and host an educational webinar on a particular topic and again serves as an opportunity to position yourself as a resource during these times. This webinar can be centered around basic financial planning principles to help with recent financial changes attendees may be experiencing. You can break this webinar into two sections, by presenting educational content for 30 minutes and then opening up the webinar to a question and answer format for the remaining 30 minutes for attendees to ask any questions that are on their minds.
Many of us are experiencing heightened levels of anxiety and stress as we work to establish new routines. So what's the best thing you can do right now and continue to do? Be human and be authentic. Don't stop what you were doing. Don't let fear take over. Make some readjustments and get out there. Clients and prospects need you more than ever right now. It's your job to get out there, form relationships, and continue to share that you can help with creating the financial safety measures we all need to get through these challenging times.
---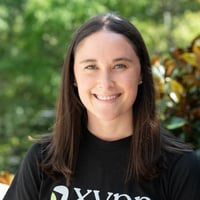 About the Author
Lindsey Harrington is known as the Network Navigator at XYPN, helping prospective members learn more about membership and what it takes to join our growing community. She is passionate about sharing the tools and resources the community has to offer to help individuals start, run, and grow their own fee-only financial planning practices.