"How I Did It" Series with XYPN Member Nycole Freer
11 min read
August 28, 2023
We're excited to launch a new series of XYPN member stories entitled "How I Did It."

Deciding to take the leap to start your own financial planning firm can be very scary. And actually "leaping" can feel overwhelming. There are so many decisions and responsibilities. How am I going to make this work? What business model should I use? How do I manage compliance? How do I market myself? What's this going to cost?

While the questions are the same for advisors starting their own RIA, their decisions are as individual as the advisors making them. In this peer-to-peer guest series, we take a deep dive into those decisions as XYPN members share their stories, resources, regrets, and successes experienced while deciding to leap and then to launch their financial planning practice.

If you're interested in what it takes to start your own RIA and are looking for inspiration and resources, we think you'll really enjoy these stories.
Our first guest author, Nycole Freer, CFP®, BFA™, shares how she launched her RIA, Eden Financial. She recounts her journey—from the restrictions that drove her to make the decision to leap to 5 months after launching—and details the resources, start-up costs, and monthly expenses it took. She also provides frank advice about what she would have done differently if she had things to do again.
---
Before having my baby in 2021, I was content with where I was at in life. I was making good money and working for J.P. Morgan as an Investment Associate. In April 2021, I had a baby and what I wanted out of life, including my priorities, started to change.

In the summer of 2021, I did the bible study called, "Dream Big" by Bob Goff. One of the questions in the small group study was, "Imagine yourself a year from now, reuniting with the group to update them on your progress. What do you want to tell them? Where do you see yourself in relation to your ambitions in 12 months? What do you need to do to make this happen?" A thought came to mind that I would probably be too scared to take the leap to become an advisor, therefore I will write a children's book on finance. I reached out to my compliance at the time that I was writing a children's book. It was approved—if it wasn't on finances.

The compliance restriction nudged me further in the direction of my original vision to become a financial advisor. In November 2021, I decided I was finally ready to take the leap. I asked to partner with the advisor I was working with at the time, and he was not interested in partnering. He wanted to stay as a solo advisor. I reached out to Chase Bank to become an advisor and it wasn't going anywhere with the hiring process. I interviewed with Fidelity, but I would have had to take a lower position than I was already in, just to move forward.
The problem with all these positions was that I was still not going to be able to talk about finances on social media, blog about finances, start a financial podcast, or write a book on finances. So, it became clear to me that I needed to run my own RIA.
I Googled, "How to start my own RIA" and ended up engaging a business coach for financial advisors based on a recommendation in an article I found in my search. I worked with Suzanne Muusers at Prosperity Coaching from June 2022 to January 2023 when I financially launched my Eden Financial business and she said, "Now go make some money!" She was also the person who told me to go with XY Planning Network to launch my business.
In July 2022, I reached out to a girl who does the best websites, in my ever so humble opinion, Superhero Designs. She finished up the website near the end of 2022. I waited for the approval to launch Eden Financial, and we were live on the website on January 17th.

In the summer of 2022, I hired a branding photographer, Camryn, and she shot my photos that are on my website and social media at her studio in Laguna Niguel called, "Cam Studios". (So, fitting since her name is Cam, for short.) I also hired a stylist; I loved her style and she so happened to be a stylist so I hired her to help pick my outfits for the branding shoot that would correspond to my website colors and brand. She did an amazing job! Everyone did an amazing job! I had an idea in my head of what I wanted everything to look like and be, and it came to fruition.
In August 2022, I hired a public relations (PR) company to help me get into magazines, on podcasts, to write my blog posts, to post on social media, and help with my branding. I was featured in the Orange County Business Journal for the Excellence in Entrepreneurship in February of 2023, and I was picked up by different media sources for the launch of my business and book. I did have one prospect call me from being in the magazine. It is fun to be recognized. This is one of my personal values, recognition. I also got to meet some great people and go to some great events because of her. My PR girl helped me get 4 months into my business before I had to let her go in April 2023. I just couldn't afford her anymore otherwise I would have kept her.

I retired from J.P. Morgan in January 2023, right before the start of this new business venture.
Oh, and that book that I wanted to write? "Haisley's Birthday Money" came out in the spring of 2023, right before my daughter, Haisley's 2nd birthday. You can find "Haisley's Birthday Money" on Amazon and other online retailers. Reach out to me if you want to find out how that journey went.

I am 5 months into my business as of June 2023 and to be honest, I thought it was going to be easier. I just imagined that I was going to get 9 million in assets under management right away and that was not the case. I know millionaires, I thought. I have a great investment strategy that I will share with them, no big deal. Boy was I wrong.

Everyone warned me that it was going to take at least a year; and then at the 3-year mark I would be making more money and by the 5th year I should be doing very well. So, I still have 55 months to 5 years, 31 months to 3 years and 7 more months until I hit my 1-year mark. I can't focus on the right now; I must focus on the long-term outcome. My business coach told me that most people fail because they can't wait one year.
In April 2023, I hired another business coach, Neil Mason, who is a life coach essentially, and he called me every day. He gave me some great ideas for my business, helped me execute them, and helped add more to my website. He pushed me to do reels and produce so much more content. "Content, content, content" he would say. He helped me close business and changed my mindset on the negative talk.

Advice if I had to go back? This is a catch-22. I would not have forked out so much money to start. I could have saved money and did it myself. It wouldn't have been as good, but as I made money, I could have put that money back into the business. However, I had a perception in my mind that I wanted to portray. I was paralyzed by the thought of all the things that I had to do for my business. Blog, podcast, social media, etc. I heard a quote recently from a guy and he said something along the lines of, people who have money, make financial mistakes when starting their business because they just spend without bringing in income and without income, you don't have a business. The reason why I paid for all these services was that I wanted to move fast, and I wanted everything to be perfect.

It's tough being a solo entrepreneur because you must do everything and there is not enough time in the day. Also, for me, it meant starting from scratch. At least if you had a book of business, you could take it with you and learn how to sell, but then someone is taking a piece of your hard work and you don't have full flexibility and freedom in what you want to do.

How are we making ends meet during this time? When I worked at JP Morgan I brought in half of the income to our household. So, the half that I have lost, temporarily, still needs to be paid, goes on a card. So being able to have credit cards with high limits has really benefited us during this time. My husband's income pays for our mortgage, housing expenses, my car payment, food, health insurance for our family, health expenses, which is very important to me and my husband's student loan. Other things you don't see here that are important, is that we pay for full-time daycare/school because I am working full-time even if I am not making full-time income, yet.

Some things that I would re-consider would be, getting a part-time 1099 work or something to bring in steady income while growing my business, but this goes back to wanting to move fast and scale my business. If I work part-time on something else, it is taking away from my business and the energy I can put into it. But we also need to survive to the 1-year mark.

If we really couldn't afford our lifestyle anymore, I have already thought about moving into one of our parent's house or renting out a room or two in our current house, taking Haisley out of school/daycare, putting our student loans on forbearance, and selling my car. Just to name a few. I think about all the other business owners out there that have taken risks to start a business and look where they are today and like I said above, the fear of regret would have been more if I did not take this leap of faith.

If I went back, I could have worked under another fee-only advisor, but I still would have ran into the problem that I wanted to have my own brand and be my own compliance. I might even had made less money over time compared to working at J.P. Morgan. God is the only one who knows. Everything that I have done has got me here today, including the purchase of our home in 2021, and although I would have reduced my initial expenses and increased my income, I bet on myself that I was going to make this happen.

Another perspective that I got from a Christian Counseling who was speaking at MOPS (Mothers of Preschooler's) was that maybe I don't go as fast, at the expense of my family, and I would even add, for my health. I say this because I was networking at least 1 or 2 mornings a week, multiple nights per week and even on the weekends. There is only so much time in the day. So between networking, social media, blog post, getting set up with Schwab and Altruist, the learning curve of starting a business, pivoting to see what works, how to sell, how to prospecting, coming up with model portfolios and the research involved, reading books, magazines, CE credits, financial plans, opening accounts and following up, there is only so much time in the day to take care of yourself, keep the house clean, put food on the table, go on a date night with your husband, and move your body, oh, and eat.

Since starting my business, my husband and I did implement date night every Friday. This has been incredibly helpful for our relationship and going for walks daily and holding hands. Another point I wanted to mention was drinking 75% of my body weight in ounces per day and starting out with 20 ounces of that amount, upon waking up and getting outside and walking.

Networking – In the beginning I was networking through meet up groups. I picked out what sounded fun to me. My recommendation is to always get people's contact information, don't expect that you will see them again or they will find you. Sometimes you only get to meet these people one time. I also found that I love mom groups and women's events, so I network a lot with moms. It's also the season that I am in, so I would recommend finding networking groups that you really enjoy. Another thought that I had when I took about a month off from networking was I need to go to events to meet people, because if you don't go, then you won't meet anyone. You have to show up even if you just go for 5 minutes. And always be ready to meet someone. You just need 1 person to change your business forever, in a good way.

Some groups that I attend frequently are: Fit4Mom's night outs, The Mom Walk Collective, the Heartlink Network, Hearline Mom's or MOPS, Chamber of Commerce and their women's events, and my church events.

Also, I would go work at coffee shops, the Capital One Café, the library, co-working spaces so you can be around other people. Just having proximity to others can be a good networking/prospecting tool.

I also have to say that without the support of my husband being onboard with all of this, none of this would be possible so I am so grateful for the support and faith my husband has in me.

Some other tips:
See if you can get a sponsor or two to help with your events and apply for scholarships to attend events, if that's an option.
Get disability with Ryan Insurance within 2 months of joining NAPFA to avoid full disability underwriting.
I would have also started making reels sooner.
Along with my PR girl, I wish I had someone help me with marketing. Marketing for my book specifically.
Also, if you decide to have discretion over people's money, you will need to have at least $10,000 in your business checking account, at least for the state of CA.
I used 18 – 21 months zero percent interest credit cards from Bank of America, Wells Fargo and US bank to fund these large expenses I mentioned above.
The bank that I used for my business checking was Chase since I already banked there. I also got their Chase Business Ink Unlimited Card with zero percent for some time as well.
I read Success magazine and Bloomberg.
I use Magic Jack for my business phone line.
Below are the numbers for what I spent on my business to start and my monthly business expenses.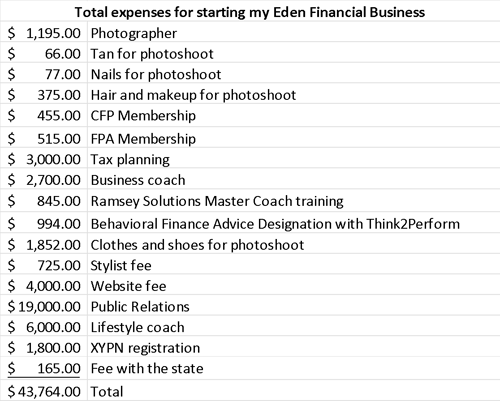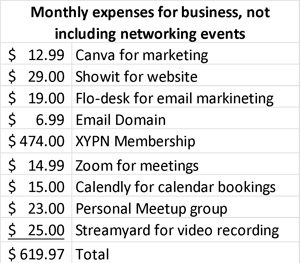 ---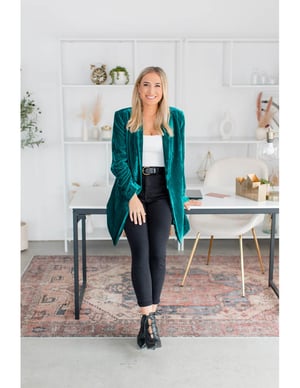 About the Author
Nycole Freer CFP®, BFA™ is the owner and founder of Eden Financial and the author of "Haisley's Birthday Money". She is committed to educating others on how to build a thriving financial life through the philosophy that personal finance is more personal than finance. Sought out for her valued counsel and tailor-made approach, Nycole works with her clientele as their financial partner, seeking to educate them every step of the way so they can become more confident along their wealth-building journey. As a mom, wife, health, and wellness advocate, and forever student of life, Nycole continues to challenge herself to rise to her potential and encourages others to never settle for less than what their goals are.