18 Marketing Hacks for Independent Financial Advisors
12 min read
November 19, 2018
Want to market your financial planning firm like a pro? You're in luck! I leaned on the "marketeers" of XY Planning Network, who have over 40 years of combined experience, to share some of our favorite pro tips.
Four of us marketeers on the team are tasked with marketing the Network to prospective members, plus one marketing guru assists XYPN advisors directly with marketing their firms. From Boston to LA, we're a dispersed team with no two in the same city and with very different paths to XYPN.
Many of our favorite marketing tricks and tips are things we picked up along the way, from coast to coast.
So, in no particular order, here are 18 marketing hacks we love, and think you'll love too.
1. Create Urgency with a Countdown Timer
If you need prospective clients or current clients to take action of some kind, consider using a countdown timer as a visual reminder of the deadline.
Count down to an upcoming webinar, expiration of a special offer, or the launch of an eBook. The possibilities are endless and it will cost you nothing. I use a free site called MotionMail, but there are many similar options. It takes just a minute to create and customize your timer to your brand colors, then simply copy and paste the embed code on your website or in an email. - Jen Mastrud, Director of Marketing
2. Size Accordingly
The first step to becoming a social media pro is easy: avoid looking like an amateur. A common rookie mistake is posting graphics or images that are incorrectly sized for the social platform, so part of the image is awkwardly stretched or cropped. Yes, each platform has its own optimal sizing. Bookmark Sprout Social's Always Up-to-Date Guide to Social Media Image Sizes for quick reference. - Ivy Taylor, Design Specialist
3. Cheat Off The Smart Kids
Pay attention to advertising materials from other companies, whether or not they're in the financial planning industry. Listen to the messaging used, keep an eye out for trending design aesthetics, and look for themes among successful ad campaigns. Become a student of marketing simply by observing. Homework: start an "inspiration folder" of good examples in your inbox to get your brain churning when it's time to create. - Whitney Mitchell, Email Marketing Specialist
4. Offer an Easy Button
Be mindful when phrasing your calls-to-action (CTAs). Emphasize the end benefit rather than the work they must do. For example:
Not Great: Build your monthly cash flow statement
Better: Download our free, step-by-step cash flow template
Remember, you're the guide who can make their life easier or better in some way and that's just what you must demonstrate to earn their business. - Carolyn Dalle-Molle, Marketing Coach
5. Write Messages, Not Information
Every page of your website should have a valuable message to help the visitor make a buying decision. An unexpected example is a return policy page. While you might think this page exists to communicate information to dissatisfied customers about how to return products, this page also conveys a sense of security to active buyers. That's the underlying value. It communicates to the prospective customer that if something isn't right with an order, it won't be a pain in the a$$ to correct it. Take time to craft messages that speak to what potential customers want. - Kelly Moorman, Content Manager
6. Purposeful Word Choice
While we're talking about messages, here's an important point: be purposeful in your word choice. Ask questions that prompt a "yes" response. Answering in the affirmative keeps your email reader, web visitor, or prospect engaged.
"Would you like to find an extra $500 in your monthly budget without having to tighten your belt?" Heck yes! Tell me more!
Another common tactic in both marketing and sales is using possessive words. When promoting a free download, consultation, or the like, speak like it's already theirs. "Download Your Free Template." "Choose a convenient time for your free consultation." - Carolyn Dalle-Molle, Marketing Coach
7. Add Some Wow Factor with a Flip Book
I've gotten so much mileage out of this hack, it actually pains me a little to share it! Flip books are easy and free, but that's not the best part: they're also relatively uncommon. That means you're sure to make an impression when you present your ideal clients with a link to a flip book.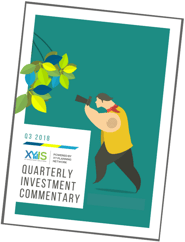 What's a flip book and how do you make one? Simply turn any PDF into a file that's viewed online like a magazine. Take a look at my example, a recent Quarterly Investment Commentary from our sister company, XY Investment Solutions. Sure, we could simply distribute a PDF version, but isn't this more polished?
Think about where you could add some wow factor. That PowerPoint deck you present to new clients. Your printed brochure. How about putting several blogs together and releasing an eBook?
I often use a free version of Publitas, but there are others. Some even add the sound of pages flipping! If you want to remove platform branding or get a custom domain, expect to pay $30-$100/month. - Jen Mastrud, Director of Marketing
8. Track Campaigns Using Custom URLs
You already know you need to measure your marketing, but that may seem easier said than done. Your Google Analytics source/medium report can answer a lot of questions for you. Use Google's URL builder to create a unique URL each time you unleash an inbound link into the wild. For example, if you're promoting a new service through a guest blog post but also through an email campaign, create campaign URLs for each so Google Analytics can identify how many web visitors came to your landing page from each effort.
- Carolyn Dalle-Molle, Marketing Coach
9. Campaign-Specific Landing Pages
Another way to measure a campaign, paid or otherwise, is by creating specific landing pages. Simply clone the page you'd normally drive visitors to and customize it for the campaign. Not only will you get a clear picture of the traffic your effort is generating, but you'll be able to finesse the content to speak more directly to the target audience. For example, if you target local physicians with a Facebook ad offering a student loan repayment guide, your landing page can emphasize med school debt. This is aptly called "message match" and it's known to lead to higher conversion rates. - Kelly Moorman, Content Manager
10. Choose Your Fonts & Stick With Them
Yes, there are a lot of interesting fonts available; no, you shouldn't use all of them! In fact, it's best to make a decision about the fonts you'll use for headings, subheadings, and body copy, then stick with them. If you've been reinventing the typography wheel in your marketing pieces, stop by CreativeBloq to see a listing of 25 perfectly paired fonts. As long as you're consistent, there is no wrong choice.
Leonardo da Vinci said it best, "Simplicity is the ultimate sophistication." Your aesthetic does it's job when it leads to an action you want the audience to take. An unfocused brand look will only confuse your audience. - Ivy Taylor, Design Specialist
11. Implement Your Brand Colors
On a related note, take time to set your brand colors once and for all in your marketing platforms, such as your website's back end, your email platform, design tools like Canva, PowerPoint, etc. Your work will be on brand and you'll save time in the long run. Most platforms allow you to set a custom color palette for hyperlinks, calls-to-action buttons, and headings based on hex codes. Once you set it, you can forget it and routinely churn out work consistent with your brand identity.
Speaking of hex codes, have you ever wanted to match the perfect color but couldn't crack the hex code? Simply upload an image to ImageColorPicker.com, click anywhere on the image, and immediately get the code! - Whitney Mitchell, Email Marketing Specialist
12. Don't Let Good Content Die
As times change, it's natural that content that was once relevant will become irrelevant or in need of an update. Don't throw the baby out with the bath water! It takes time to create content, so before tossing something out the window, see if it can be salvaged. Revisit blogs and other content offerings to make sure the information is still relevant. If it needs a refresh, give it one. It takes much less time to edit than to create from scratch, not to mention the benefits of the SEO you've already built.
If you find yourself short on ideas, dig back into your archives and find old topics for which you can provide a new take or fresh spin. After all, great blog content can quickly get buried by newer content. An older blog might be a goldmine of information for new visitors. (Case in point: our most-viewed blog of 2018 was published in January 2016!). Be sure to link to old content (as long as it's relevant, of course) in new posts too. The SEO gods will smile on you.
On that note, be mindful about creating evergreen content. A good piece of evergreen content that withstands the test of time can generate traffic—and leads—for years. - Kelly Moorman, Content Manager
13. Create an Inbound Funnel
Set yourself up for long-term success by approaching marketing with an inbound strategy. That means less beating down doors and more prospects actually coming to you. This is a long-term play, but unlike beating down doors, the effort you put in today will compound.
If you haven't put together an inbound funnel or if you question whether the one you have is effective, not to worry—we have a free template for you. - Jen Mastrud, Director of Marketing
14. Give Away Free Content
As long as we're talking funnels, the cornerstone of an effective inbound strategy is the "freemium." Also known as a lead magnet, this tool is essentially gated content you offer in exchange for an email address or other contact information. Gathering contact information will allow you to follow up with web visitors and turn them into clients, but, keep in mind, your visitors will want something valuable in return! Create compelling and helpful content like an eBook, white paper, or infographic. See examples of freemiums on our Free Downloads page.
Provide a solution to your audience's pain points, then put that content behind a lead capture form. Although helpful, you don't need spendy marketing tools to pull off a freemium. Any web form will do the trick. Just be sure you have a solid process in place for delivering what you promise.
You may worry about giving away too much content for free. Rest assured, this is a great way to showcase your expertise and win trust, two essentials for an effective inbound funnel. - Kelly Moorman, Content Manager
15. Find Inspiration...or a Template
Stuck in a marketing rut? It happens to the best of us. Internet to the rescue! Behance is a great website to find design inspiration. No time to think about it? There are hundreds of pre-designed templates available on Behance or sites like Creative Market or Canva from designers who have already put in the time and built an entirely customizable template for anything you might need! - Ivy Taylor, Design Specialist
16. Develop Your Buyer Personas
Although I'm the newest XYPN marketeer, I'm already on board with the value of niching up. Not everyone wants your service nor does everyone need what you're providing, so save time, energy, and money by only marketing towards your ideal client.
To that end, turn your niches into buyer personas or avatars (semi-fictional representations of your ideal customers) and craft all messaging around these identities. HubSpot, the marketing automation platform we use at XYPN, offers a free tool to walk you through this exercise. The more you know about you're ideal clients, the better you can reach them and serve them. - Whitney Mitchell, Email Marketing Specialist
17. Create a Content Calendar
You know what they say: failing to plan is planning to fail. Without proper planning, content is more likely to fall flat, if not fall off your plate entirely. A content calendar provides a visual display of what, how, when and where your content will be distributed throughout the year. All you need is a spreadsheet to start mapping out your content strategy week by week. You'll quickly be able to identify missing pieces and when it's time to revisit popular topics. Perhaps most importantly, you'll have some structure for your ideas. Even if you're a solopreneur, hold yourself to your deadlines. (As they say, the worst part about owning a business is your boss is a jerk!) - Kelly Moorman, Content Manager
18. Crowdsource Your Blog
Are you struggling to maintain your blogging schedule? Short on time and on ideas? Been there, done that. In times like this, get by with a little help from your friends! Decide on a topic, then lean on your fellow XYPN members or other experts for a round-up style blog of tips or advice. Whether you ask your study group or put out a call in the members-only forums, you are sure to get enough responses to hit the 2,000-word recommendation in no time. Some members even submit requests via XYPN's media request portal. Shout out to Kelly, Whitney, Ivy, and Carolyn for bailing me out this time! - Jen Mastrud, Director of Marketing
About the Author
As XYPN's Director of Marketing, Jennifer Mastrud is tasked with sharing the movement at XYPN. Her expertise is in branding, marketing, and public relations. She's as passionate about the XYPN message as she is about innovating new ways to share it. Before joining XYPN, Jen accumulated several years of experience representing national brands in diverse sectors including technology, gaming, TV, and education. She's based in Minnesota, but travels frequently to warm up.