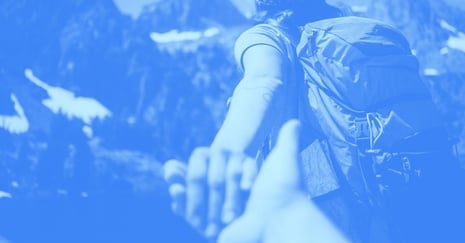 At the XY Planning Network, much to-do is made about the fact that all the advisors in the network are required to sign fiduciary oaths. But what does that mean for us? What is a fiduciary, anyway?
What Is a Fiduciary?
A fiduciary isn't actually a specific person. The term refers to a relationship between two parties that is founded on ethics and trust.
This relationship is created when one party is in a position of vulnerability, which usually means when one person or group lacks specialized knowledge or training and is not prepared to handle a particular task because of it. The fiduciary is the other half of the relationship, and does possess the necessary skill or education to advise or protect the vulnerable party.
Those who act as fiduciaries enter into these relationships with the understanding and agreement that they will act and advise in the other party's best interest. They often act on behalf of someone else, taking on the responsibility of upholding that person's trust and confidence, in their specific area of expertise to assure the best possible outcomes.
How Does This Affect Me and My Finances?
In the case of our financial planners, we're talking about financial fiduciaries. When people come to advisors in the XY Planning Network for financial planning services, the planner agrees to act as a fiduciary for the clients they help.
This means that every advisor in the network has agreed to act in every client's best interest in providing financial planning advice. All the advisors have signed a fiduciary oath stating that they will work to benefit you and your wealth and make your financial well-being their number-one priority.
Let's look at an example of the fiduciary standard to which our financial planners apply themselves to at work in a real-life scenario. Say you were interested in a particular financial service, and there were two identical products available but each had a different cost. Because he or she is acting as your fiduciary in financial matters, your advisor would be compelled to guide you to the one that costs less because preserving your wealth is in your best interest.
That's why working with a professional advisor who can not only provide you with excellent planning services but who is also acting as a fiduciary is so important. When you have a fiduciary on your side, you can trust that they're putting your needs first above all else.
With Advisors That Focus on Planning, Acting as Fiduciaries Simply Makes Sense
All of the financial planners that are in the XY Planning Network have signed fiduciary oaths, and they take this pledge seriously. However, it isn't too hard for them to uphold the fiduciary standard when they are already so focused on financial planning, rather than investment management and sales.
Our advisors believe in offering comprehensive financial planning that will guide you on the right path to financial stability and security. They're actively invested in helping you reach your financial goals and grow your nest egg because that's what they're passionate about.
They're more than happy to leave the insurance sales pitches and asset-shuffling to the old-school investment advisors (you know, the wealthy old guys who make money by pushing products and grabbing commissions of the earnings of consumers).
Finding the Right Fiduciary
Now that you understand why having a financial planner who is also acting as your trusted fiduciary is so important, let's figure out how to find the right fiduciary for you.
First, head over to the Find an Advisor page and check out the profiles of the planners who seem like a good fit for you. Each and every one on the network has a signed fiduciary oath right on their profile so it's easy to find and view.
Next, schedule a time to call and chat with a few planners to determine who you're most likely to work well with as part of a team. All our advisors specialize in Gen X and Gen Y clients, but there's something to be said for connecting with someone on a personal level.
Then, relax and breathe easy knowing that your financial planning needs are being taken care of by a financial planner and fiduciary who is committed to putting your needs first and always acting in your best interest.