Morgen Rochard, CFP®, CFA Origin Wealth Advisers LLC
Connect With Advisor

Signed Fiduciary Oath
Visit the website →
---
About Morgen Rochard, CFP®, CFA
I'm Morgen Rochard and I am the founder of Origin Wealth Advisers. My firm is an independent, fee-only practice dedicated to helping young families and professionals align their finances with their life goals.
I know that finances can seem complicated and overwhelming at times. There are many moving parts, all of which require the proper attention to get you where you need to be. I am passionate about connecting these dots to help you reach your goals and most importantly live the life you want to live.
I am a fee-only CERTIFIED FINANCIAL PLANNER™ and a Chartered Financial Analyst. Prior to founding Origin, I managed portfolios at UBS Financial Services for high net worth investors. I also worked at Merrill Lynch providing financial analysis for a large private wealth team. I started my career in finance trading for Trinity Derivatives Group as an equity options market maker. In my free time, I like to hang with my husband, learn French, play Scott Joplin on the piano, listen to JockoPodcast (Good Evening), and generally get after it.
All of these experiences have led me to believe that financial independence is only achieved by having a plan and being disciplined about sticking to it. My firm provides real advice to real people who want to get serious about their financial future. That is why I only provide financial planning and don't sell products.
Recently Published
July 29, 2020
When we think of how much house we can afford, we often look to our lenders for advice. Unfortunately, lenders are all too happy to lend to us at the maximum of what is affordable, disregarding the rest of our personal finances.
The maximum of what is affordable means what is affordable for the bank, not you. The bank wants to know whether it will be paid. It doesn't care if you want to save additional money, pay for your kid's school, take a nice vacation, or dine out frequently. The bank doesn't account for what makes up your most fulfilled life. All the bank wants to know is how much principal and interest you can pay given your income. 
In my practice, I talk a lot about keeping all housing costs (mortgage, taxes, homeowners insurance, HOA fees, utilities, maintenance) under 20% of pretax income. This is significantly below the lender's 36% pretax income metric, which can move upwards toward 44% of income depending on type of mortgage and the lender. Additionally, lenders do not include home maintenance, 1-3% of your home's total value per year depending on the home's condition, or utilities in their calculations.
Here is the math behind the 20% housing spend: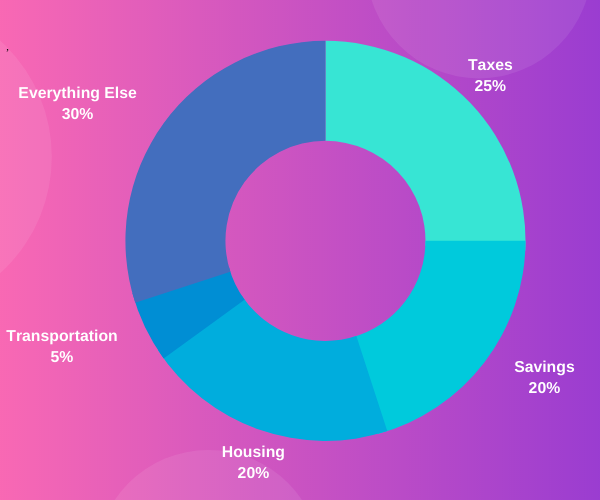 Note: 25% is the average American tax rate including FICA. Your rate may be higher if you are self employed or living in a state with high income taxes. Your tax rate will be lower with income below $150k if single. 20% savings rate is my recommended amount to ensure retirement and ability to fund other important life goals.
Generally, spending more than 20% of income on housing also means increased spending on everything else. This means a person spending 36% of income on housing is not likely to save 20% of their income, but rather live paycheck to paycheck with minimal savings.
Let's look at an example using real numbers: 
A couple with two children makes $300k and only spends 20% or less on housing
Taxes: $75k

Savings: $60k

Housing and associated expenses: $60k

Cars and associated expenses: $15k

Everything else: $90k
Here's the list of "everything else":
Nanny: $18,800

Kids' activities: $3,500

Travel: $12,000

Groceries: $16,600

Life Insurance: $2,000

Medical Insurance: $6,600

Dining Out: $6,240

House cleaner: $6,500

Gym and Fitness: $2,200

Medical out of pocket: $1,200

Amazon (or other favorite superstore): $3,500

Clothing: $2,360

Gifts: $2,000

Family recreation: $1,500

Charity: $2,000

Unexpected expenses: $3,000
Total: $90,000
If this family were to spend $108,000 on housing, like the bank would lend them, rather than $60k, they would need to make significant cuts to their lifestyle or they would only be saving $12k per year instead of $60k. 
The easiest way to manage expenses is to keep the big fixed ones low so you can enjoy the rest of your life without penny pinching. 
What if this is not possible to do in the region you live? Great question! Either you need to watch other expenses to afford housing and still save, or it is time to move. You get to decide!
Ideal Clients
Entrepreneurs
Gen X
Parents
Retirement Planning
Ways Advisor Charges
Fee Options
SEC Records