Morgen Rochard, CFP®, CFA Origin Wealth Advisers LLC
Connect With Advisor

Signed Fiduciary Oath
Visit the website →
---
About Morgen Rochard, CFP®, CFA
I'm Morgen Rochard and I am the founder of Origin Wealth Advisers. My firm is an independent, fee-only practice dedicated to helping young families and professionals align their finances with their life goals.
I know that finances can seem complicated and overwhelming at times. There are many moving parts, all of which require the proper attention to get you where you need to be. I am passionate about connecting these dots to help you reach your goals and most importantly live the life you want to live.
I am a fee-only CERTIFIED FINANCIAL PLANNER™ and a Chartered Financial Analyst. Prior to founding Origin, I managed portfolios at UBS Financial Services for high net worth investors. I also worked at Merrill Lynch providing financial analysis for a large private wealth team. I started my career in finance trading for Trinity Derivatives Group as an equity options market maker. In my free time, I like to hang with my husband, learn French, play Scott Joplin on the piano, listen to JockoPodcast (Good Evening), and generally get after it.
All of these experiences have led me to believe that financial independence is only achieved by having a plan and being disciplined about sticking to it. My firm provides real advice to real people who want to get serious about their financial future. That is why I only provide financial planning and don't sell products.
Recently Published
October 5, 2019
I created the below graphic because I was almost scammed! I went to purchase my son a Halloween costume, Daniel Tiger of course. I thought, "I'm so smart, I'll get him something he can wear more than once, like a red hoodie!"
I go onto primary.com. They have this awesome feature on their site where you can search for a kid's costume and they will tell you what to buy. So, goody ole me, I search for Alex's costume on their website. They recommend a red hoodie, plus an orange t-shit and orange pants. Surely, he needs the shirt and pants to look like a tiger!! I add the red hoodie, one orange t-shirt and one orange pant to my cart. It costs $42.00. I think to myself, "I didn't really want to spend $42 on a costume." Negative feelings start to come up - like anger at spending so much on a Halloween costume for a 1 year old. And shame, I shouldn't spend this much money.
I see a little pop-up come through. "If you spend $50, you get 5% back! Only $8 to go!" It was gamified, had a bar showing me how much more to spend. I considered it for a moment, it seemed very enticing! And then I did the math.
This little pop-up is what inspired this post. If I add $8 to my cart, I will get $2.50 back. What a deal!!! *rolls eyes*
Below are some of the little tricks I've seen from retailers, enjoy!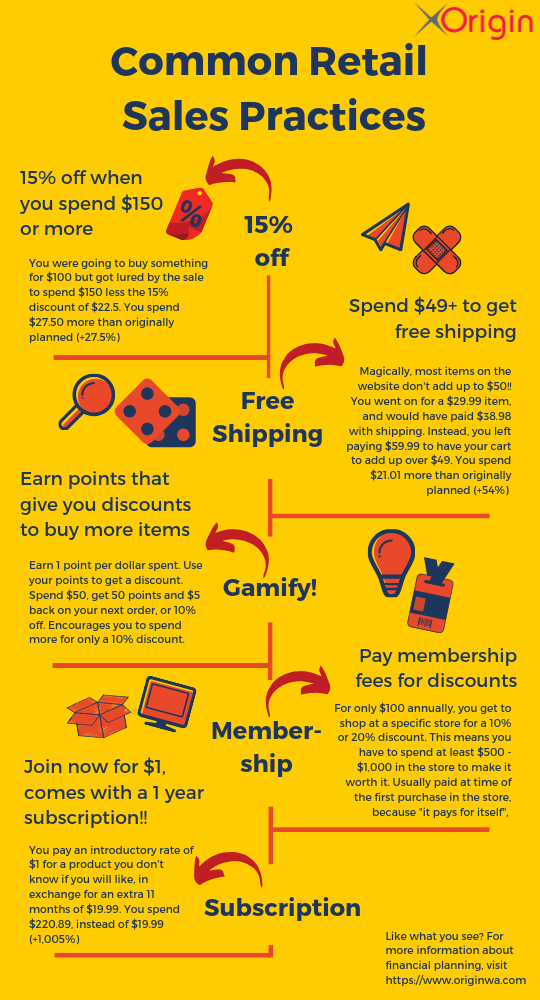 September 24, 2019
I always get asked this question: how do I pay less in taxes?
Why? Because we don't feel like we have a choice in the matter. Choice is everything when it comes to our money. Think right now about 2 things that seriously bother you about your finances - I bet both of them are completely outside of your control. That's the way it is. Worse - we focus on those things instead of the real items that will truly affect our financial situation.
I've created what I'm calling the "Financial Planning Hierarchy of Needs". It's like Maslow, but for your finances. Start at the bottom and work your way up.
Income: It all starts with income!! The best way to better your financial situation is to make more money (and then control your outflows).
Emergency Fund: Building a good emergency fund is the best way to weather through tough times. Put your emergency fund into something liquid with a little interest, like a high yield savings account or money market fund.
Savings: It's important to save both inside and outside a retirement account. When I see folks who have the majority of their assets in retirement accounts, this is usually because they are trying to take advantage of the tax deduction and haven't worked on spending enough to also save outside a retirement account. If you find you're only saving in a retirement account, it's probably time either address spending or to talk to a planner!
Insurance and Estate Planning: You need to protect your family and yourself! It's super important to have proper insurance coverage and an estate plan in place. No ifs, ands or buts.
Investments and Taxes: You'll notice tax is near the top. Stop worrying about your taxes all the time. Definitely don't make investment decisions based on taxes alone. Your investments are important but not something you should be worrying about on a day to day basis. Invest according to your risk tolerance and needs and then wait... and wait some more... and then keep waiting. Watch the paint dry!
All other $2 items: STOP! Let it go. Do you want to live your life driving yourself crazy? At some point, you need to decide if these things are truly worth your time and energy.
You've probably noticed there's no budgeting here - why you may ask? Healthy savings implies a level of spending that is sustainable. If you focus on how much you save, then you shouldn't need to worry about the rest. Worry about individual categories when savings is not in a healthy place.
July 12, 2019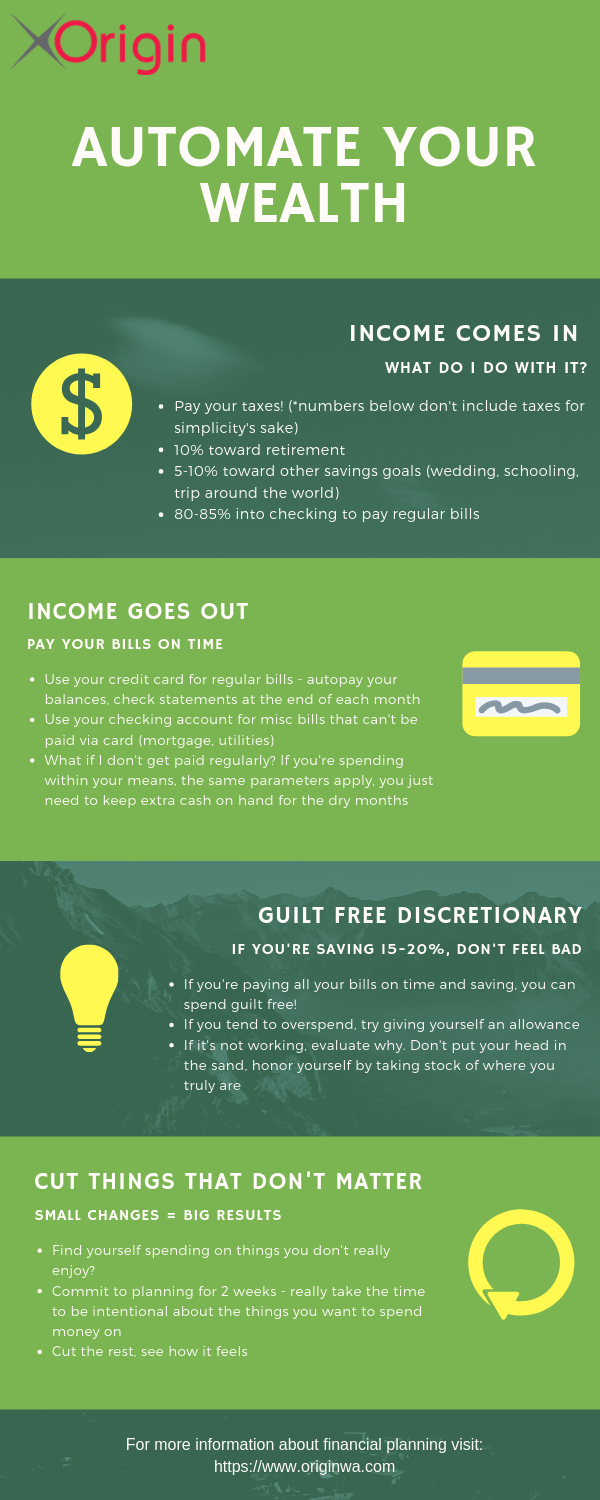 Ideal Clients
Entrepreneurs
Gen X
Parents
Retirement Planning
Ways Advisor Charges
Fee Options
SEC Records
States Registered